Buoys, razor wire, and a Trump-y wall: How Greg Abbott turned the Rio Grande into an immigration 'war zone'
Texas governor has funnelled $12bn into a military-style border buildup with floating walls and razor wire. Josh Marcus speaks with a local business owner and lifelong riverman who's suing the state to stop it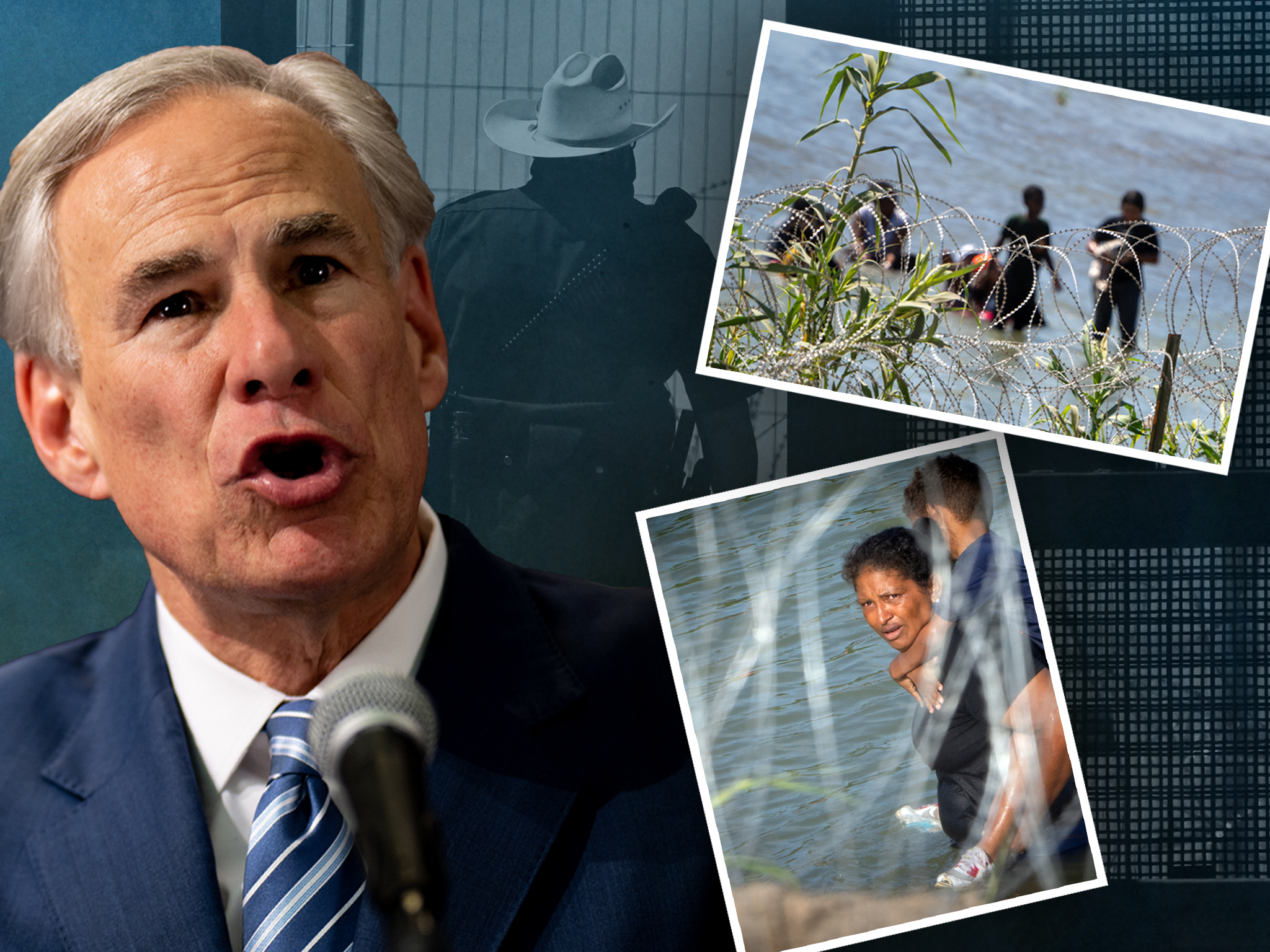 He may be suing the governor of Texas, but Jessie Fuentes isn't really a political guy. His disagreement with Greg Abbott is personal. Continental, in a sense. Spiritual even.
On 7 July, Mr Fuentes, who owns a small kayaking business, sued the state for its decision to install a 1,000-foot buoy wall in the town of Eagle Pass, within a stretch of the Rio Grande river.
In Texas, the river forms the legal border between the US and Mexico. More than just a legal argument that a state politician doesn't have jurisdiction over an international borderline, Mr Fuentes, who grew up along the Rio Grande, feels Mr Abbott has crossed a moral line. The governor, he says, is violating a river that nourishes ecosystems, people, and a vibrant transborder culture that's existed far longer and far more freely than the rolls of razor wire multiplying across the banks suggest.
"I'm not a politician. I just say listen, I love that river. Nobody speaks up for it. I'm speaking up for the river. Man, I have the right to try to prosper from my love of the river, that allows me the opportunity to get out there, to bring people to the river," he told The Independent.
"They don't live here. I do," he added of Texas's state leaders. "You've taken a beautiful waterway and you've converted it into a war zone."
Mr Fuentes is part of a group of local residents, human rights activists, state employees, and government officials who are pushing back on the floating barrier project. They face challenging waters ahead.
Governor Abbott is a shrewd operator. He has combined media savvy and audacious use of government funds and powers to secure billions of dollars and heaps of political capital for his notion of a military-style crackdown at the border. He has charged ahead with little resistance, even though governors and presidents have spent decades taking this iron-fisted approach with little empirical success to show for it.
In mid-July, state contractors were nearly complete installing the floating border barrier, a $1m, 1,000-foot pearl string of giant orange buoys with strong netting in between, anchored to the river floor.
Floating barrier wall in Rio Grande nearing completion
Discussing the plan in June, Mr Abbott described the floating wall as a key part of his larger buildup at the border, which has featured mass deployment of as many as 10,000 state troopers and national guardsmen at a time, as well as razor wire and sections of a new border wall on private lands.
"When we're dealing with 100 or 1,000 people, one of the goals is to slow down and deter as many of them as possible," Mr Abbott said on 8 June. "Some may eventually get to the border where they are going to face that multilayered razor wire and a full force of National Guard and DPS [Department of Public Safety] officers."
An estimated 250 people died crossing the Rio Grande last year, but Texas officials have nonetheless claimed that installing what amounts to a giant net in the river will "prevent the loss of life due to drownings."
The barrier technology, like much of Mr Abbott's border agenda, is a retrofitted version of what the Trump administration was pursuing. In 2020, the Border Patrol advertised on Twitter, then quickly deleted, a post showing a demo of a floating barrier system from the same company that built Mr Abbott's wall, Cochrane USA, only the Trump version had large black spikes that wouldn't look out of place in a dungeon.
The Texas buoy plan dropped the spikes but kept the same controversy that Mr Trump's attempts to seal off the border attracted.
Earlier, Mexico's top diplomat said the barrier plan may violate international treaties over the Rio Grande-based border, and said she will send an inspection team to investigate the buoy wall.
The Justice Department has also threatened to sue Texas over the border wall plan, though governor insists he has the authority to carry on with the project.
"Texas will see you in court, Mr President," the Republican governor wrote in a letter on Monday to President Biden.
Migrant advocates say the buoys, like generations of border installations before them, won't actually slow down immigration, but rather will push migrants towards ever more remote places to cross the border, increasing the likelihood they will face a perilous and potentially lethal crossing.
This strategy, known as "prevention through deterrence" has more or less been the explicit policy of the US government since the Clinton administration in the 1990s, a policy choice many on the ground say is causing unnecessary deaths.
"It's been proven time after time that these so-called prevention through deterrence strategies don't work," Fernando García of the Border Network for Human Rights told The Independent. "They have not stopped immigration flows, but what they have done is they have put immigrants at risk."
"It's very likely that with [the floating buoy wall] they are looking for more remote and isolated places to come across so that whenever they are in danger by heat exhaustion, by drowning, they will not have anybody to help them," he added, saying he worries it could be a record year for migrant deaths in the Rio Grande.
"All of this is death by policy."
According to leaks from the Texas Department of Public Safety, which oversees the state's border scheme, this policy includes intentionally putting migrants into harm's way.
In a series of emails shared with news outlets including The Independent, a border medic described questioning orders from superiors to push exhausted migrants back into the river and to refrain from giving them water if captured.
"We were given orders to push the people back into the water to go to Mexico. We decided that this was not the correct thing to do. With the very real potential of exhausted people drowning," the trooper wrote.
The DPS source also claimed in the span of one week in late June, a teen mother was trapped in razor wire at the border while having a miscarriage, a 15-year-old broke his leg as he tried to find a way around the deterrence buoys, and a man lacerated his leg while trying to rescue his child from razor wire placed on a buoy.
Texas officials have defended the use of the razor wire while denying reports troopers were told to push people into the river.
"The Texas National Guard mission is to work alongside our Texas law enforcement partners to prevent, deter and interdict transnational criminal activity between ports of entry," the Texas Military Department told The Independent in response to news about the emails. "There is no order or directive instructing Service Members to push illegal immigrants back into the river or deny them drinking water."
"Texas is deploying every tool and strategy to deter and repel illegal crossings between ports of entry as President Biden's dangerous open border policies entice migrants from over 150 countries to risk their lives entering the country illegally," a spokesperson for the governor told The Independent earlier this month.
The Texas Department of Public Safety did not respond to requests for comment on this story from The Independent.
Beyond just putting migrants at risk, the border barriers are cutting into the deep cross-border cultural ties in the region, residents said.
Mr Fuentes, the business owner suing the state, said the locked down border is only a recent historical development. His grandfather used to be able to casually ride into Mexico on a donkey to get supplies. He says that Texas politicians fomenting fear about immigration miss the fact that many who live along the US-Mexico border don't feel the same way. The walls aren't stopping some hypothetical invasion of immigrants. They're dividing a community that's older and bigger than boundaries on a map.
"That's the beautiful thing about America," he said. "We've got our culture on the border. The way it's being misinterpreted right now, them saying we're a war zone, things are out of control. We're not that. We're a community on the river. We get along with our neighbours."
 "I don't think we're under siege from an inflow of immigrants," he added. "We're under siege by law enforcement."
When Mr Fuentes encounters migrants on the river, he offers them a blessing and any spare water if it he has it.
You wouldn't know about these sorts of ties by watching the governor on TV. The Fox News regular frequently describes the situation in places like Eagle Pass as an "invasion" of drug-pushing cartel members, though drugs like fentanyl are overwhelmingly brought across the border by US citizens at official points of entry.
It's not an accidental choice of words calling the situation an "invasion." In November, the governor invoked a clause in the US Constitution allowing states to take military actions if they are under "invasion" to defend his policies, a theory legal scholars and critics say is both nonapplicable to immigration and an echo of the white-supremacist rhetoric that fueled incidents like the 2019 El Paso shooting, where 23 mostly Latino people were killed.
It may not be legally bulletproof, but it's another savvy move from Mr Abbott, who has proved adept at using crises in recent years to further his border agenda.
The governor declared a state disaster at the US-Mexico border in 2021, freeing him up to use additional emergency powers, and used creative accounting to funnel an estimated $1bn in federal Covid relief funds to Operation Lone Star, the umbrella plan Mr Abbott has used to send troopers to the border and bus thousands of migrants out of Texas to liberal states.
Despite massive investments from the state and the federal government over decades from leaders of both parties, immigration levels at the US-Mexico border in late 2022 and 2023 are about the same as they were during their previous peak around the year 2000.
A spokesperson for the governor's office declined to answer specific questions from The Independent about the floating border barrier, and criticisms that it's illegal and dangerous for migrants.
The governor's office said Operation Lone Star had led to the apprehension of more than 393,000 unauthorised immigrants and the repelling of more than 49,000 illegal immigrants, as well as over 31,000 arrests, "all of which would have otherwise made their way into communities across Texas and our country thanks to President Biden's open border policies," according to spokesperson Andrew Mahaleris.
The Department of Justice is investigating Operation Lone Star for alleged civil rights abuses. Immigration is a concern of federal law, but thousands of immigrants have been arrested by state personnel for trespassing on private property, allegedly being held in jail for weeks without facing charges.
According to an investigation by the Texas Tribune, ProPublica, and The Marshall Project, state officials were arresting far more trespassers than cartel members, and allegedly inflated data on Operation Lone Star by citing arrests on crimes like cockfighting, sexual assault, and stalking in their success statistics, even though these offences had no clear link to immigration enforcement.
"We've spent $12bn over the last decade, and we have nothing to show for it," Jaime Puente, director of economic opportunity programmes at the advocacy group Every Texan, which monitors the state budget, told The Independent. "People are not being deterred from coming to the US to seek a better life and opportunities…no matter how deadly we make that journey."
Ironically, according to Mr Puente, the governor's border crackdown has finally driven resources towards borderland communities that have historically suffered from under-investment. However, these resources are coming in the form of armed police officers and contracts to build military infrastructure, rather than investments in things like education or healthcare.
"Texas has historically undervalued and underserved border communities over the last century or more, and now, because it's politically viable, because it makes for a great 7pm Fox News clip, these communities are being inundated with billions and billions of dollars," Mr Puente said.
He points to the example of Uvalde, Texas, the site of a horrific 2022 school shooting, as a place that needs a different kind of investment from the state.
"That community doesn't have a hospital," he said. "That community doesn't have some basic services, but they have 350 DPS troopers and Border Patrol agents just roaming around. That didn't help 19 kids and 2 teachers a year ago."
In fact, according to some local residents, the influx of state personnel to border communities has made the residents there feel less safe.
Operation Lone Star has driven a spike in the racial profiling of Latinx drivers in South Texas, according to the ACLU.
According to an analysis from NBC News of Latinx-majority border areas, traffic citations have shot up, in one county by a factor of six, since Operation Lone Star came online in 2021.
Despite the governor's ever-expanding footprint on the border, Jessie Fuentes still believes in the magic of the Rio Grande. He ends our interview by inviting me to come onto the river with him sometime, though he notes it's getting harder and harder for him to access the water because of all the fences, walls, and razor wire deployed around Eagle Pass. He has a bitter chuckle at the difference between the US and Mexico sides of the river.
On the Mexico side, it's parkland, with families out for walks or fishing on the river. On the US side, it's a practically medieval tableau of walls and spikes, overseen by a group of state officials, one of whose title is literally Border Czar.
"I invite anyone to come if they'll let me," he said.
What happens on the border often has deep roots. Border walls, once built, are rarely taken down, and connections to the land, built over generations, don't disappear from one administration to the next.
Governor Abbott has vowed to fight Mr Fuentes all the way to the US Supreme Court. In the coming months, we will see whose vision of this complicated, beautiful region prevails.
Join our commenting forum
Join thought-provoking conversations, follow other Independent readers and see their replies