Google, Facebook and Twitter targeted by new bill as senators seek to stop Russian election meddling
The senators called Russia's meddling in the election 'a matter of national security'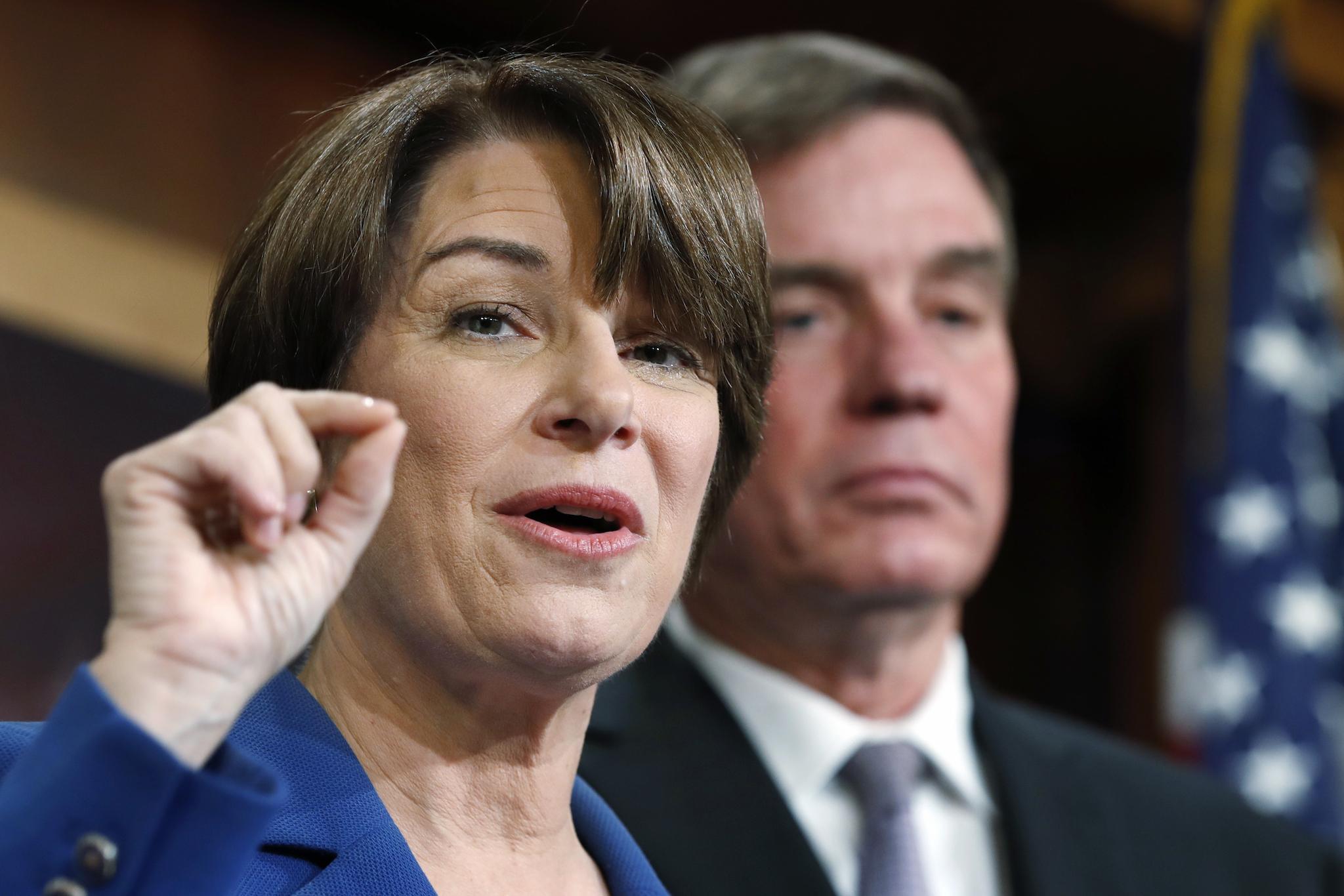 Senator John McCain and two Democratic senators have unveiled a bill that would force Facebook, Google and others to disclose who is purchasing online political advertising – a measure that could bring sweeping change in an industry that has fought against having to comply with rigorous regulations.
When releasing the first legislative response to revelations that Russians used tech platforms to interfere in the 2016 election, the senators said their bill was intended to defend the bedrock of the US's political system.
During a news conference, the Democratic co-sponsors of the bill – senators Amy Klobuchar and Mark Warner – bristled at how foreign actors had been able to take advantage of loopholes in current laws to threaten the integrity of the US election system.
"Our entire democracy was founded on the simple idea that the people in our country should be self-governing," Ms Klobuchar said. "Now 240 years later, our democracy is at risk. Russia attacked our elections, and they and other foreign powers and interests will continue to divide our country if we don't act now."
In the run-up to the 2016 election, Facebook sold more than $100,000 worth of ads to a Russian "troll farm" with a history of pushing pro-Kremlin propaganda, company representatives told congressional investigators. Meanwhile, Google sold at least $4,700 worth of ads to accounts believed to be tied to the Russian government, according to the New York Times.
These disclosures raised alarm on Capitol Hill, and followed months of criticism about the role tech companies had played in the spread of false information during the election.
Long before last year's presidential race, Google and Facebook had requested to be exempt from existing disclosure rules that cover TV and radio stations, asserting that adverts on their respective platforms were too small to fit disclaimers listing who had purchased them.
The Federal Election Commission had justified granting the exemptions by declaring the Internet "a unique and evolving mode of mass communication and political speech that is distinct from other media in a manner that warrants a restrained regulatory approach."
Now, members of Congress are looking to change this policy.
Donald Trump's least presidential moments so far...
Show all 30
"Our bipartisan legislation would address this serious challenge by expanding landmark campaign finance law to apply to internet and digital communications platforms that command a significant audience," Mr McCain said in a statement. "I have long fought to increase transparency and end the corrupting influence of special interests in political campaigns, and I am confident this legislation will modernise existing law to safeguard the integrity of our election system."
Ms Klobuchar and Mr Warner said the bipartisan Senate bill would ensure that political ads sold online are covered by the same rules as ads sold on TV, radio and satellite. Mr Warner is the vice chair of the Senate Intelligence Committee, which is one of multiple congressional panels conducting an investigation into Russian interference in the 2016 election.
Mr Warner said he was interested in collaborating with the platform companies, which have been lobbying on Capitol Hill to shape legislation regarding online political advertising, according to Politico.
"From initial drafts, this bill has only gotten stronger and tougher," Ms Klobuchar said.
Many Republicans and members of the intelligence committee have expressed interest in supporting the legislation, Mr Warner said, with several saying they are waiting to see what happens during a panel hearing on 1 November. At that time, representatives from the tech companies are due to testify as part of the committee's Russia probe.
So far, representatives of Google, Facebook and Twitter have been reticent in their responses to the new legislation.
Facebook and Twitter released statements pledging to work with politicians; Google declined to comment.
A Twitter representative said in an emailed statement that "we look forward to engaging with Congress and the FEC on these issues", and a Facebook spokesman said, "We are open to working with lawmakers and reviewing any reasonable legislative proposals."
Join our commenting forum
Join thought-provoking conversations, follow other Independent readers and see their replies