Georgia case against Trump presents problems from the start: from jury selection to a big courtroom
There is no shortage of logistical challenges raised by the sprawling racketeering indictment returned this week by a grand jury in Atlanta
Georgia case against Trump presents problems from the start: from jury selection to a big courtroom
Show all 2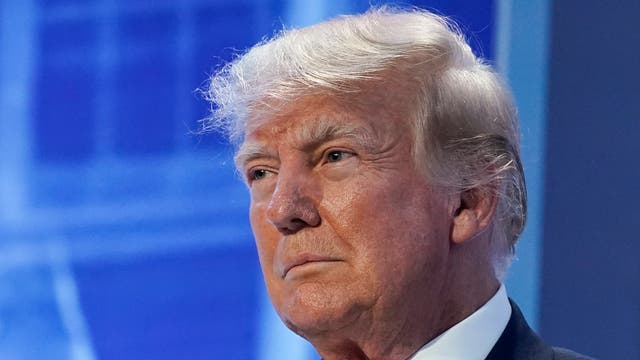 Putting 19 people on trial at the same time is a difficult assignment for any prosecutor — whether or not one of those defendants is a former president of the United States running to reclaim his old office.
The sprawling racketeering indictment returned this week by a grand jury in Atlanta presents a wide range of challenges. A big one is political: Finding jurors who don't have unshakeable opinions about Donald Trump and others in his orbit.
Beyond that, with so many defendants, prosecutors and defense lawyers will labor to keep the names and conflicting stories straight for those jurors over weeks or months. There will be countless legal details and basic logistics to argue or work out — even down to finding a courtroom big enough to fit everyone.
In an early example of the lengthy litigation ahead, lawyers for former Trump chief of staff Mark Meadows filed a quick motion Tuesday to transfer the case from state to federal court. They said all the actions he took were in service to his White House role, foreshadowing an argument that the Constitution makes him immune from prosecution.
Trump himself tried a similar tack in New York — to move to federal court a state case charging him with falsifying business records. That bid was denied.
Fulton County District Attorney Fani Willis has brought 10 other state racketeering cases since taking office in January 2021. As an assistant D.A., she used the racketeering law to successfully prosecute Atlanta public school educators in a test-cheating scandal. But in one of Willis' current cases, involving the rapper Young Thug, jury selection began in January and is still going more than seven months later.
This is bigger, unprecedented. Her office now takes on the huge challenge of pursuing dozens of felony counts against a former president who is fighting three other criminal cases and leading the Republican field in the fight for the 2024 presidential nomination.
"Just because they have experience with it doesn't mean that it's easy," said Robert James, a former district attorney in neighboring DeKalb County who's now a defense attorney. "It's going to be slow, it's going to be methodical, laborious."
After investigating for more than two years, Willis used Georgia's racketeering law to charge Trump and 18 of his allies, alleging a wide-ranging conspiracy to keep him in power after his 2020 election loss to Democrat Joe Biden. Lawyers, aides and Republican Party activists are accused along with the former president.
Several of the defendants on Tuesday accused Willis of playing politics with the indictment.
"The Democrats and the Fulton County D.A. are criminalizing the practice of law," one of the defendants, lawyer Jenna Ellis, wrote Tuesday on Facebook. "I am resolved to trust the Lord and I will simply continue to honor, praise, and serve Him. I deeply appreciate all of my friends who have reached out offering encouragement and support."
Trump said he would release a report next Monday that would demonstrate "irrefutable" election fraud in Georgia, despite years of investigations and lawsuits not producing such evidence. Responded Georgia Gov. Brian Kemp, a Republican: "The 2020 election in Georgia was not stolen. For nearly three years now, anyone with evidence of fraud has failed to come forward — under oath — and prove anything in a court of law."
In the indictment, Willis used Georgia's Racketeer Influenced and Corrupt Organizations Act to weave a complex narrative that implicates multiple people accused of committing separate crimes in pursuit of a common goal. Some of the actions alleged are not necessarily crimes in themselves but are portrayed as helping to further an overall illegal scheme.
The grand jury issued arrest warrants and Willis has given the defendants until August 25 at noon to surrender. Each of the 19 defendants will also have an arraignment scheduled in the coming weeks.
Willis' RICO case that includes Young Thug as a defendant gives some insight into the challenges that can arise.
Some delays have been specific to that trial — transporting defendants housed in different jails to court each day, bringing contraband to court, the arrest of a defense attorney and a courtroom deputy. But jury selection, which began in January, is still going. That's partially because the trial is expected to last six to nine months, meaning a lot of prospective jurors have legitimate excuses for saying no.
Trying large racketeering cases like the Trump one tends to be more challenging for the defense than the prosecution since defense lawyers have to take care to disentangle their clients from other defendants who might be seen as more guilty.
"The government is presenting a big picture," said Barry Zone, a New York criminal defense lawyer who has been involved in multiple cases with large numbers of defendants. "So even if one person is less culpable than another, they'll be able to tell the story because they're telling the story as to multiple people."
It's easy for jurors to see defendants at a table as one group rather than as individuals, he said, so "the optics when you're trying multiple defendants is that they're all working together."
Though Fulton County prosecutors have painted the 19 defendants as jointly engaged in a criminal conspiracy, there's no question that those charged don't see themselves as a unified team. In the years since Trump and his allies sought to overturn the election results, some Trump associates have sought to disavow their past connections.
When Rudy Giuliani, a defendant in the Georgia case, met with Justice Department special counsel Jack Smith's team, he spoke in detail about fellow defendant Sidney Powell, according to a person familiar with the matter who spoke on condition of anonymity to discuss a private meeting.
Some defendants may try to be tried separately from the former president.
"They don't want the evidentiary spillover from other people, which could tarnish them, and they won't want to be in the same courtroom as Trump because he'll be a polarizing figure with the jury," said Boston-based attorney Brian Kelly, who tried a number of RICO cases as a federal prosecutor.
And while a RICO conspiracy case may have advantages for the prosecution, it can also be unwieldy.
There will undoubtedly be "a lot of pretrial skirmishing," Kelly said. "There will be complex legal challenges made to the indictment itself and that takes time."
Things also will likely move slowly once the case gets to trial, with each defendant's attorneys having a chance to cross examine every witness. And those extra examples of alleged wrongdoing that prosecutors are allowed to include to prove a broad scheme can also be a double-edged sword, said James, the former Georgia prosecutor.
"It's great because you can tell the whole story, but you have to prove the whole story," he said.
Legal complexities aside, the physical complications of trying so many people at once are daunting, said Danny Porter, a former district attorney in Gwinnett County, northeast of Atlanta. They may try to limit those present in the courtroom to the defendants, the lawyers for both sides and security officers. But that could run up against constitutional questions, Porter said.
"Georgia is a very strong state on the public's right to access to a courtroom," he said.
One option may be to find a "nontraditional" space, like an auditorium or convention center, Porter said, noting that a north Georgia district used a nearby civic center at the height of the coronavirus pandemic to accommodate social distancing requirements.
___
Associated Press writers Eric Tucker in Washington and Alanna Durkin Richer in Boston contributed to this report.