George HW Bush: Who are the Skull and Bones? The Yale secret society with three presidents among its ranks
Cultish fraternity founded in 1832 continues to inspire interest and suspicion about the extent of its influence over the American elite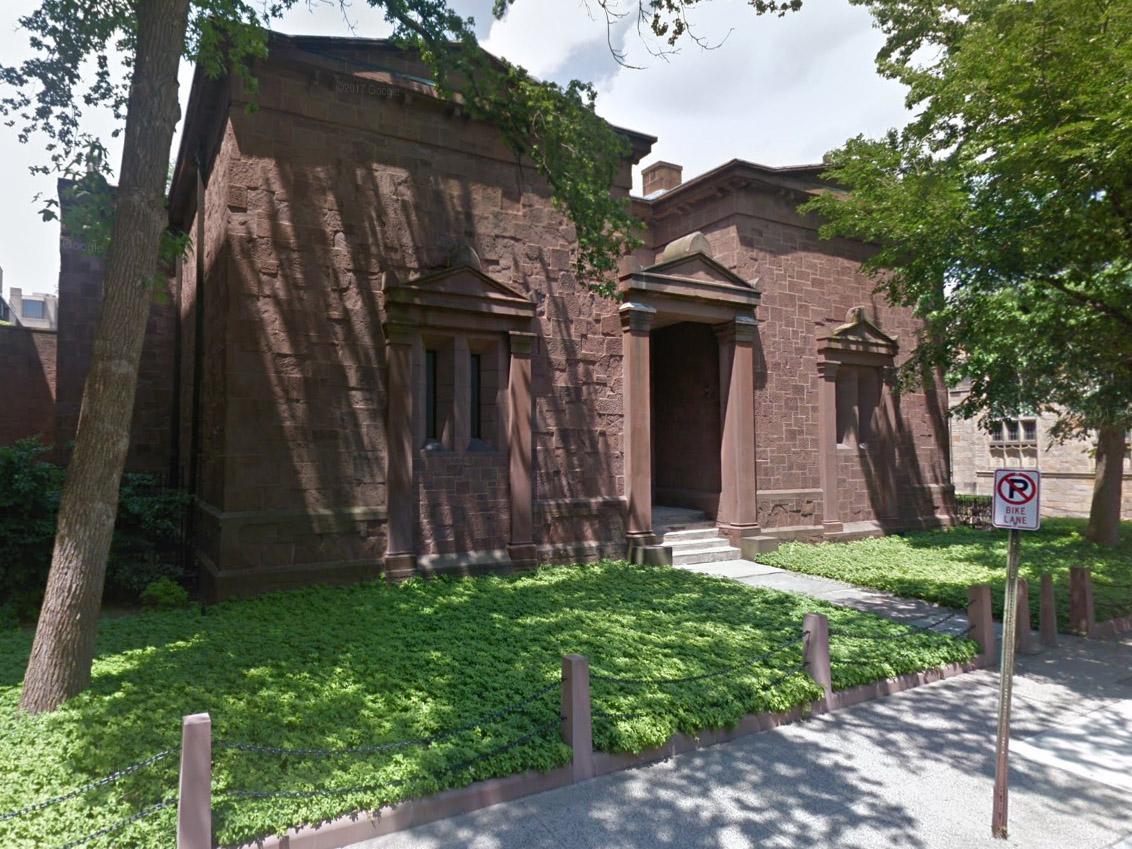 George HW Bush, the 41st president of the United States, attended Yale as a young man and got his start in one of the Ivy League university's most mysterious fraternities.
Mr Bush was a member of the elite Skull and Bones society, a group that enrols 15 new undergraduates every spring after selected candidates have been notified with a tap on the shoulder, an event that has taken place every "Tap Day" since 1879.
In exchange for swearing allegiance to your fellow Bonesmen, lying in a coffin during an initiatory "rebirthing" ceremony and revealing your entire sexual history in frank detail, the order promises its members lifelong financial stability, effectively buying their silence as to its workings.
The cultish club, loosely similar to Oxford's Bullingdon, was founded following a dispute between competing clubs in 1832 by future businessman William Huntington Russell and Alphonso Taft, the latter Secretary of War under Ulysses S Grant and the father of 27th president William Howard Taft, who likewise joined its ranks.
The pair were reportedly inspired by Russell's visit to Germany and the secret societies then-prevalent at European academic institutions, starting as a spoof occult organisation worshipping "Eulogia", an invented goddess of speech and eloquence.
In addition to Bush and Taft, other prominent men to have subsequently joined its ranks include: George W Bush, the 43rd president; John Kerry, Democratic presidential candidate and Secretary of State; actor Paul Giamatti; William F Buckley, Republican commentator and editor of The National Review; McGeorge Bundy, advisor to John F Kennedy; Morrison Waite and Potter Stewart, both Supreme Court Justices; Frederick Wallace Smith, founder of FedEx; Lyman Spitzer, theoretical physicist and space telescope pioneer; and William Camp, godfather of American football.
The organisation assigns its members nicknames taken from famous literary characters and only began accepting female pledges in 1991.
The Skull and Bones crest is the same as that flown on a pirate ship's flag with the date 322 emblazoned beneath it, thought to refer to 322 BC when the Greek orator Demosthenes died, a moment that saw ancient Athens begin its transition from democracy to plutocracy, implying the group's belief that America should follow suit and surrender the responsibilities of government exclusively to the wealthy.
The group meets in "The Tomb", its campus headquarters built in 1856 - the same year the Russell Trust Administration was founded, the council that controls the group's assets.
An imposing brownstone Egypto-Doric hall resembling a mausoleum, The Tomb was given a second wing in 1903 and a neo-gothic towers in 1912. It was broken into by a rival organisation, the Order of File and Claw, in 1876 who reported back that its windowless walls were draped in black and red velvet and pentagram symbols were prevalent.
The society also owns Deer Island, a 40-acre country retreat on the St Lawrence River in New York State, once a well-appointed venue for tennis and social gatherings which has now reportedly fallen into disrepair.
The Skull and Bones have attracted a huge amount of speculation over the decades as to their true purpose.
One unsubstantiated rumour has it that The Tomb houses the stolen skulls of eighth president Martin van Buren (1782-1862), Mexican revolutionary Pancho Villa (1878-1923) and Apache warrior Geronimo (1829-1909) - this last act of grave-robbing allegedly carried out by Prescott Bush, George HW's father, in 1918 - while others centre around its supposed ambitions for world domination.
The fact that three of its alumni became president seems to have driven this conspiracy theory, while Bonesmen James Jesus Angleton and George HW's prominence within the CIA led to suggestions they sought to control state intelligence.
Others believe they are a branch of international conspirators The Illuminati and still more that they were responsible for instigating the Manhattan Project.
Barbara Bush: life in pictures
Show all 10
Mr Bush's tenure as president of the Zapata Offshore oil company has even led the Skull and Bones to be blamed for the Kennedy assassination, with conspiracy theorists suggesting his business in the Gulf of Mexico gave the order the ideal platform to recruit Cuban revolutionaries to organise the hit on JFK in Dallas, Texas, on 22 November 1963.
The chances of finding out the truth remain slim, however.
When asked what he could say about the significance of George W Bush and himself both being Bonesmen when they ran against each other in the 2004 presidential election, John Kerry answered: "Not much, because it's a secret".
Join our commenting forum
Join thought-provoking conversations, follow other Independent readers and see their replies