Gaetz pushes resolution to hold former NYC prosecutor in contempt over Trump charges
Mark Pomerantz testified before a House subcommittee last month but repeatedly invoked his Fifth Amendment rights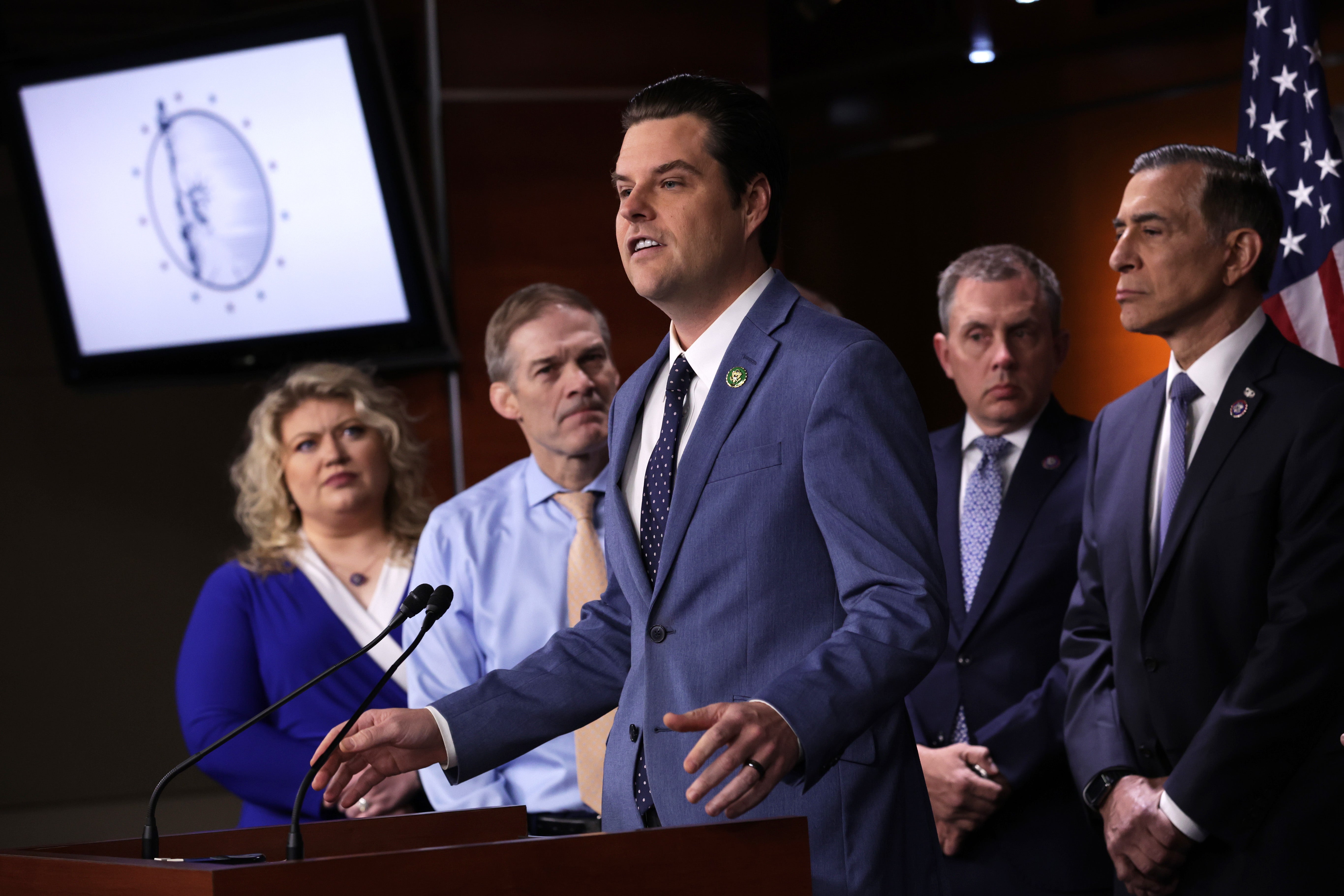 Rep Matt Gaetz introduced a resolution to hold a former New York City prosecutor in contempt of Congress for refusing to testify about charges against former president Donald Trump.
The resolution requests that Mark Pomerantz, who worked in the New York County District Attorney's office before resigning, be held in contempt of Congress for failing to comply with a congressional subpoena.
Mr Pomerantz had previously been tapped to serve in the district attorney's office by its previous occupant Cyrus Vance to investigate former Mr Trump. But Mr Pomerantz quit his position last March under current District Attorney Alvin Bragg and then authored a book that claimed that Mr Bragg backed off indicting Mr Trump despite the fact the indictment had been authorised by Mr Vance.
Mr Bragg's office later indicted Mr Trump and he was arrested in April. The House Select Subcommittee on the Weaponization of the Federal Government subpoenaed Mr Pomerantz shortly thereafter. Mr Bragg authorised Congress to question Mr Pomerantz.
Mr Pomerantz later testified before the committee on 12 May but repeatedly invoked his Fifth Amendment rights.
"Through his lack of testimony, Mark Pomerantz has undoubtedly undermined the legitimacy of this witch hunt indictment against President Donald Trump," Mr Gaetz said in a statement. "Mr Pomerantz pled the Fifth to nearly every question about his time in the Manhattan DA's office, despite writing a tell-all book about his time there."
Mr Trump pleaded not guilty to 34 charges related to his allegedly making hush money payments to adult film actress Stormy Daniels for an affair they had before he became president.
Mr Gaetz said that Mr Pomerantz unfairly went after Mr Trump.
"I believe Mr. Pomerantz engaged in misconduct in his targeting of President Trump, and his refusal to answer simple questions should not go unpunished," he said. "He should be held in contempt of Congress and be compelled to answer the questions regarding the weaponization of the Manhattan DA's office. If he fails to comply with the congressional subpoena, then the Sergeant at Arms of the House of Representatives must summon him by force."
Join our commenting forum
Join thought-provoking conversations, follow other Independent readers and see their replies