How the almost-trial of Dominion v Fox exploded into a Succession-worthy finale
A made-for-TV courtroom drama that would never be televised and one of the biggest-yet attempts to hold someone accountable for 2020 election lies ended outside a Delaware courtroom, Alex Woodward writes from Wilmington
Thursday 20 April 2023 06:45 EDT
Comments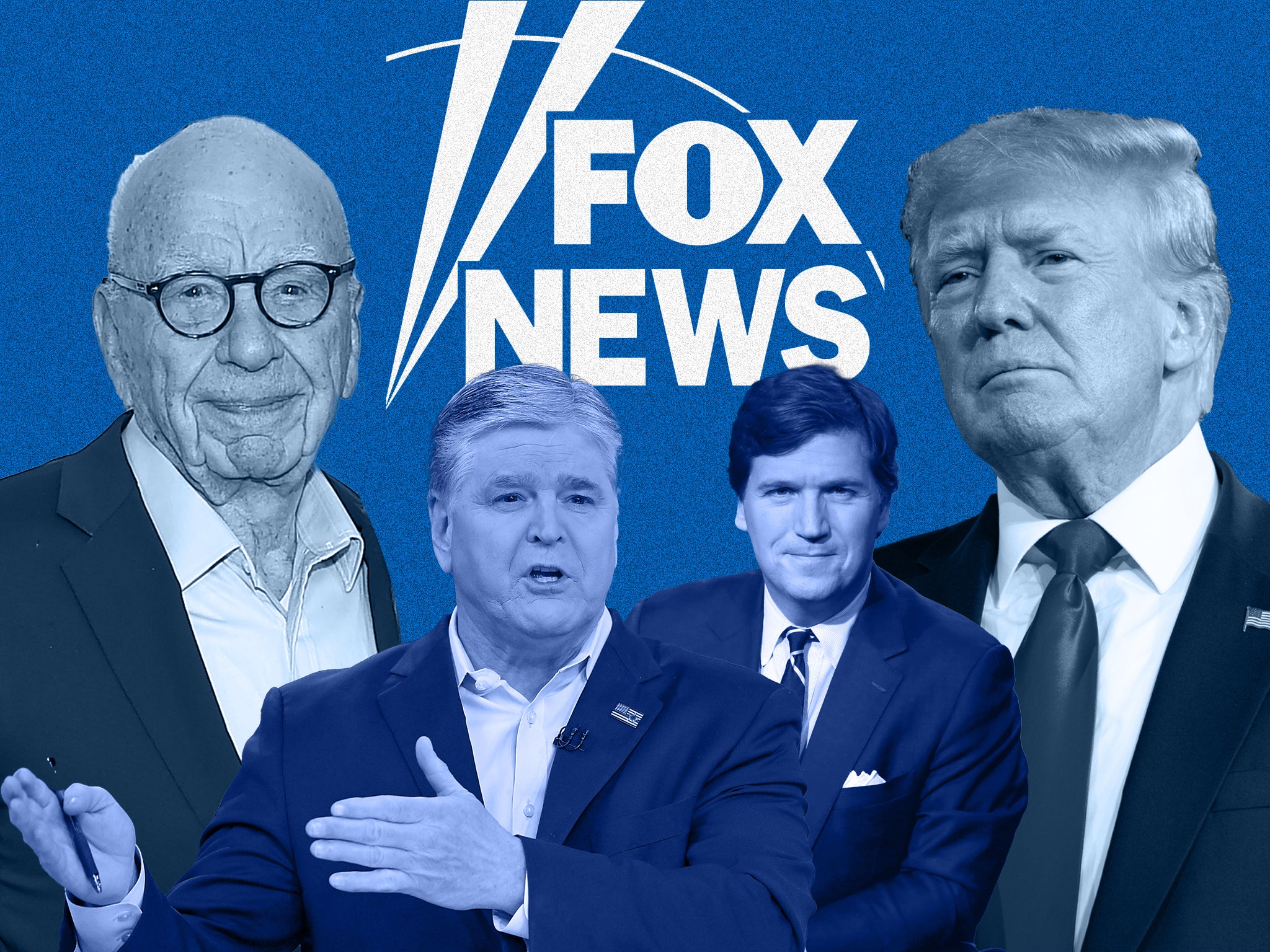 Mountains of evidence boxes were wheeled into a seventh-floor courtroom on Tuesday morning, moments before lawyers for Dominion Voting Systems planned to eviscerate Fox News and its Fox Corporation leadership for the volley of false claims about the company in the aftermath of the 2020 election.
Later that morning, jurors were sworn in. They ordered lunch. Hours later, it was over. And Fox News admitted that statements on its airwaves about Dominion were false, agreeing to pay the voting machine company more than $787m in a settlement that averted one of the biggest-ever defamation trials in American history.
In a twist of fate, the trial involving the country's most-watched cable news network was not going to be broadcast at all. Cameras or audio feeds were not allowed in the courtroom. The judge presiding over the case in Wilmington, Delaware warned that anyone photographing or livetweeting from inside his courtroom could even face contempt of court charges. Officers removed at least one person for tweeting a photo of the inside – she happened to be a representative for Fox.
While a court spokesperson set up a lectern outside the courthouse steps, with news cameras from around the world jockeying for a sweet spot to film them, attorneys for Fox rushed out the other side of the building, chased down by photographers and two men carrying signs reading "FOX IS GUILTY" and "MAKE 'EM PAY".
It was a fitting end to a trial that wasn't: A made-for-TV courtroom drama that would never be televised, and the highest-profile and most significant attempt to extract accountability for 2020 election lies, ended with two men both named Bill framing the Fox legal team with white posters reminding Americans what is at stake.
"I've been following Fox News for the last seven years and how they are basically pushing lies to increase their viewership, without any regard for the damage it has done to our country, to people I know, to people in my own family," one of those men, Bill Schultz, who stood outside the courthouse all day, told The Independent.
"If Dominion doesn't win, there's something wrong here," he said.
A settlement averts a six-week trial after more than two years of litigation, and nearly three years after Mr Trump and his allies launched a bogus campaign to overturn millions of Americans' votes.
The former president waged a public assault on 2020 elections before a single vote was even cast, sowing public doubt about the process in an apparent effort to justify challenges to the outcomes.
In the months that followed, Republican lawmakers across the US launched a coordinated campaign under the guise of preserving "election integrity" and restoring "voter confidence" that the president himself undermined.
The persistent lie that the election was stolen from him – and his legal team's baseless attempts to overturn millions of Americans' votes – fuelled violence at the US Capitol on 6 January, 2021, sustained partisan investigations to reverse the outcomes in states that Mr Trump lost, inspired GOP-led legislation in nearly every state to change how elections are run, and is baked into Republican Party dogma, forming the basis of his 2024 run.
That lie also propelled failed litigation and bogus claims involving Dominion, including allegations that its technology "flipped" votes, has ties to Venezuela and Hugo Chavez, and gave "kickbacks" to election officials.
Those statements made their way to Fox News.
Dominion's case argued that the media empire relies on lying to its audience. The company's extensive court filings revealed private admissions among Fox producers, executives and programme hosts questioning or ridiculing the network's unreliable guests and their dubious arguments about Dominion, while, at the same time, conceding that the network risked alienating Fox viewers and losing them to competing far-right networks if Fox publicly rejected those claims.
Jurors were not even asked to consider if those statements were true or not. The question wasn't up for debate. Judge Davis asserted in a ruling last month that it is "CRYSTAL" clear that "none of the statements relating to Dominion in the 2020 election are true."
Instead, they were tasked with figuring out if those statements meet the high legal standard of "actual malice" for defamation cases – in other words, deciding if the network and its leadership knowingly aired false statements or aired them with reckless disregard for the truth.
Reporters from around the world filled every inch of seating on the long wooden benches inside the courtroom. An overflow room reserved for media converted a smaller courtroom into a satellite station for reporters who could send updates from the trial to their newsrooms and social media. That room was also full, with reporters sprawled out on tables otherwise reserved for lawyers, and in the brown leather seats in a jury box otherwise filled with jurors.
An 11th hour settlement means Fox avoids that heightened level of scrutiny from the nation's top media and elections reporters in a trial that was set to last six weeks. A witness list was likely to include the network's biggest names, including Tucker Carlson, Sean Hannity and Maria Bartiromo, and Fox Corporation CEO Rupert Murdoch.
'Lies have consequences': Dominion announces settlement with Fox
Defamation cases rarely get this far. Most are settled out of court before a jury can look at them.
Speculation about a possible settlement was growing over the weekend as the parties neared a court date on 17 April.
Instead, Judge Davis announced that the trial would be delayed – by one day.
From the bench on Monday morning, Judge Davis stressed his announcement was "not a press conference."
"I don't do that," he said.
It was nothing unusual, he said, underscoring the fact that both parties were headed towards a real-deal trial. Twenty-four hours later, jury selection was underway. A trial was imminent.
Meanwhile, a truck carrying a sign reading "RUPERT MURDOCH KNEW" and "TUCKER CARLSON KNEW" was circling the courthouse for hours.
Twelve jurors and 12 alternate jurors were selected and sworn in shortly after 11am on 18 April. There was a break for lunch, followed by a nearly three-hour long delay.
Shortly after returning to the courtroom, Judge Davis announced that "the parties have resolved their case." The jury was excused. Reporters raced out the room.
A mob of journalists and cameras followed lawyers for Dominion after addressing cameras parked outside the courthouse, hoping to get a better idea of what exactly is inside the massive settlement.
Moments later, a statement from Fox attributed only to the "network" confirmed the settlement.
"We are pleased to have reached a settlement of our dispute with Dominion Voting Systems," the statement said. "We acknowledge the Court's rulings finding certain claims about Dominion to be false. This settlement reflects Fox's continued commitment to the highest journalistic standards. We are hopeful that our decision to resolve this dispute with Dominion amicably, instead of the acrimony of a divisive trial, allows the country to move forward from these issues."
That afternoon, Fox host Howard Kurtz – who attended the near-trial in Delaware – read the statement on his programme, adding that claims from Mr Trump and his allies "on Fox and elsewhere" about Dominion "stealing votes" and "flipping" them to Joe Biden in the 2020 election were "obviously false."
"Those were conspiracy theories," he said.
And that is likely as far as the admission will go. It does not appear likely that the settlement includes conditions that any Fox personalities admit the same on air.
"I hope this exposes Fox New as the liars they are," Mr Schultz told The Independent on Tuesday outside the court, where he held a "GOP + FOX = FASCIST PROPAGANDA" sign while wearing a "MAKE AMERICA KIND AGAIN" T-shirt. "And our country can get back to a point where we're not as divided."
Join our commenting forum
Join thought-provoking conversations, follow other Independent readers and see their replies