Father of fentanyl victim says Marjorie Taylor Greene 'crossed the line' heckling daughter's story at SOTU
EXCLUSIVE: Marjorie Taylor Greene heckled President Joe Biden as he shared the story of Courtney Griffin's battle with addiction during his State of the Union speech. Courtney's father Doug Griffin father speaks to Rachel Sharp about the 'really nasty' stunt
Thursday 09 February 2023 06:19 EST
Comments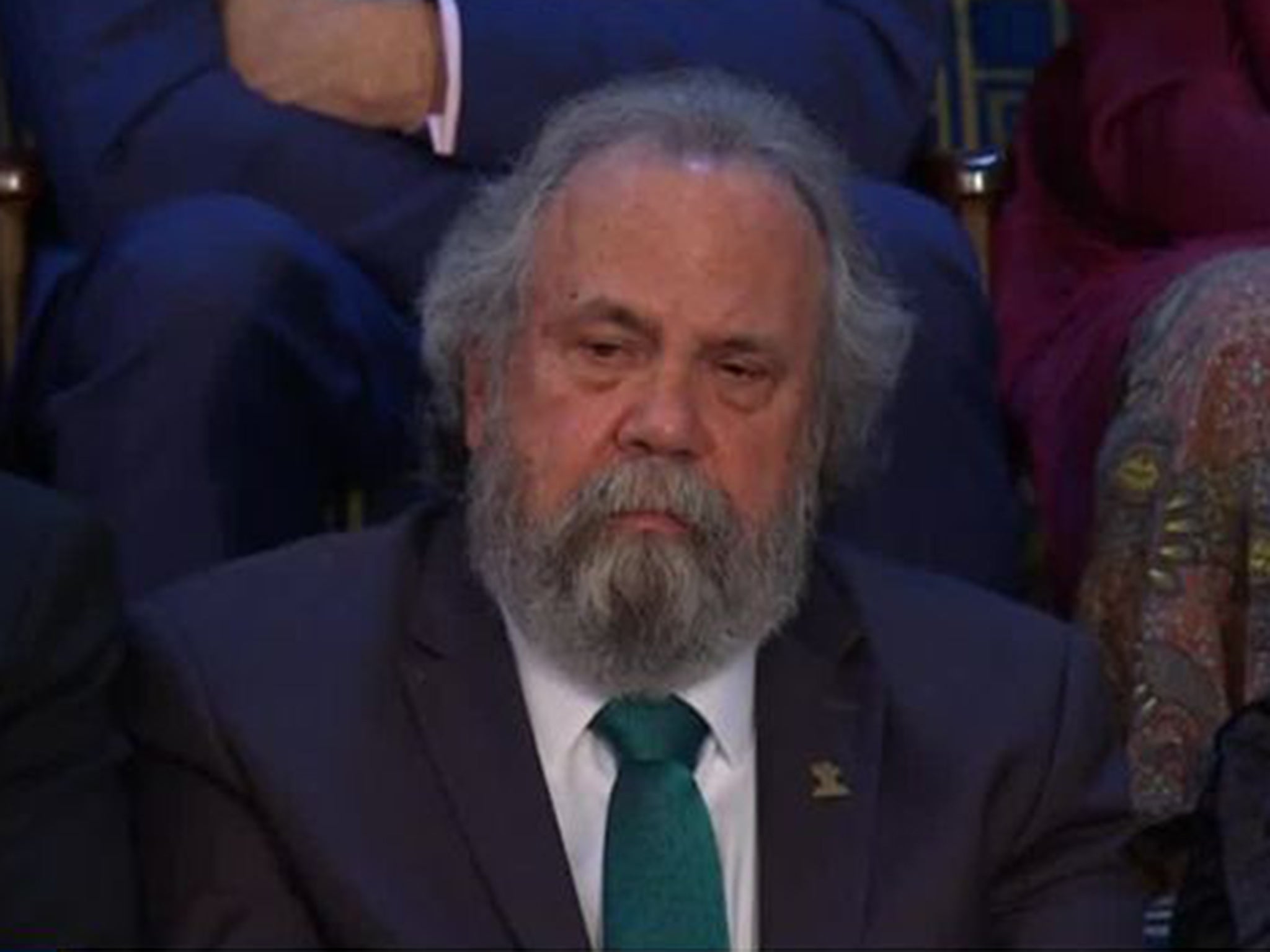 The father of a 20-year-old woman who died of a fentanyl overdose has said that Marjorie Taylor Greene "crossed the line" when she heckled President Joe Biden's telling of his daughter's story at the State of the Union.
Doug Griffin told The Independent that he found it "really nasty" when the controversial GOP congresswoman interrupted the president's address during what should have been a "moment of reverence".
"I was startled as that was the only time during the entire speech that he was heckled in that way," he said.
"It was really nasty in what was a time of reverence. I think she crossed the line."
McCarthy shushes lawmaker for interrupting Biden tribute to fentanyl victim
Mr Griffin, a Republican, said the outburst highlighted the "constant battle" to get Republicans and Democrats to work together to tackle the opioid crisis – as he urged lawmakers to stop treating it as a partisan issue.
"It's a constant battle between far left and far right – a struggle to be able to do anything," he said.
"And I think that was the perfect example of that when she broke in there. It's not the time or the place to do that.
"And I'm a Republican – but the issue of drugs is not a partisan issue."
Mr Griffin's daughter Courtney – a talented musician who had dreams of moving to Hawaii – was just 20 when she died of a fentanyl overdose in September 2014.
Since her death, Mr Griffin has fought to raise awareness about the stigma of addiction and called for better access to substance use disorder treatment services.
On Tuesday night, Mr Griffin and his wife Pam attended the State of the Union as a guest of first lady Jill Biden, where Mr Biden shared Courtney's story with members of the House and the Senate – as well as the millions of TV viewers across America.
"Joining us tonight is a father named Doug from Newton, New Hampshire. He wrote Jill my wife a letter and me also about his courageoeus daughter Courtney. Contagious laugh. Her sister's best friend," the president said.
"He shared a story all too familiar to millions of Americans and many of you in the audience. Courtney discovered pills in high school. It spiraled into addiction and eventually her death from a fentanyl overdose. She was just 20 years old.
"Describing the last eight years without her, Doug said, 'There is no worse pain.'
"Yet their family has turned pain into purpose, working to end stigma and change laws. He told us he wants to 'start a journey towards America's recovery.'
"Doug, we're with you. Fentanyl is killing more than 70,000 Americans a year."
At that moment, Ms Greene – who made repeated outbursts during the speech – and several others began heckling the president.
The Georgia congresswoman could be heard yelling out: "It's coming from China!"
Another lawmaker chimed in: "It's your fault!"
Mr Griffin didn't react to the disruption at the time, with the camera panning round to show him sitting solemnly in the gallery.
But House Speaker Kevin McCarthy was seen shushing members of his own party.
Mr Griffin told The Independent that the interruption "took me away".
"At that moment he was trying to tell her story and get a response to the story and [Ms Greene] broke the momentum of that moment," he said.
"I traveled a long way for me and my wife to be there to hear it and she crossed the line and broke the momentum of the minute."
To Mr Griffin, it was a big moment to be invited to the State of the Union and for Mr Biden to use part of his major annual address to speak about his daughter and the fentanyl crisis.
It's something he has been pushing the government to do more to tackle since Courtney's death in 2014.
As Mr Biden mentioned, Mr Griffin had written to the president two years ago – and so he was "surprised" when an invitation came this year.
"It must have been at the back of their mind all this time," he said.
"Courtney's story has been told in congress before but this is the first time a president has told it."
He said that he knows his daughter would have been "proud".
From a young age, Mr Griffin said that Courtney always had the same dream in life.
"Since she was four years old, she said she wanted to be a Hawaiian," he laughed. "She always had the same answer."
The family travelled a lot and she was in a band.
But in high school, Courtney first took drugs and she soon became addicted to heroin.
Mr Griffin said that his daughter fought her addiction and joined the Marines "to get away from drugs".
"She was only a little thing, five foot one, at this bootcamp and was getting through it and then in the entrance exam one urine sample came back positive for marijuana and they threw her out," he said.
"She had finally got on the path and she loved the discipline. She came out and she crashed as she felt like she had failed, like she was worthless."
Courtney then applied to college – only one: the University of Hawaii.
Mr Griffin said she was accepted but because she was still battling addiction at the time she didn't go.
Courtney really wanted to get help, booking into a treatment facility in 2014. But when the health insurance company refused to cover the treatment, she had no choice but to leave.
"They told us it's not a matter of life and death," Mr Griffin said.
"Back in 2014, if the world knew you were doing drugs you were treated as a junkie and treated with less respect."
Courtney died just one month later.
For Mr Biden to speak about the fentanyl crisis in Tuesday's speech shows that his administration is now "trying" to address the issue, said Mr Griffin.
"I think he's really trying. I don't think the average person realises the depth of the problem and I think his administration is aware of that," he said.
Mr Griffin would like to see the government channel more money into grassroots programmes.
State of the Union 2023: Key moments from this year's speech
"The money needs to get down to people in the grassroots," he said.
"Millions of funding goes to well-vetted agencies and yet most of the critical work is done by nonprofits that have boots on the ground and I wish we could get more funding down to that level."
To him, the key areas to tackling the epidemic are: education and prevention.
"We need to start early. We talk a lot about people once they are addicted to drugs but let's go before that and educate people," he said.
"People are driven to drugs in the first place to feel normal or because they're bullied…"
Mr Griffin feels that his daughter may still be alive if he and his family knew more about addiction at the time.
"We're losing people because people are uneducated about it," he said.
"I think if I knew then what I do now then I think I could have saved her life."
He added: "I never wanted her to be defined by her addiction – she was an awesome kid and she was only 20."
Join our commenting forum
Join thought-provoking conversations, follow other Independent readers and see their replies