Zimbabwe's opposition leader tells AP intimidation is forcing voters to choose ruling party or death
Zimbabwe's main opposition leader has accused President Emmerson Mnangagwa of violating the law and tearing apart independent institutions to cling to power
Zimbabwe's opposition leader tells AP intimidation is forcing voters to choose ruling party or death
Show all 13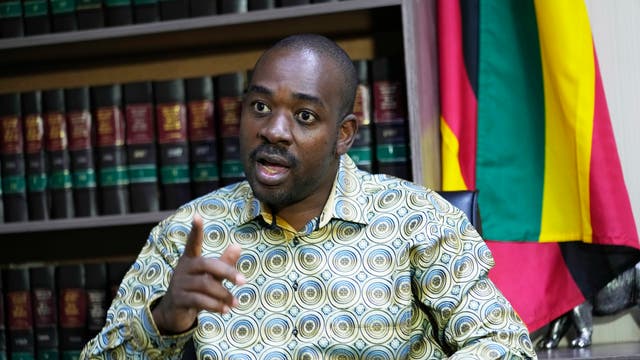 Zimbabwe's main opposition leader accused President Emmerson Mnangagwa of violating the law and tearing apart independent institutions to cling to power.
In an interview with The Associated Press, Nelson Chamisa also warned that any evidence of tampering by Mnangagwa's ruling party in this month's elections could lead to "total disaster" for a beleaguered nation that is in economic ruin and already under United States and European Union sanctions for its human rights record.
Chamisa, who will challenge Mnangagwa and the ruling ZANU-PF party's 43-year hold on power in an Aug. 23 vote, claimed widespread intimidation against his opposition party ahead of the elections.
Chamisa said Mnangagwa has utilized institutions like the police and the courts to crack down on critical figures, ban opposition rallies and prevent candidates from standing. He laid out a series of concerns that indicate the country, with its history of violent and disputed elections, could be heading for another one.
In rural areas far from the international spotlight, many of Zimbabwe's 15 million people are making their political choices under the threat of violence, Chamisa said, driven to ruling party rallies and forced to support Mnangagwa and the Zimbabwe African National Union – Patriotic Front if they want to stay safe — or even alive.
Chamisa called it a choice of "death or ZANU-PF" for some.
"Mnangagwa is clearly triggering a national crisis," Chamisa, the leader of the Citizens Coalition for Change party, said in the interview with the AP in his 11th-floor office in the capital, Harare. "He is driving the country into chaos. He is actually instigating instability. He is violating the law. He is tearing apart institutions of the country."
Mnangagwa has repeatedly denied allegations of intimidation and violence by authorities or his party and has publicly called on his supporters to act peacefully during the campaign.
But Chamisa's portrayal of a highly repressive political landscape in the southern African nation — where the removal of autocrat Robert Mugabe in 2017 appears to have been a false dawn — is backed by reports released by Amnesty International and Human Rights Watch ahead of the presidential, parliamentary and local government votes in three weeks.
They will take place amid "five years of brutal crackdowns on human rights," Amnesty said, since Mnangagwa gained power from Mugabe in a coup and then won a disputed presidential election by a razor-thin margin against Chamisa in 2018. In its assessment, Human Rights Watch said Zimbabwean authorities have "weaponized the criminal justice system against the ruling party's opponents" and the buildup to the vote has not met free and fair international standards.
Zimbabwe has significant mineral resources — including Africa's largest deposits of highly sought-after lithium — and rich agricultural potential, and could be of huge benefit to the continent if it gained the political and economic stability that has eluded it for years. Zimbabwe was shunned by the West for two decades because of abuses during the regime of Mugabe, who died in 2019.
Mugabe's removal sent Zimbabweans into the streets to celebrate, and Mnangagwa promised democracy and freedom would be born from the coup. He maintained recently that "Zimbabwe is now a mature democracy" under him.
Rights groups say it's a mirage and the 80-year-old Mnangagwa, a former Mugabe ally once known as his enforcer, has been as repressive as the man he removed.
Under Mnangagwa, critics and opposition figures have been jailed, including CCC lawmaker Job Sikhala, who has been in detention for over a year after accusing ruling party supporters of hacking to death an opposition activist. Some have faced legal backlash for seemingly minor criticisms, like world-renowned author Tsitsi Dangarembga, who was arrested for participating in a protest that called for better services for citizens.
A court decision disqualified all 12 CCC candidates in Bulawayo, the second-largest city, from standing in the election, even after the electoral agency said they had registered properly. They successfully appealed to the Supreme Court to be allowed to stand.
"I am nowhere near the court," Mnangagwa said, denying any influence on the initial decision to bar the opposition candidates.
Chamisa, a 45-year-old lawyer and pastor, said Mnangagwa was now overseeing a second coup in Zimbabwe.
"You can't have a contest without contestation. You can't have an election without candidates," Chamisa said. "Once you eliminate candidates, you are actually eliminating an election. And that's the point we are making. … It's a coup on choices."
The elections will be monitored by observers from the European Union and African Union, who were invited by Mnangagwa. He says he has nothing to hide. Human Rights Watch has questioned if the observers will be allowed to access all parts of the country, while their small numbers make it likely they won't be able to monitor the entire vote. There are 150 observers from the EU and more than 12,500 polling stations across the country.
Chamisa told the AP that his party has put in place systems to be able to independently check vote counts, but there are also doubts that the CCC can deploy enough members to watch over those stations, many deep in rural areas regarded as ZANU-PF strongholds.
Should their calculations show fraud this time, as was alleged in 2018 and other elections before that, Chamisa warned it will "plunge the country into total disaster and chaos."
He urged Mnangagwa to step back from his repressive policies in a country denied democracy under white minority rule before 1980 and again — according to international rights groups — under the only two leaders it has seen since: Mugabe and Mnangagwa.
"He must be stopped because he can't drive the whole nation and plunge it into darkness and an abyss on account of just wanting to retain power," Chamisa said of Mnangagwa. "Zimbabweans deserve peace, they deserve rest. They have suffered for a long time."
___
AP Africa news: https://apnews.com/hub/africa