An 'open secret': Top White House aides reveal Trump's alleged inappropriate conduct towards female staffers
Former Trump administration aides say his boorish behaviour towards women didn't stop when he was in the White House. Andrew Feinberg reports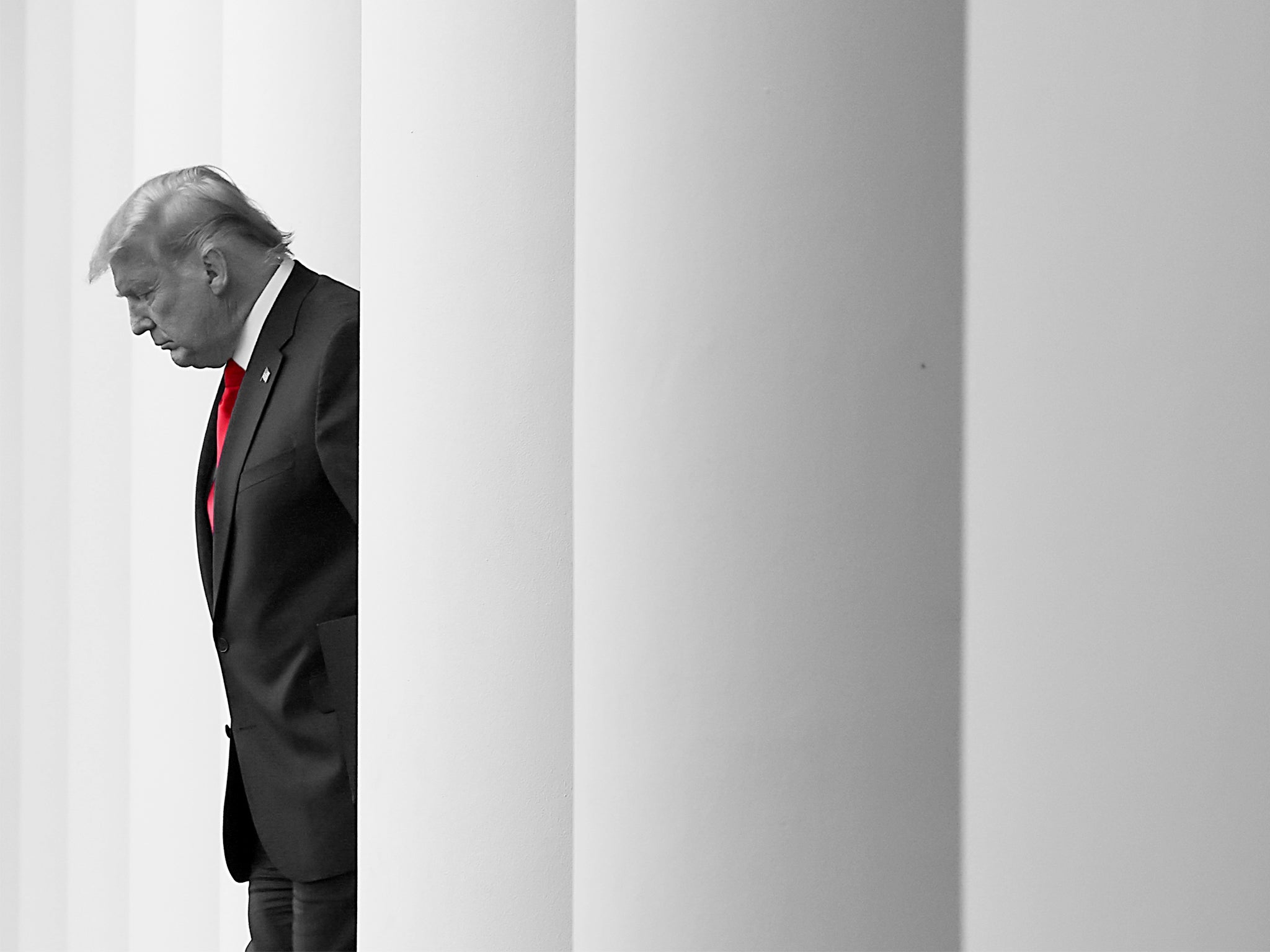 Just one week after a Manhattan jury found former president Donald Trump liable for sexually assaulting and defaming writer E Jean Carroll, no fewer than three women who had senior roles in his administration have come forward to allege inappropriate behaviour on Mr Trump's part towards women on his White House staff.
The trio includes two of Mr Trump's top lieutenants, Alyssa Farah Griffin — his ex-White House communications director who now co-hosts ABC's The View — and Stephanie Grisham, who served as press secretary for both Mr Trump and former First Lady Melania Trump in addition to serving as Ms Trump's chief of staff.
Ms Grisham, who has become a vocal critic of the ex-president since the end of his administration, said that Mr Trump targeted a specific female aide for a significant amount of inappropriate attention.
She said that although the then-president habitually opined on women's physical appearance, his behaviour towards "this one staffer" was "was really bad to the point that I was extremely uncomfortable".
E. Jean Carroll Mulling Another Defamation Lawsuit Against Trump: 'Weighing All Of Our Options'
Specifically, she said Mr Trump would ask aides to ensure the staffer in question was in the traveling party when he made trips abroad, even when such duties were supposed to be the responsibility of other White House aides.
Ms Grisham in an interview with CNN also accused Mr Trump of asking one of her deputy press secretaries to bring the staffer to see him so he could "look at her a**".
The former White House press secretary explained how she attempted to keep the staffer in question from ever being left alone with the then-president. She said her concern about how Mr Trump would behave behind closed doors if he were left with the unnamed aide predated Ms Carroll's rape allegation against him.
"I did everything I could to keep her off of trips, actually, and to stay with her if she was with him alone, because I was really nervous about what could happen and this was before I knew kind of any of the the E Jean Carroll allegations. I stupidly did know about the Access Hollywood video but maybe that was what made me you know, keep with her all the time," she said.
Alyssa Farah Griffin, who served as a top spokesperson for then-vice president Mike Pence and the Pentagon before returning to the White House as communications director in mid-2020, told The Daily Beast that she witnessed "a number of problematic behaviour[s] and comments" from the then-president towards young, female White House staffers during her time in the West Wing.
"I saw behavior and engagement with very young junior female staffers from the former president that made me uncomfortable," she said. "It's a pattern. It was visible. It didn't take a genius to see it. It was reported, I don't know if it was handled, but this is a man who does not respect women — it's a man who objectified women," she said.
Ms Griffin, a longtime conservative communications professional who served as the top spokesperson for the House Freedom Caucus before joining the Trump administration, said "nothing was ever done" about Mr Trump's alleged misconduct despite it being "an open secret" and a subject of "open discussion" among his West Wing aides.
Ms Grisham also revealed that the ex-president's allegedly inappropriate behaviour was well-known among his senior aides. But she, too, said not a single one of them was able to do anything about it.
"I think at the end of the day, what could they do other than go in there and say, 'This isn't good, sir?'" she said. "And you know, Donald Trump will do what Donald Trump wants to do".
Another former White House aide, Olivia Troye, told Newsweek that she'd "witnessed [Mr Trump's] behaviour first hand" and said it happened "openly" in front of other White House staff, including during meetings in the West Wing.
Ultimately, the three ex-staffers — all of whom have become vocal critics of the ex-president since he left office — are just a few of the women who've discussed alleged misconduct by Mr Trump.
Lisa Bloom, an attorney who has represented many of his past accusers, wasn't shocked to discover that he continued his bad bahaviour after assuming the highest office in the US.
In a statement to The Independent, she called the claims "disgusting but not surprising".
"Trump's blatant sexual harassment and sexual assault of women never ends. Even more disgusting are the voters who support him knowing he treats women so badly," she said.
Since Mr Trump entered the American political arena as a candidate for president in 2015, at least 25 women have accused him of all manner of sexual misconduct, ranging from inappropriate passes and groping to outright rape.
The allegations leveled against the New York developer and television personality turned president go back decades, long before he ever considered running for the White House, with many of them dating to his heyday as a real estate tycoon and business icon in the 1980s and 1990s.
One oft-reported incident stemmed from a divorce deposition given in 1990 by his late first wife, Ivana Trump. During their divorce proceedings, his soon-to-be ex-wife accused Mr Trump of raping her during a violent attack after a visit to a plastic surgeon she'd recommended left him in pain from a scalp reduction procedure.
That allegation was revealed in 1993 book Lost Tycoon by author Harry Hurt III, who viewed a transcript of the deposition. In his book, Hurt described the incident recounted in the deposition as a "violent assault" with a sexual component.
In a statement provided to the author, Ivana Trump admitted that she'd described the attack as "rape" during her sworn deposition but stressed that she "[did] not want [her] words to be interpreted in a literal or criminal sense".
Mr Trump, who has denied the incident with his late ex-wife ever happened, was also accused of rape by writer E Jean Carroll, who recently won a multi-million dollar jury verdict against the ex-president for sexual abuse and defamation, based on Ms Carroll's allegation that Mr Trump assaulted her in a dressing room at the Bergdorf Goodman department store in Manhattan decades ago.
Although Ms Carroll, a former Elle advice columnist, sued Mr Trump for rape, the jury found that her attorneys did not prove that he was liable.
They did find that it was more likely than not that he sexually assaulted Ms Carroll, who testified that the future president had penetrated her with a body part but said under oath that she could not see what the body part in question had been.
A spokesperson for Mr Trump did not immediately respond to a request for comment from The Independent, but the ex-president has repeatedly denied ever having behaved improperly around any women. He has also denied ever behaving improperly with his ex-wife and has said he has never met and does not know Ms Carroll, who has said that she might again sue him for defamation after he denounced her during a CNN town hall on 10 May.
A 2016 story in The New York Times included accounts from more than 50 women who had become acquainted with the future president over the years, either socially or professionally, or as models or beauty pageant contestants.
The Times said the women's stories showed a history of "unwelcome romantic advances, unending commentary on the female form, a shrewd reliance on ambitious women, and unsettling workplace conduct" in settings ranging from construction sites of his projects, at his various homes, beauty pageant dressing rooms, and his eponymous Manhattan skyscraper.
These written accounts of alleged bad behaviour — all of which Mr Trump and his spokespersons have strenuously denied — surfaced again and again throughout Mr Trump's 2016 campaign, and were further validated by what became known as the "Access Hollywood tape" in October 2016.
On 7 October that year — one month before voters went to the polls on Election Day — The Washington Post published a video taken of Mr Trump and then-NBC host Billy Bush.
The footage was taken in a bus while the two men were traveling to a taping of Access Hollywood eleven years prior to the 2016 campaign. The film's audio track included a lewd exchange in which Mr Trump described his efforts to seduce a woman who he knew to be married, starting with an unwanted kiss.
"I don't even wait. And when you're a star, they let you do it. You can do anything. ... Grab 'em by the pussy. You can do anything," he said.
While some top Republicans strongly condemned the then-GOP presidential nominee — with a few even calling on him to drop off the Republican ticket — Mr Trump remained defiant and shrugged off the criticism.
A month later, he was elected president of the United States.
Join our commenting forum
Join thought-provoking conversations, follow other Independent readers and see their replies