Donald Trump victory sinks global markets as experts predict it may have a bigger effect than Brexit
The financial markets are now indicating that Wall Street could suffer its biggest ever plunge when Wednesday's trading session begins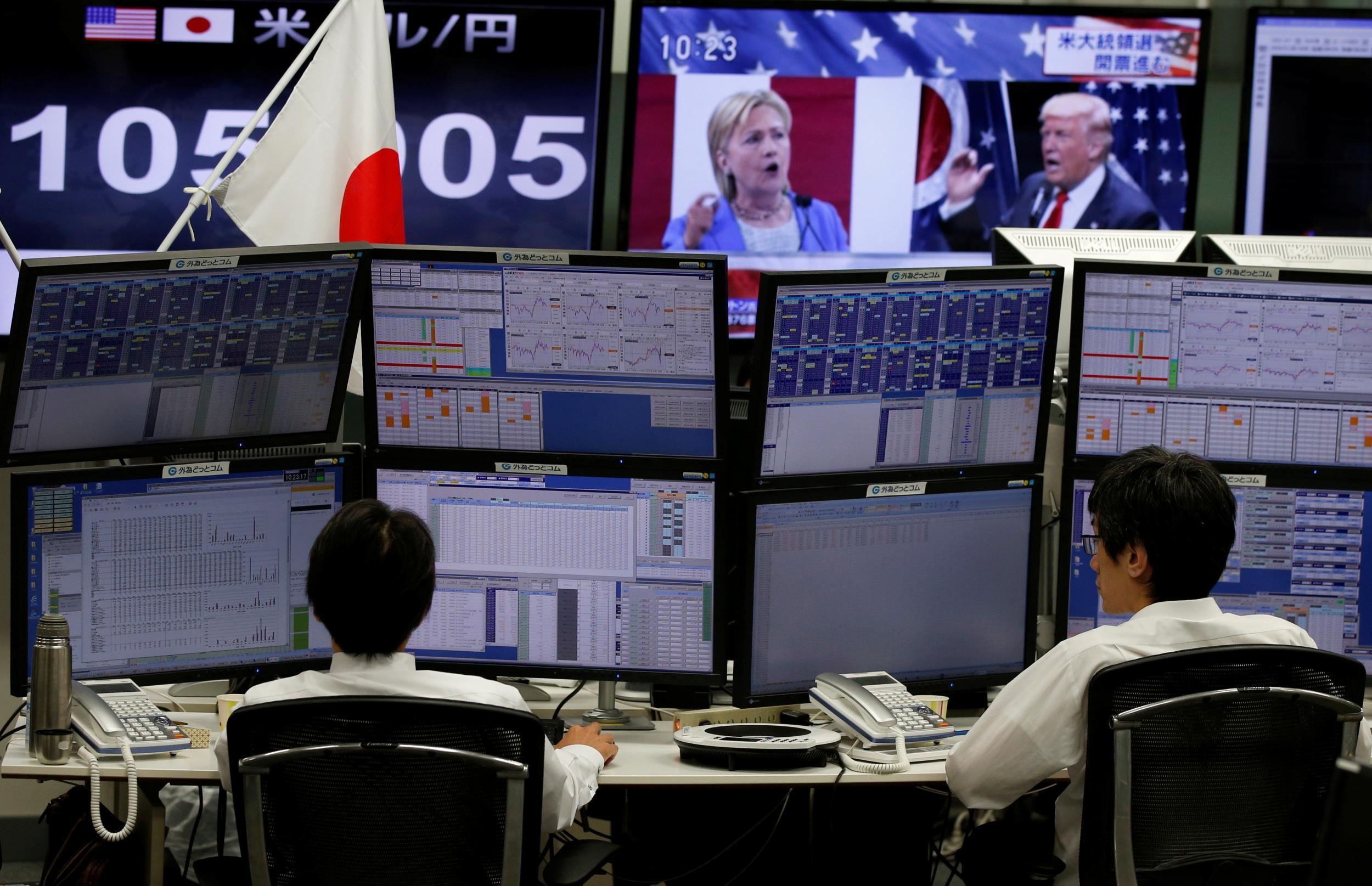 The shock win by Republican candidate Donald Trump has sent global markets into mayhem as analysts predict the long-term effect could be worst than the Brexit vote in June.
The financial markets are now indicating that Wall Street could suffer its biggest ever plunge when Wednesday's trading session begins.
Meanwhile, Britain's FTSE 100 index is expected to tumble by over 4 per cent, which would be its biggest slump since UK voted to leave the EU.
Overnight, shares prices in Asia, Australia and India gave up all their gains with money flowing into safe haven stocks, gold and currencies overnight.
Sean Callow, a forex strategist at Westpac in Sydney, said markets "are reacting as though the four horsemen of the apocalypse just rode out of Trump Tower."
"Or at least 3 of them - it might be 4 when the prospect of a clean sweep of Congress sinks in."
Trump victory speech calls on Americans to become 'one united people'
As initial results from the US election showed the Republican candidate was on course to win the presidency, the dollar began to plunge against the yen and the euro.
Jameel Ahmad, FXTM VP of Market Research said the markets are suffering a repeat of June's Brexit shock:
"This is the exact same thing that happened during the EU referendum vote, when investors sided substantially towards pricing in a remain outcome and they were left in complete shock earlier in trading as a result of Donald Trump gaining momentum."
Meanwhile, the Mexican peso, a barometer of Trump's fortunes, plunged throughout the night, down by more than 10 per cent against the dollar - an all-time low.
Japan's Nikkei has closed down 5.3 per cent as a wave of selling hit the Asian Stock. While shares in Australia finished down 1.92 per cent.
Meanwhile India's stock market opened with shares down 3.7 per cent at 4am.
Jeremy Cook, of World First, said worse is still to come for the markets:
"While stock futures are sliding and riskier currencies like the Mexican peso are crumbling as States that had been thought to in Clinton's column drift towards Trump, we are nowhere close to the reaction that a call that Trump has won could see. Brexit was a UK-focused event although the ripples knocked global markets for a couple of days; this will be almost unquantifiable."
The Dow is predicted to shed 800 points - a bigger points fall than in September 2008 when the financial crisis struck.
Meanwhile, analysts said the FTSE 100, UK's benchmark index is set for a 300-plus fall.
US Presidential election: key moments in pictures
Show all 12
Joshua Raymond, director at London broker XTB.com, said: "It's looking like it's President Trump. This is a complete and utter shock to investors around the world and we will see European stocks sharply lower when trading opens in a few hours."
We currently expect the FTSE to open 270 points lower which is a collapse of close to 4 per cent. We have seen a major flight to safety on a similar level to the Brexit vote and the Mexican Peso has collapsed against the pound as people around the world digest the realisation that Trump is extremely likely to now become President of the United States."
Click here to download your free guide on how to select shares, with Independent Partner, Hargreaves Lansdown
Join our commenting forum
Join thought-provoking conversations, follow other Independent readers and see their replies