Donald Trump's travel expenses in 10 weeks cost US taxpayers as much as Barack Obama spent in two years
US President has spent seven weekends at Mar-a-Lago since taking office 10 weeks ago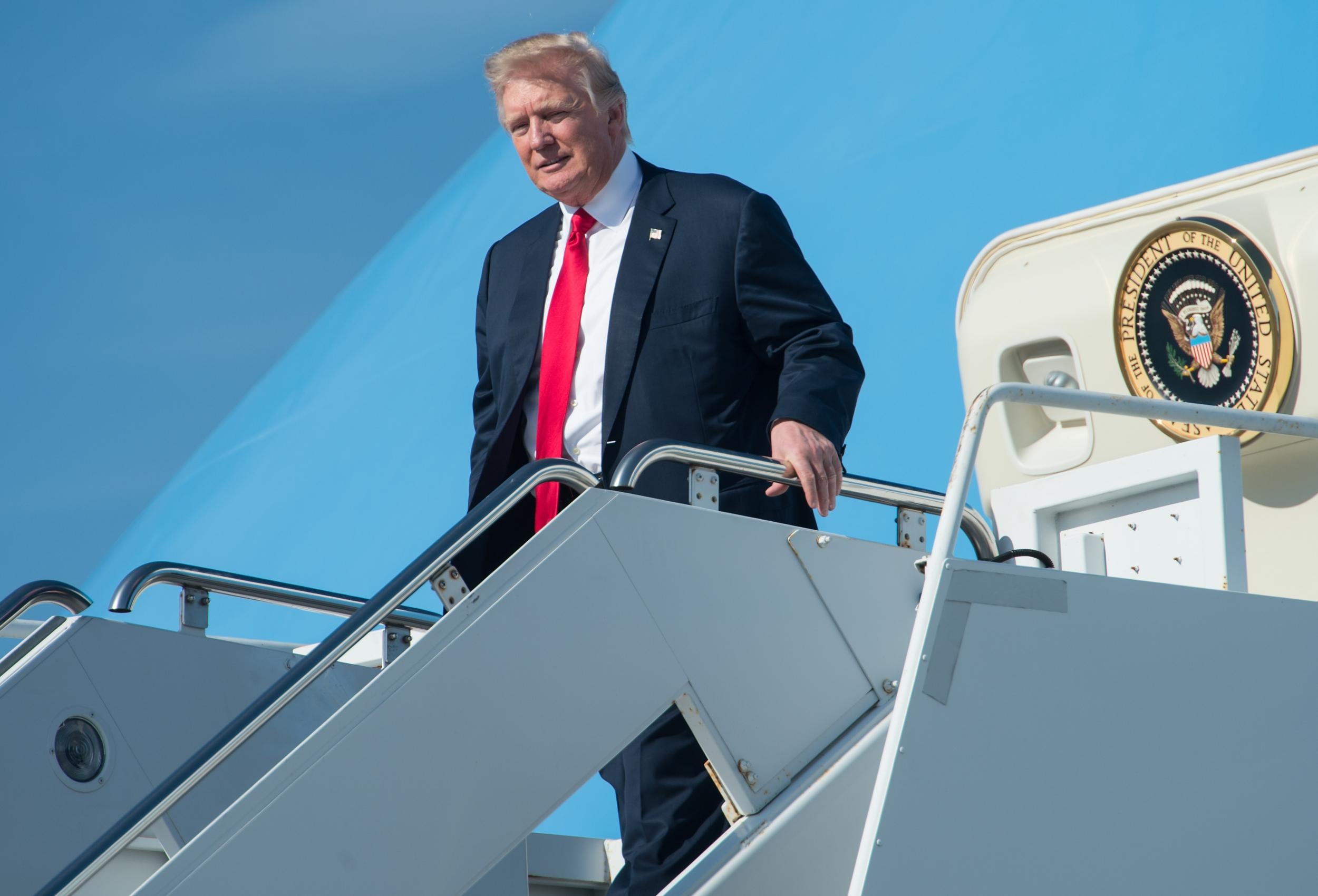 Donald Trump's trips to his luxury Florida resort have already cost the US taxpayer at least $24 million (£19.2 million) - roughly as much as Barack Obama spent on travel in the first two years of his presidency.
Mr Trump has spent seven weekends at Mar-a-Lago since taking office ten weeks ago. It is estimated that each of these trips costs at least $3 million (£2.4 million), covering the President's extensive security detail.
In total, Mr Obama's travel bill over the eight years of his presidency came to $97 million (£78 million) - an average of $12.1 million (£9.7 million) a year.
President Trump almost matched this figure in his first month - spending $10 million (£8 million) on three golfing holidays.
The cost of travel and security for the entire Trump family is likely to be much higher, as the First Lady Melania and Mr Trump's youngest son, Barron, are remaining in New York until at least September.
The New York Police Department has confirmed that it costs between $127,000 and $146,000 (£101,000 and £116,000) a day "to protect the First Lady and her son while they reside in Trump Tower".
After he hosts Chinese President Xi Jinping at Mar-a-Lago this weekend, Mr Trump will have averaged $2.4 million (£1.9 million) tax dollars a week on his Florida trips. If he keeps going at this pace, he will have outspent Mr Obama's $97 million figure in just ten months.
Critics have pointed out that if the President cut back on these visits, he could fund the social security and arts programmes that he is planning to slash.
The Trump administration is looking to make $597 million (£479 million) in cuts to government departments — just less than the $600 million security arrangements for Mr Trump's Mar-a-Lago visits are estimated to cost the taxpayer over the course of his term.
President Trump has, however, pledged to increase military spending by $54 billion (£43 billion), which would be funded by cuts to other agencies.
Before his inauguration, Mr Trump regularly criticised Mr Obama for playing golf while holding office.
"Can you believe that, with all of the problems and difficulties facing the US, President Obama spent the day playing golf. Worse than Carter," he tweeted in October 2014.
During a campaign rally last year, Mr Trump referred to his golf courses when he criticised Mr Obama.
He said: "You know what – and I love golf – but if I were in the White House, I don't think I'd ever see Turnberry again, I don't think I'd ever see Doral again, I own Doral in Miami, I don't think I'd ever see many of the places that I have.
"I don't ever think that I'd see anything, I just wanna stay in the White House and work my ass off, make great deals, right? Who's gonna leave? I mean, who's gonna leave?"
Join our commenting forum
Join thought-provoking conversations, follow other Independent readers and see their replies