Donald Trump says he is 'very much behind' authoritarian Egyptian President Sisi
Egypt's President Abdel Fattah al-Sisi was not invited to the White House by former President Obama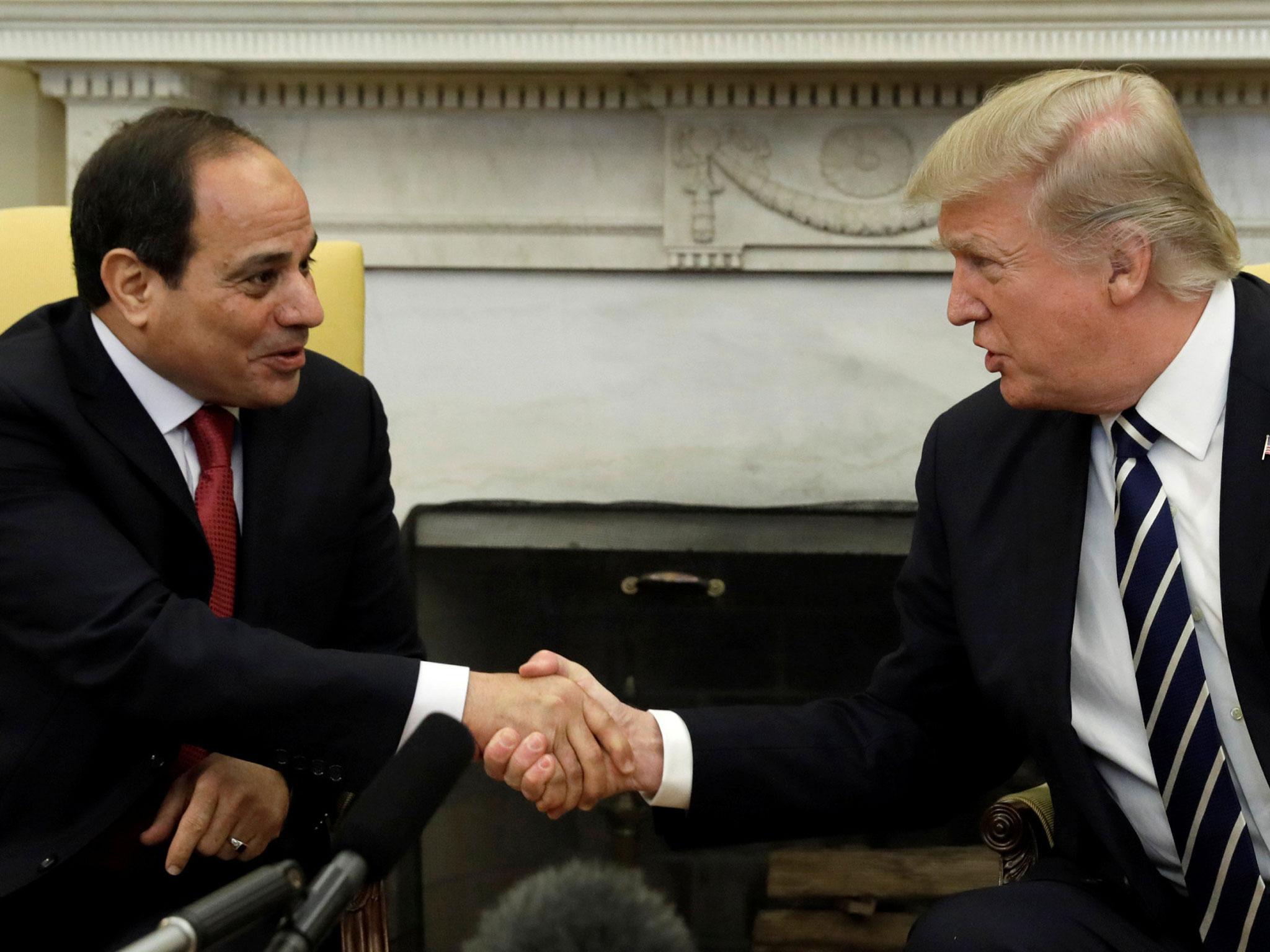 Donald Trump has said he is "very much behind" President Abdel Fattah al-Sisi, who led the Egyptian military to oust his predecessor in 2013, as the two men met in the White House.
The White House said the purpose of the visit – the first official visit in eight years by an Egyptian head of state – was to "reboot" relations between the two countries as Mr Trump ramps up his focus on defeating Isis.
Mr Sisi was the first head of state to congratulate Mr Trump on his election victory in November and Mr Trump said in Washington that Mr Sisi's and himself "agree on so many things".
"You have a great friend and ally in the US and me," said Mr Trump before the two shook hands in the Oval Office.
It is in sharp contrast to Mr Sisi's relationship with former President Barack Obama, who never invited the Egyptian President to the White House.
Mr Obama also blocked billions in various aid and assistance packages due to a concern over allegations by human rights groups that Mr Sisi had overseen mass violations of human rights.
Mr Sisi was head of the military in 2014 when he deposed former President Mohamed Morsi, a member of the Muslim Brotherhood who was elected to the post in the wake of the 2011 Arab Spring uprising.
Mr Obama eventually unblocked military aid to Egypt in 2015 because it was "in the interest of US national security" despite claims he would not do so until Mr Sisi showed sufficient "progress" towards improving human rights for Egypt's 82 million citizens.
The White House confirmed that alleged human rights violations would be addressed in the meetings, but done in a "private, more discreet way" compared with Mr Obama's approach.
Tens of thousands of political dissidents, including American citizens and human rights advocates, remain in Egyptian jails today due to Mr Sisi's policies, according to Human Rights Watch.
Mr Trump however, called Mr Sisi a "fantastic guy" when the two had met last September in New York during Mr Trump's 2016 presidential campaign in an effort to boost the then-candidate's scant foreign policy credentials.
In turn, Mr Sisi said he has "a deep appreciation and admiration of your unique personality", as the two vowed to fight terrorism together ahead of a day of meetings in Washington.
The two leaders may have different personalities – military versus celebrity – but they have a similar philosophy. The "Make America Great Again" slogan and "Long Live Egypt" seem to mirror each other in sentiment.
They also share views on media in their countries reporting "fake news" and criticising their respective judicial branches for being biased against them.
Mr Sisi may want to discuss increasing the $1.3bn (£1bn) in US military aid Egypt already receives in an effort to counter Isis in the Sinai peninsula. Mr Trump's proposed federal budget includes a $54bn increase for US defence.
It includes an increase to foreign aid to Israel but could also cut subsidies to foreign militaries to buy US weapons and cuts to other aid to countries like Egypt, Jordan, and others in the Middle East. The State Department budget, which houses the US Agency for International Development, is supposed to be cut by 28 per cent under the proposed budget. The White House will issue a full proposal in May.
Mr Trump said his Egyptian counterpart had "done a fantastic job in a difficult situation" and that the relationship between them would "be a very long and strong relationship".
Join our commenting forum
Join thought-provoking conversations, follow other Independent readers and see their replies