President Donald Trump: Four hours that shook the world - how the polls swung and the election results came in
The New York Times Presidential forecast reversed to give Mr Trump a 95% chance of victory in the moments leading up to his victory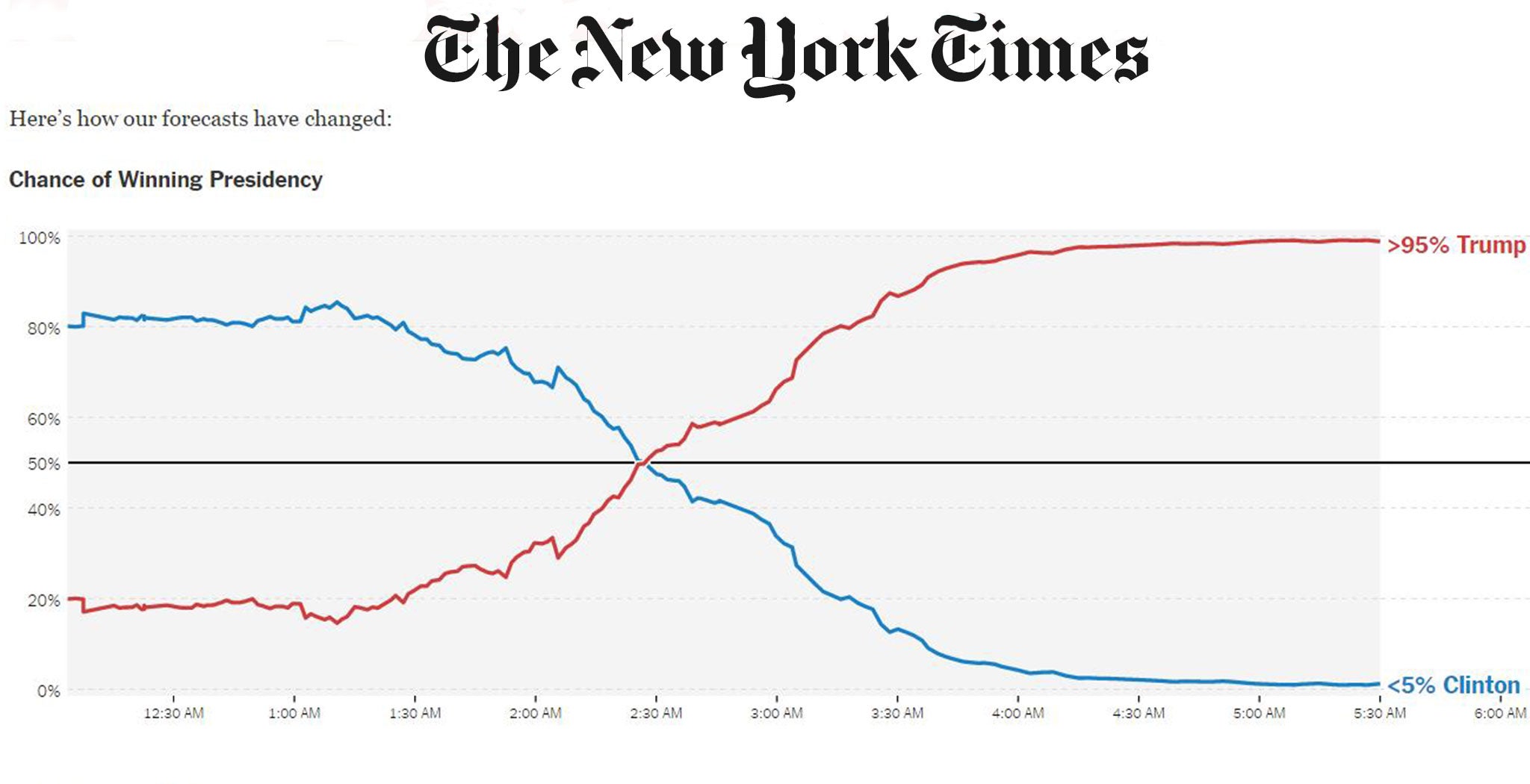 Victory for the Republican candidate defies months of predictions and polls that gave Hillary Clinton a comfortable, albeit shrinking, lead against her volatile rival candidate.
Follow the latest results and updates live
But after securing the crucial battleground states of Florida, Ohio and North Carolina, the odds of a Trump presidency dropped dramatically as the former Secretary of State's deficit started to appear insurmountable.
Trump victory speech calls on Americans to become 'one united people'
Then, shortly after 7.30am UK time, the billionare tycoon gave his first speech in New York after Hillary Clinton conceded election victory to the 70-year-old.
Analysis by the New York Times illustrated the shock reversal with the estimated chance of victory for Mr Trump rocketing from 20 per cent to over 95 per cent in under four hours, as Ms Clinton's fortunes went into freefall.
The calculation was based on counted votes and how different regions have previously voted, forcasting a final result of 308 Electoral College votes for Mr Trump.
Mr Trump's victory has sent Dow Jones futures and Asian markets tumbling, prompting numerous comparisons to the UK's vote to leave the EU, after the former The Apprentice star compared his prospective victory to "Brexit plus plus plus".
US Presidential election: key moments in pictures
Show all 12
"I pledge to every citizen of our land that I will be President for all Americans," said Mr Trump in his first speech as leader of the free world.
Join our commenting forum
Join thought-provoking conversations, follow other Independent readers and see their replies