Donald Trump's victory followed by wave of hate crime attacks against minorities across US - led by his supporters
Muslim women report hijabs being ripped off by men shouting support for President-elect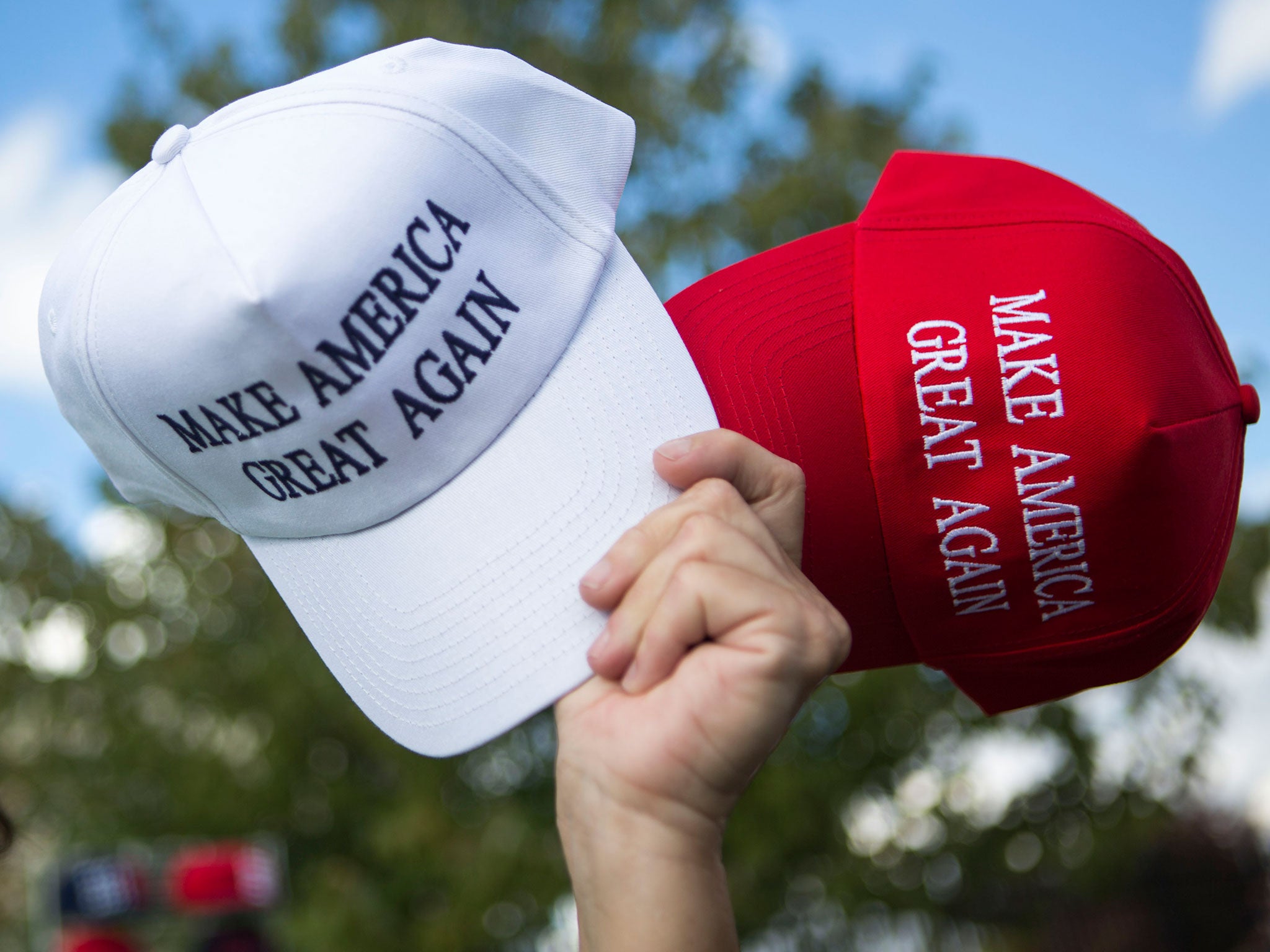 Police are investigating a wave of alleged hate crimes against Muslims, Hispanic Americans, black people, ethnic minorities and the LGBT community in the wake of the US election.
Attackers professing support for Donald Trump have been accused of numerous attacks in the 24 hours following his shock victory, including death threats, physical assaults and racist graffiti.
Among the incidents is the alleged robbery of a Muslim student at San Diego State University by two men who "made comments about President-elect Donald Trump and the Muslim community", before stealing her purse, rucksack and car.
"Comments made to the student indicate she was targeted because of her Muslim faith, including her wearing of a traditional garment and hijab," police said in a statement.
The SDSU Muslim Student Association said the victim was a black Muslim student wearing full Islamic dress, and is planning a demonstration against "anti-Blackness, Islamophobia, and all other forms of discrimination that have become increasingly normalised during the campaign and now election of Donald Trump".
Several Muslim women have reported Trump supporters attempting to rip off their hijabs, which cover the hair, while others said their families have advised them to stop wearing headscarves in fear of further attacks.
Maha Abdul Gawad said she was shopping in a local Wallmart on Wednesday when another woman approached, pulled off her hijab and said: "This is not allowed anymore, so go hang yourself with it around your neck not on your head."
Numerous incidents were also reported in schools, with students saying Muslim girls had taken off their hijabs to avoid abuse or had them forcibly removed, and teachers describing comforting crying children afraid their families would be deported.
Mackenzie Rae, from Washington, shared a message she received from a friend who works at a high school in Kansas on Wednesday.
It said: "We have two kids wearing Trump shirts pull a hijab off a Muslim girl today at school. OSS [out-of-school suspension] for five days.
Donald Trump's most controversial quotes
Show all 14
"When asked why? 'Because she's about to get kicked out anyway and we won.'"
A spokesman for the Washington-based Council on American-Islamic Relations told The Independent there were "tremendous levels of fear given the anti-Muslim rhetoric we have seen from Donald Trump during this campaign".
"This rhetoric is nothing new," he added. "What is new is how far he has gone with it. That is the shocking thing."
There have also been numerous reports of black people being verbally and physically abused by people expressing support for the President-elect.
A woman in Delaware described overhearing four white men near her at a petrol station discussing Mr Trump's victory and "how they're glad they won't have to deal with n*****s much longer".
"One walked over to me and said 'how scared are you, you black b****? I should just kill you right now, you're a waste of air'," she wrote.
"Then another guy steps forward and shows me his firearm. He says: 'You're lucky there's witnesses or else I'd shoot you right here.' I have called the police."
Natasha, a student from the Christian Baylor University in Texas, said she was walking home from a class when a man shoved her off the pavement.
"He said 'no n*****s allowed on the sidewalk'. I was shocked, I had no words," she said in a video posted on social media.
"Another guy said 'dude, what are you doing? That's not cool'. The guy said: 'I'm just trying to Make America Great Again'."
Many victims were documenting their experiences on Facebook, with a black woman in Bloomington, Indiana, describing how she was talking into a shop when white men in a passing lorry hurled abuse.
"As they sped their truck up on me, they rolled their window down and yelled: 'F*** you n***** b****," she wrote.
"Trump is going to deport you back to Africa'. In my 33 years of live, I've never had blatant racism shown to me than in that moment."
Elsewhere, a woman jogging in Bloomingdale, Florida, was told to "go back to Africa" by a passer-by, and graffiti at a school in Minnesota read "fuck n*****s #whitesonly #whiteamerica #trump".
Bart Becker, the principal of Maple Grove Senior High School, wrote a letter to students and parents saying the "serious and disturbing racial incident" was under investigation.
"This incident is additional evidence of the pressing need in our schools, our community and our nation to find ways to talk about race constructively and respectfully," he added.
Hispanic Americans and those of perceived Mexican heritage were also being targeted, with a woman saying an "older white man" threatened to sexually assault her and threw water over her hours after the election result.
"I was harassed by an older white man who presumed I was Mexican," Rhio Oracion wrote.
"[He said]: 'I can't wait until Trump asks us to rape your people and send you back over the biggest damn wall we're going to build. Go back to hell, wet back'.
"After saying all of that, he threw the water in his cup in my face, gave me the middle finger, and ran off.
"I'm in tears right now. I've never been terrified of being a woman and a minority until today."
Donald Trump labels Mexican criminals 'bad hombres' to much derision
There were also fears of an upsurge in attacks against the LGBT community.
"Can't wait until your 'marriage' is overturned by a real president," read a sign left on a car in North Carolina. Gay families = burn in hell. Trump 2016."
A gay man was smashed over the head with a beer bottle by men shouting homophobic slurs on election night, the Calgary Metro reported.
Mr Ball said he was in a bar in Santa Monica when the attackers shouted "We got a new President you f***ing f****ts", before assaulting him in a nearby alley.
A friend said Mr Ball was treated at accident and emergency and dismissed accusations from Trump supporters claiming a photo showing him drenched in blood was faked.
"This was an act of hate," he added. "Let's not let hate overpower our lives."
Days before the election, a transgender woman's truck was spray painted with the words "Trump" and set on fire in her driveway as she and her three-year-old son were inside their home in Tennessee.
The FBI defines hate crime as a "criminal offense against a person or property motivated in whole or in part by an offender's bias against a race, religion, disability, sexual orientation, ethnicity, gender, or gender identity".
There is widespread concern that the US could mirror a surge in hate crime following Britain's vote to leave the European Union, with analysts suggesting attackers may feel emboldened by Mr Trump's election following his campaign statements on Muslims, Mexican "rapists and criminals" and promises of mass deportations.
The National Police Chiefs' Council reported a 57 per cent rise in hate crime reports in the four days after the referendum in June, with the Metropolitan Police in London saying the figures have since subsided – but to a level higher than before the vote.
Many reported attacks in the UK have been against Eastern Europeans, following anti-immigration rhetoric by Leave campaigners. A student told The Independent how he was stabbed in the neck with a broken bottle by a man who heard him speaking Polish, saying "it's not our country and we should go".
Thousands of protesters were taking to the streets in cities across the US on Thursday in protest against Mr Trump's election and policies, with attacks on his supporters also being reported.
Following a divisive campaign, the President-elect made an uncharacteristic call for unity in his victory speech.
"Now it's time for America to bind the wounds of division…I say it is time for us to come together as one united people," he told supporters including a man who appeared to shout "Kill Obama!".
"I pledge to every citizen of our land that I will be President for all Americans."
Update
Police in Louisiana have ended an investigation into the alleged robbery of a Muslim woman wearing a hijab after she admitted fabricating the story.
A Muslim student from the University of Louisiana at Lafayette, originally claimed she was attacked as she walked through the city on Wednesday morning. The first statement from university police said two white men, with one wearing a branded "Trump" baseball cap, got out and began their assault.
"The victim said the suspects hit her with something metal, which made her fall to the ground," a spokesperson said, before the woman admitted making up her account."The two individuals hit the victim while she was down and made obscene comments. The two suspects then took the victim's head wrap [hijab] and wallet."