Donald Trump rejects diplomatic solution with North Korea's 'Little Rocket Man' saying 'we'll do what has to be done'
'Save your energy Rex'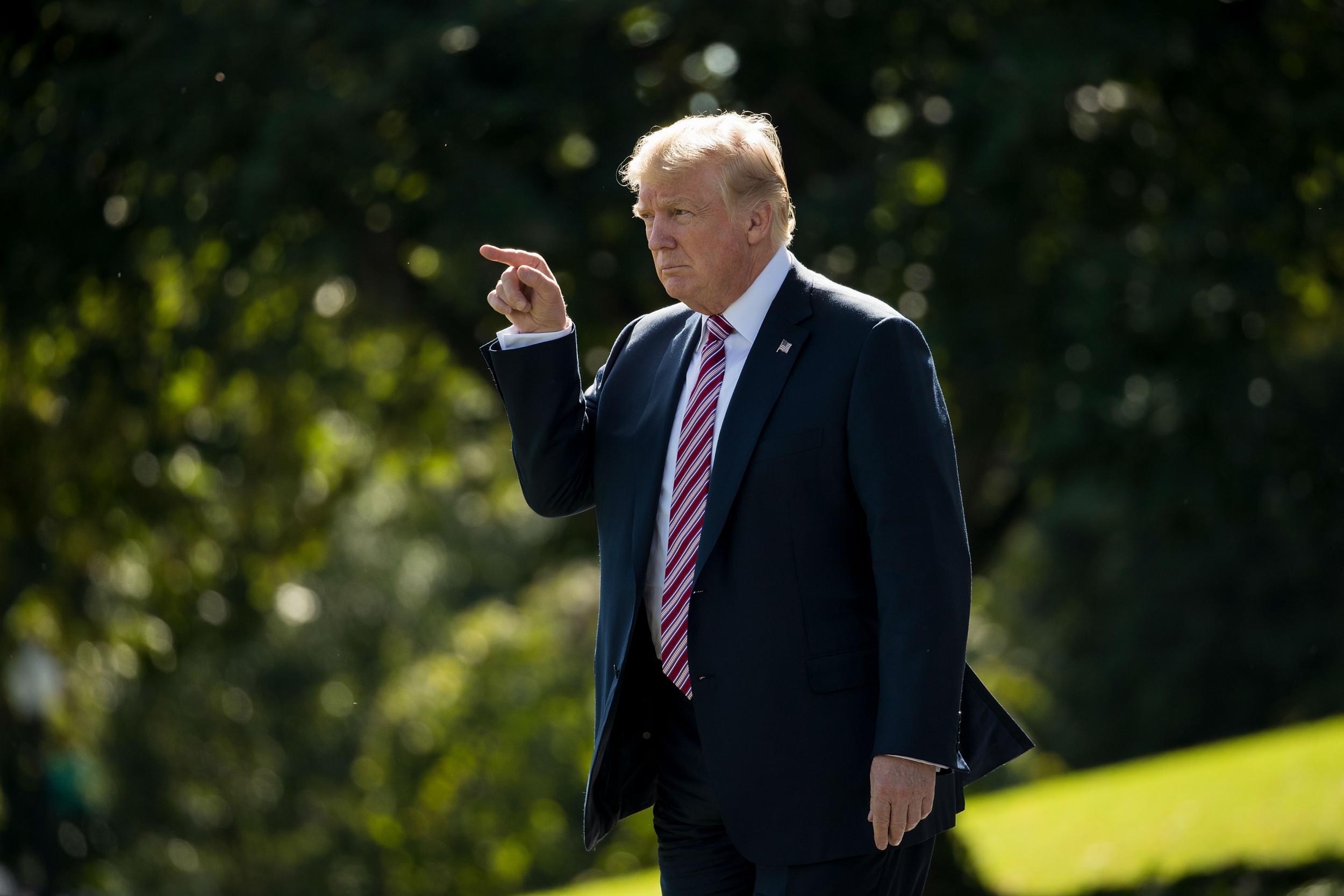 Donald Trump has appeared to dismiss the possibility of reaching a diplomatic solution with North Korea to curtail its nuclear weapons programme, saying: "We'll do what has to be done."
In one of a flurry of tweets published from his golf course in New Jersey, Mr Trump questioned outreach by US diplomats and officials in Pyongyang - the existence of which had been revealed over the weekend.
Speaking at a press conference in Beijing, Secretary of State Rex Tillerson said the US had direct lines of communication to North Korea, and that his immediate goal was to "calm things down" as the East Asian nation has stepped up its testing of missiles and nuclear payloads, and the US has intensified its sabre-rattling, with Mr Trump telling the UN that the US may be forced to "totally destroy" North Korea.
Kim Jong-un inspects weapon North Korea says is powerful hydrogen bomb
Show all 6
"We are probing, so stay tuned," Mr Tillerson told reporters, according to Reuters. "We ask, 'Would you like to talk'. We have lines of communications to Pyongyang. We're not in a dark situation or a blackout. We have a couple of direct channels to Pyongyang. We can talk to them. We do talk to them. Directly, through our own channels."
He added: "We've made it clear that we hope to resolve this through talks. I think the most immediate action that we need is to calm things down. They're a little overheated right now, and I think we need to calm them down first."
On Sunday morning, Mr Trump seemed to pour cold water on the efforts of America's most senior diplomat.
Whether it was part of a strategy to confuse and disorientate North Korea was unclear, but Mr Trump suggested diplomatic efforts had little chance of success. Without referring specifically to a military operation, the President said the US was ready to handle the situation by means other than direct diplomacy.
Clip from North Korean state produced military cartoon for kids
"I told Rex Tillerson, our wonderful Secretary of State, that he is wasting his time trying to negotiate with Little Rocket Man," he said. "Save your energy Rex, we'll do what has to be done!"
During his first speech to the United Nations General Assembly, Mr Trump repeated his use of the nickname "Rocket Man" for North Korean leader Kim Jong Un, and said the US was ready to totally destroy his country if it threatened the US or its allies.
"If the righteous many do not confront the wicked few, then evil will triumph," Mr Trump said, calling the regime in North Korea "depraved".
"Rocket Man is on a suicide mission. The United States has great strength and patience, but if it is forced to defend itself or its allies, we will have no choice but to totally destroy North Korea."
The tension between the two countries has grown as North Korea has continued to test and develop intercontinental ballistic missiles that experts believe will soon be capable of reaching the US mainland.
While the US has claimed in public there are "military options" for confronting North Korea, most experts believe any military action would result in the deaths of countless thousands of civilians in North Korea and South Korea, along with those of US and South Korean troops.
In his final interview before being ousted from the White House, Mr Trump's top strategist, Steve Bannon, said he believed there was no meaningful "military option".
"Forget it," he told American Prospect magazine. "Until somebody solves the part of the equation that shows me that 10m people in Seoul don't die in the first 30 minutes from conventional weapons, I don't know what you're talking about. There's no military solution here - they got us."
A unidentified senior official later told Reuters that Mr Trump did not think it was the correct time to negotiate with North Korea.
The official, who made the comments when asked for clarification about Mr Trump's tweets about Mr Tillerson wasting his time by use of direct diplomacy, said any such diplomatic channels that existed were aimed at securing the return of Americans detained by North Korea.
Join our commenting forum
Join thought-provoking conversations, follow other Independent readers and see their replies