Donald Trump 'backs himself into corner' after threatening North Korea with military action over nuclear tests
Kim Jong-un watches huge military parade days after President deploys 'armada' towards region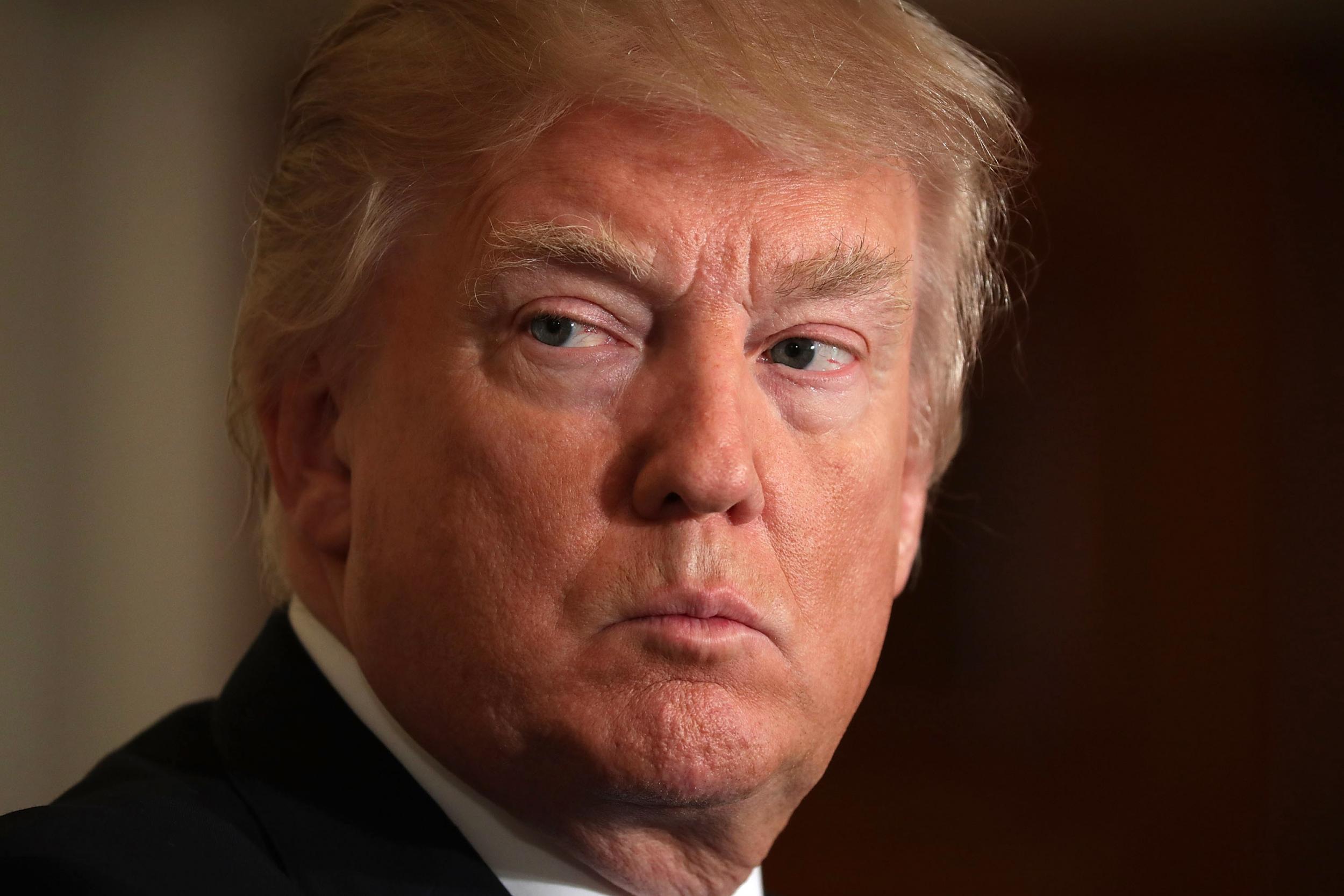 Donald Trump may have "backed himself into a corner" by threatening North Korea with military action over its weapons tests, experts have warned.
Kim Jong-un watched what appeared to be new inter-continental ballistic missiles (ICBMs) roll through Pyongyang as part of a huge show of force on Saturday, just two days after the US President vowed to "properly deal" with his government.
There was no sign of a sixth nuclear test on the symbolic Day of the Sun, which marks his grandfather's birthday, but analysts believe a major new launch could be imminent.
China is among the countries urging both North Korea and the US to de-escalate the situation as an American strike group headed by a nuclear-powered aircraft carrier heads towards the region.
John Nilsson-Wright, a senior research fellow for North East Asia at Chatham House, said the deployment put Mr Trump in a difficult position.
He told The Independent the President may have "boxed himself into a corner" by vowing not to tolerate any more violations from North Korea when the country has so far been undeterred by the international community.
"If it does carry out more testing, how does he spin this to his own people?" Dr Nilsson-Wright asked, saying Mr Trump may have been made overconfident by support for high profile strikes in Afghanistan and Syria.
"A show of force has to be credible and the situation is so precarious on the Korean Peninsula that it's hard for that to happen."
The US President has made a series of threats towards the DPRK, which was the main topic of talks with Chinese leaders earlier this month, writing on Twitter that the US would "properly deal with North Korea" if Beijing was unable to rein in its ally.
Mr Trump later announced the deployment of an "armada" to the region in an apparent attempt to deter North Korea's repeated violations of UN sanctions.
North Korea shows new missiles in huge parade amid nuclear fears
China's foreign minister urged both the US and North Korea to deescalate the situation before it gets to an "irreversible and unmanageable stage" on Friday, calling on both sides to "refrain from provoking and threatening each other".
Pyongyang has intensified its rhetoric in the wake of large deployments to its enemies in South Korea and military exercises while continuing its weapons programme.
A senior official addressing crowds at a military parade on Saturday vowed that Mr Trump's "reckless provocation" could be met with an "annihilating strike" using nuclear weapons.
Experts have dismissed the country's claims of developing a nuclear missile that could strike the mainland US but the appearance of inter-continental ballistic missiles (ICBMs) and submarine-launched missiles at the parade suggested development is continuing.
South Korea responds to North Korea's failed missile launch
Analysts said what appeared to be two new kinds of ICBM, enclosed in canister launchers mounted on the back of lorries, were shown, as were Pukkuksong submarine-launched ballistic missiles, which have a range of more than 600 miles.
Dr Nilsson-Wright, who is also a senior lecturer at Cambridge University, said North Korea had made clear any new launch "will happen at the time and place of their choosing" in spite of increasing shows of force by Mr Trump.
In pictures: North Korea marks the Day of the Sun
Show all 16
He said that although North Korea would not have missed the military might on show in Afghanistan, Kim may be incentivised to push forward with weapons testing to "thumb his nose" at the US President.
"Mr Trump may have overreached here - you still need diplomacy, you still need an effective State Department – ideally staffed with officials who know what they're doing," Dr Nilsson-Wright added.
"Trying to channel his inner Nixon is probably not the most effective way of dealing with North Korea."
Despite the President's fiery rhetoric, US officials told the Associated Press that the Trump administration had settled on a policy emphasising on increasing pressure on Pyongyang with the help of China, instead of military options or trying to overthrow Kim's regime.
A military official said the US does not intend to use force against North Korea in response to either a nuclear test or a missile launch.
Shannon Kile, a nuclear specialist at the Stockholm International Peace Research Institute (SIPRI), said both were possible as development efforts aiming to miniaturise nuclear weapons and launch long-range and solid fuel missiles continue.
Mr Kile said Saturday's show of force in Pyongyang appeared to show some technical progress towards systems that could be easier to transport and hide ahead of any potential attack.
"The North Korean government is spinning this as a slap in the face for Mr Trump," he told The Independent.
"They have a long-term programme in place that has been continuing for decades."
Kim's government is still holding the door open for direct dialogue with the US, Mr Kile said, but tensions are worsening.
"North Korea appears to be moving nuclear weapons from being an existential deterrent to taking on an operational war fighting role," he added.
"The risk here is that there could be inadvertent escalation based on an accident or miscalculation."
Growing international concerns have left British voters viewing North Korea as a bigger threat to world peace than the crisis in Syria.
A ComRes survey for The Independent found that 46 per cent of adults are more concerned about the secretive state than the Syrian civil war, which Isis has exploited to expand and use as a launch pad for global terror attacks.
Join our commenting forum
Join thought-provoking conversations, follow other Independent readers and see their replies