'Everyone is fair game... it's very aggressive': Inside Donald Trump's immigration crackdown
The President's immigration policy - promised on the election campaign trail - is to remove criminals, but it is spreading fear among ordinary people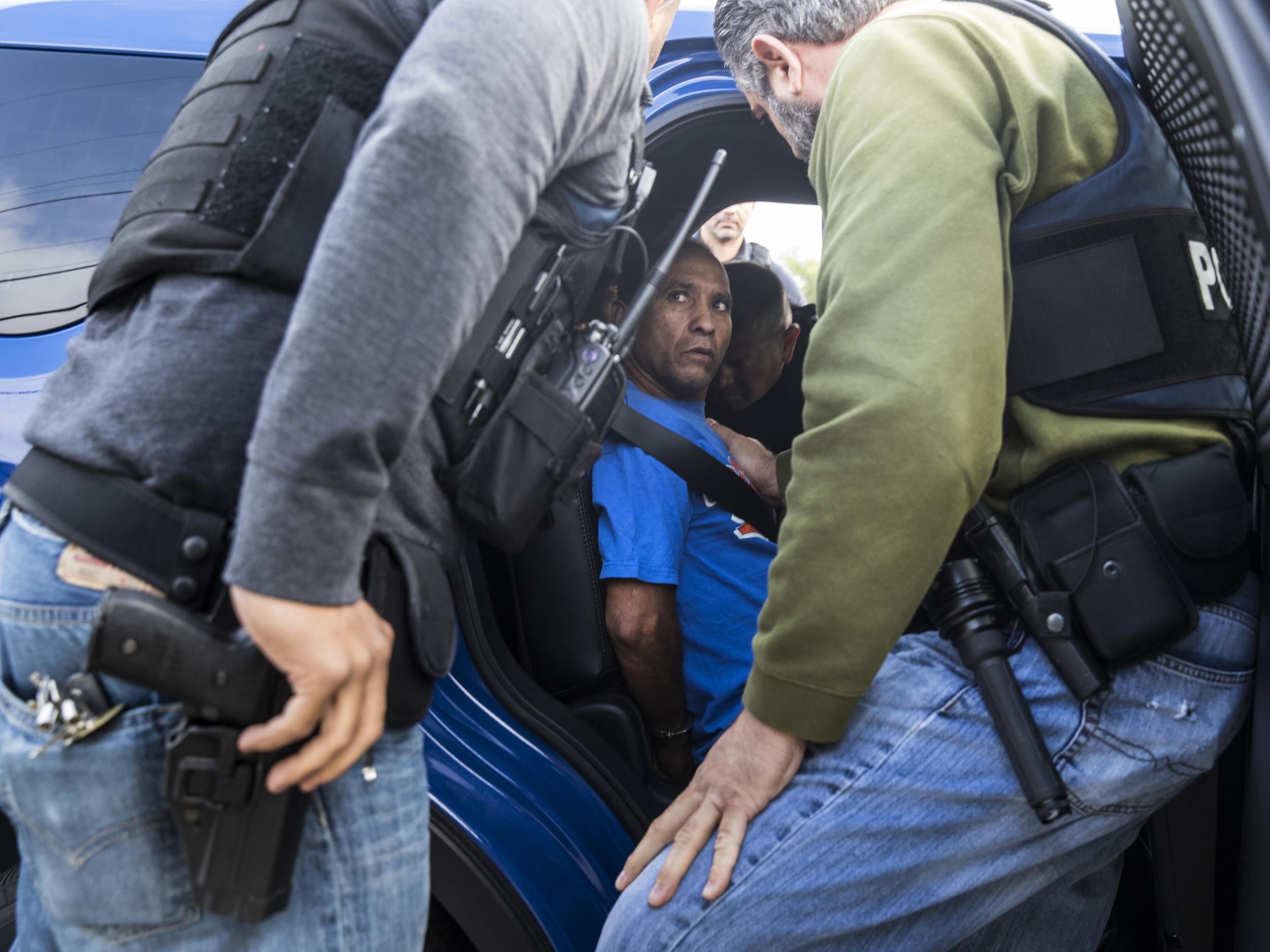 President Donald Trump rose to power vowing to crack down on illegal immigration. The numbers so far show he is keeping that promise.
Arrests of undocumented immigrants have jumped compared to a year earlier. Beneath that increase is a shift in who is getting picked up for deportation. Many of those arrested had no prior criminal record – reflecting a crackdown, initiated by Trump, that advocates say has effectively made every immigrant in the country illegally a target.
"Everyone is fair game", says Charles Kuck, an Atlanta immigration attorney. "It's become very aggressive".
From the start, Trump has deliberately linked illegal immigration to crime. He launched his presidency with a speech equating the two, saying "When Mexico sends its people ...They're bringing drugs. They're bringing crime. They're rapists".
In turn, his administration has trumpeted its success in uprooting dangerous criminal immigrants. The President regularly invokes the MS-13 gang, describing in one particularly vivid speech how its disciples "slice and dice" innocents "because they want them to go through excruciating pain before they die".
Press releases from Immigration and Customs Enforcement describing enforcement actions highlight the horrific-sounding crimes arrested immigrants committed. Internal Immigration and Customs Enforcement (ICE) emails obtained by the Vanderbilt University Law School and shared with the Intercept showed officials compelling agents to highlight three "egregious cases" of immigrant lawbreakers.
The controversial orders Donald Trump has already issued
Show all 9
Touting increases in the numbers of arrests, which were up nearly 30,000 between January and September compared to in 2016, ICE spokeswoman Lauren Mack said in a statement to The Independent that "These results clearly reflect the continued prioritisation of enforcement resources on aliens who pose a threat to national security, public safety, and border security".
But the larger picture is more complicated. While the Trump administration has undeniably corralled immigrants who have committed serious crimes like rape or assault, many of those swept up have not been convicted of any crime. Some have committed only immigration-related offenses like illegally re-entering the country or falsifying documents; the totals from mass ICE arrests typically include numerous convictions for driving under the influence.
Of the 97,482 immigrants ICE arrested between January and September of this year, 28,011 of them – about 28 per cent – were non-criminals. For the same period in 2016, that figure stood at 16 per cent.
"Even while the current administration claims to be focusing on public safety and peoples' criminal convictions, the numbers show that there are significant percentages of people being arrested and detained and put into proceedings who don't have criminal history", says Jennifer Friedman, a public defender in San Francisco who focuses on immigration cases.
One of Trump's first executive orders overhauled how ICE agents go about their jobs, discarding Obama-era rules that stressed prioritising some immigrants over others. As a result, an ICE guidance explains, "ICE will not exempt classes or categories of removal aliens from potential enforcement"
Donald Trump's immigration crackdown encapsulated in poignant footage of father being deported
"All of those in violation of the immigration laws may be subject to immigration arrest, detention and, if found removable by final order, removal from the United States", the guidance says.
That change, immigration attorneys and immigrant advocates say, underlies a climate in which ICE regularly ensnares bystanders who were not the initial targets, the criminal justice system functions as a pipeline to deportation courts and a cloud of fear has enveloped daily life for immigrants here illegally – whether or not they have committed serious crimes.
"The prior administration had said it's focused on criminal aliens", says Cornell Law School immigration expert Stephen Yale-Loehr, but Trump's directive "said anyone who is here illegally – out of status – is at equal risk of being put into deportation proceedings".
Midway through the Obama administration, feelings of anger and betrayal were coursing through immigrant enclaves. The President had overseen a record number of deportations, and a push for comprehensive immigration reform showed little sign of succeeding.
So Obama began flexing his executive muscles, reshaping immigration enforcement by emphasizing what's called "prosecutorial discretion". In essence, his administration directed ICE to focus its resources and personnel on immigrants who had committed violent crimes and to ease off those who were in America illegally but had been there for years, oftentimes having US citizen children and embedding in their communities.
The administration "was really characterised by this kind of finely tuned lists of priorities", says Simon Sandoval-Moshenberg, an attorney with the Virginia-based Legal Aid Justice Center. "If you were an undocumented person who was not on the priority list then, basically speaking, you would be fine".
That is no longer the case.
The turn toward more all-encompassing enforcement has pleased Trump voters who back more stringent immigration rules and ICE agents who had chafed under Obama-era guidelines.
In endorsing Trump, the head of ICE's union said that "officers are unable to arrest or are forced to release many of the most dangerous back into US communities due to unscrupulous political agendas and corrupt leaders". Former White House press secretary Sean Spicer said the President wanted "to take the shackles off" of agencies like ICE.
But what may seem liberating to ICE is terrifying to many unauthorised immigrants.
Officials say ICE does not conduct indiscriminate "sweeps" of neighbourhoods. But people who work in immigrant communities say that ICE officers who embark in search of specific immigrant offenders will also arrest other immigrants they encounter, whether or not they were the initial targets.
"ICE can locate them and arrest them and in the process of arresting them talk to family members and friends nearby", says Jackie Gonzalez, immigration policy director at Centro Legal de La Raza.
People will often reveal their lack of status in an effort to clear their names, says Adriana Melgoza, an activist with the Northern California Rapid Immigration Response Network who works in a region teeming with farmworker immigrants. "Sometimes for fear people will answer because they're told 'I'm looking for this person who's a criminal', and of course they don't want to be associated with any crime so they say 'that's not me – my name is this', and that's how they get picked up", she says.
Those arrests are also known as "collateral arrests". An ICE spokeswoman said the agency does not separately track collateral arrests. In response to questions about how ICE governs such arrests, she referred back to Trump's executive order.
Sandoval-Moshenberg believes that collateral arrests have been "the defining feature of ICE arrests so far in this administration". He is representing two immigrants who allege in a lawsuit that ICE agents arrested them in their Virginia apartment building after coming to look for other immigrants who had left years ago.
"If you want to point to one thing that's new, that didn't happen before and is happening now and is making the biggest difference, it's absolutely collateral arrests", Sandoval-Moshenberg says.
In places that have sought to thwart Trump's crackdown, more such arrests loom on the horizon. After California passed a so-called "sanctuary state" law limiting cooperation between ICE and local law enforcement, acting ICE Director Tom Homan warned the consequences would be more "at-large arrests in local neighbourhoods and at worksites, which will inevitably result in additional collateral arrests, instead of focusing on arrests at jails and prisons".
Similarly, after ICE announced enforcement actions explicitly targeted at "sanctuary" cities and counties, Homan said in a statement that "ICE is forced to dedicate more resources to conduct at-large arrests in these communities" because it was blocked from jailhouse access.
In parts of the country that lack such restrictions, observers say contact with police officers or the legal system is increasingly leading to deportations.
By the end of the Obama administration, it had become far less common to see immigrants funneled into deportation proceedings after being picked up for minor offenxes like jaywalking or a broken taillight, says Laura St John, an attorney with the Arizona-based legal services organization the Florence Project. But since Trump took office, St John says, she and her colleagues have observed "those numbers are rising again".
"It's becoming more and more common to meet people who say 'I was taken into custody for speeding, or for sitting around in the park after dark'", St John says.
In Denver, immigrants arriving at the courthouse are often met by ICE agents. The agency does not include courthouses on a list of "sensitive locations", like schools and churches, where agents are instructed to limit their activity. An ICE official rebuffed a plea from local elected officials to focus elsewhere, saying ICE agents would continue to make arrests at the courthouse and identify themselves as police officers.
"That is not necessarily anything new", says Denver immigration attorney Hans Meyer, but "this is much more insidious because they're showing up to court where people are trying to resolve matters and in the process terrorizing everybody in the immigrant community".
People are getting picked up at all phases in the criminal justice process, Meyer says, including those who are in the pretrial phase and have not yet been found guilty.
"For ICE the reason they're there is largely unimportant. The fact that they can find a person there and arrest them for immigration purposes is their whole reason for going to court", Meyer said – and as a result, "the word about that gets out and it means people can't trust the local court system".
Around the country, advocates describe a similar chilling effect as perhaps the most far-reaching effect of a harsher climate for immigrants.
"We're in this constant state of crisis and fear and apprehension", said Hamid Panah, a Berkeley-based immigration attorney, adding that he believed ICE agents "clearly have this 'we're going to deport you' attitude where we didn't see that before".
In the days after Trump's inauguration, Friedman says, "panic" swept through New York City, where she was then based, as people circulated rumours "that immigration agents were out on the street checking peoples' papers, in the subway systems.
"People were pulling their kids out of school, they weren't going to work, they weren't going to the hospital for medical appointments", she says. The rumour about ICE agents checking documents on the subway proved false, "but people were afraid to ride the train".
To Melgoza, who recounted pregnant immigrants forgoing prenatal care and even hospital visits, it all seems to be a deliberate outcome of an overarching strategy. "I think that's the kind of fear the administration wants our community to have so they'll start withdrawing from services, withdrawing from the community", she says. "That's the most important new tactic they're using".
Join our commenting forum
Join thought-provoking conversations, follow other Independent readers and see their replies