Donald Trump: 'I could be more presidential but it would be boring as hell'
'Let me be un-presidential just for a little while longer'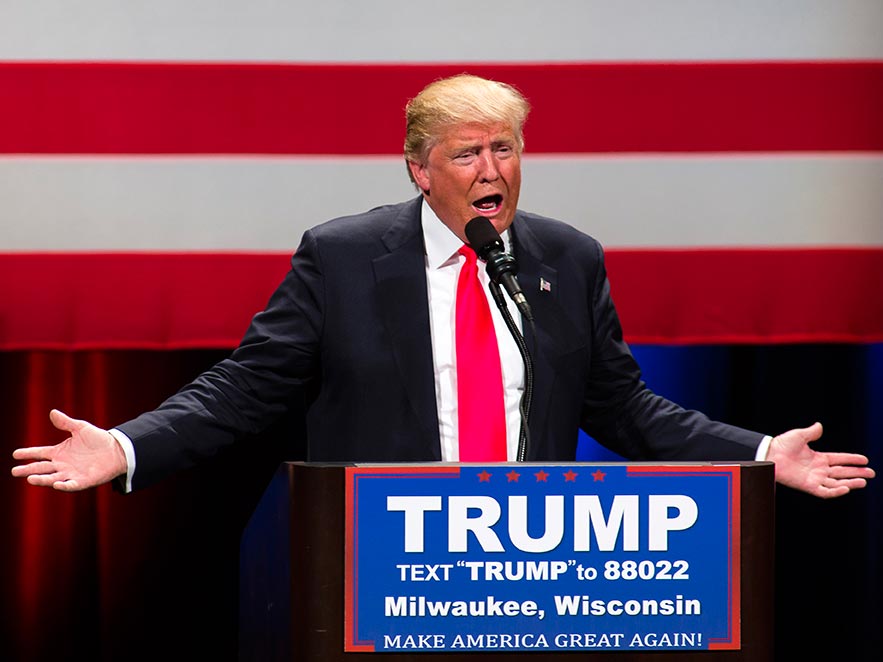 Donald Trump has said acting too presidential would be "boring as hell".
The New York businessman, the frontrunner in the race to become the Republican presidential candidate in the US election, has often been criticised for his tone on the campaign trail.
But at a rally in Superior, Wisconsin, the 69-year-old said his unorthodox style was more entertaining.
"I can be presidential, but if I was presidential I would only have – about 20 per cent of you would be here because it would be boring as hell, I will say," he told voters at an open airplane hangar, according to Politico.
Mr Trump has come under scrutiny for his language and the insults used as he campaigns to become one of the most powerful leaders in the world.
Marco Rubio, who recently dropped out of the campaign, said: "You have a candidate in Donald Trump who clearly uses language that appeals to anger."
Time reported that he said: "I do think Donald needs to [realise] and take responsibility for the fact that some of the rhetoric he has used could potentially be contributing to this environment that is growing increasingly disturbing for a growing number of Americans."
Donald Trump's most controversial quotes
Show all 14
Even Mr Trump's wife, Melania, has urged him to watch his language.
In an interview with CNN's Anderson Cooper in March, Mrs Trump said her husband would change his tone if he made it to the White House.
But in Wisconsin, Mr Trump asked voters to allow him to be "un-presidential just a little while longer", while he tries to beat his rivals Ted Cruz and John Kasich to become the Republican nominee.
"We started off with 17 people and now got two left. I call them the leftovers, right? I now have two left and we're way up on both of them," he said, Politico reported.
"Let me be un-presidential just for a little while longer," he added.
The Republican candidate needs 1,237 delegates to win the nominee. So far Mr Trump is miles ahead of his rivals with 737 delegates, according to the latest count by AP. Mr Cruz has 475 delegates, followed by Mr Kasich at 143.
Mr Cruz used Mr Trump's highly-criticised campaign manner to bolster his own campaign. He told voters in Madison, Wisconsin: "Let's show the country that this race is not about yelling and screaming and insults."
The rallies in Wisconsin took place ahead of the presidential primary on Tuesday.
Additional reporting by agencies
Join our commenting forum
Join thought-provoking conversations, follow other Independent readers and see their replies