Leaked draft of Donald Trump's plan for environmental agency shows even deeper cuts
Agency will now only focus on 'core legal requirements' and cut out all voluntary activities surrounding scientific research, climate change and education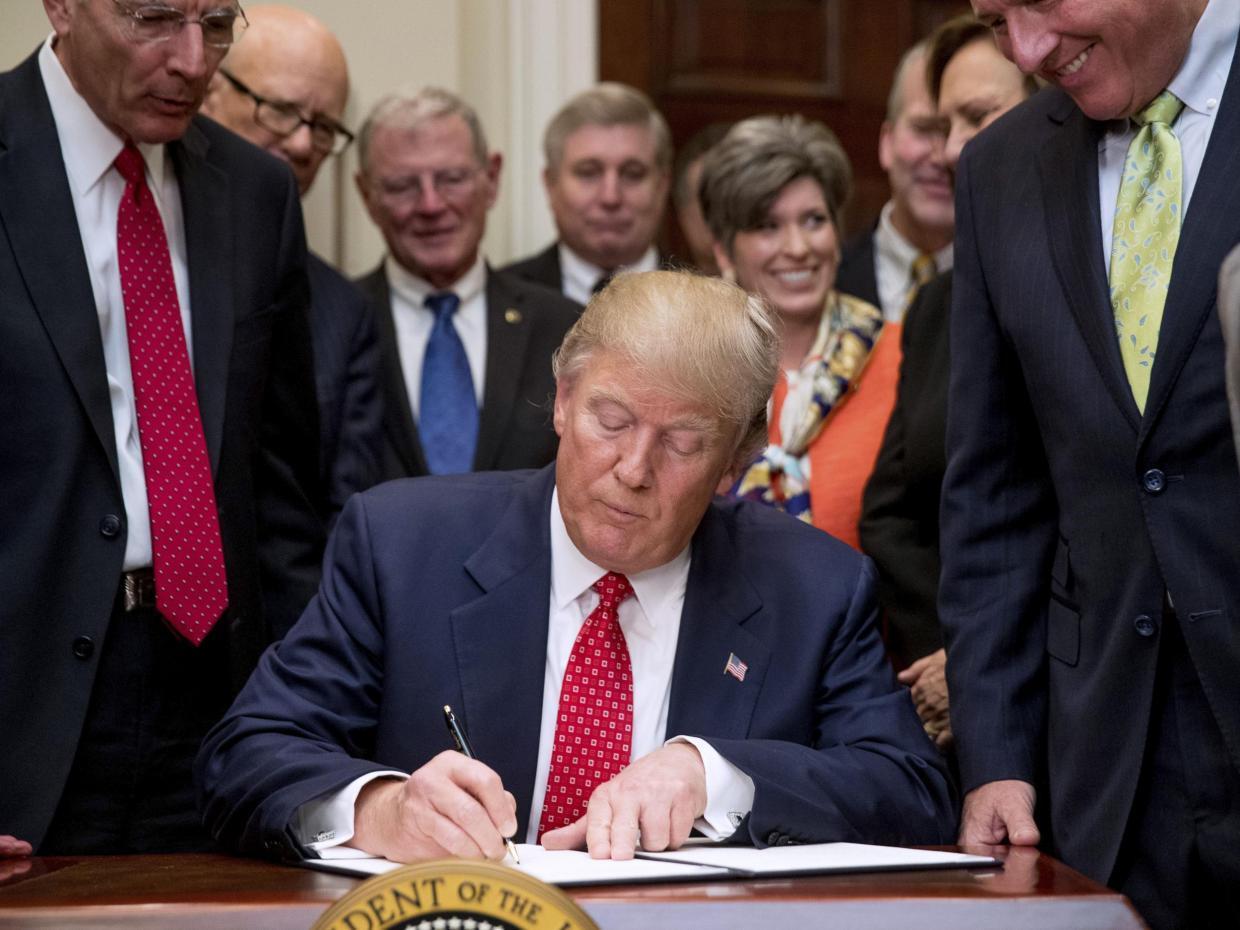 The Environmental Protection Agency has issued a new, more detailed plan for laying off 25 per cent of its employees and scrapping more than 50 programmes including pesticide safety, water runoff control, and environmental cooperation with Mexico and Canada under the North American Free Trade Agreement.
At a time when the agency is considering a controversial rollback in fuel efficiency standards adopted under President Barack Obama, the plan would cut by more than half the number of people in EPA's division for testing the accuracy of fuel efficiency claims by automakers.
It would transfer funding for the program to fees paid by the car makers themselves.
The spending plan, obtained by The Washington Post, offers the most detailed vision to date of how the 31 percent budget cut to the EPA ordered up by President Donald Trump's Office of Management and Budget would diminish the agency.
The 21 March plan calls for even deeper reductions in staffing than earlier drafts. It maintains funding given to states to administer waste treatment and drinking water. But as a result, the budget for the rest of EPA is slashed 43 percent.
The Trump administration says the EPA cuts reflect a philosophy of limiting federal government and devolving authority to the states, localities and, in some cases, corporations. But environmental groups say the Trump administration is answering the call of companies seeking lax regulation and endangering Americans' air and water.
In a memorandum at the front of the 21 March document, the EPA's acting chief financial officer, David A. Bloom, said the agency would now "centre on our core legal requirements," eliminating voluntary activities on scientific research, climate change and education, and leaving other activities to state and local governments.
John Konkus, the agency spokesman, said: "EPA will work with the President and Congress to redesign the way we do business to focus on achieving our core responsibilities - working with the states to ensure clean and breathable air, protecting water quality and investing in infrastructure, restoring our communities, ensuring timely review of chemicals and products to ensure safety for American families, all of which will have a positive impact on the environment and the economy."
The $5.7 billion EPA budget will likely undergo massive rewriting by congressional lawmakers, but the document is a declaration of intent by the Trump administration - one that sets the agency fundamentally at odds with the environmental policies of the past eight years and, in some cases, nearly three decades.
Because of the sweeping cuts to scientific programmes, the administrator's own Science Advisory Board budget would be cut 84 percent. As the document explains, it would not need much money as a result of "an anticipated lower number of peer reviews."
Reductions in research funds will curtail programmes on climate change, water quality, and chemical safety, and "safe and sustainable water resources," the document said.
Ken Kopocis, who headed EPA's Office of Water in 2014 and 2015, said in an interview that the $165 million proposed cut to the agency's nonpoint source pollution program would deprive farmers of critical funds to help curb agricultural runoff.
Several congressional Republicans have expressed support for reorienting the EPA's mission, though lawmakers are likely to restore some of the funding.
In a recent interview, Sen. James M Inhofe, R-Okla, said he would like the department to focus on more traditional environmental concerns rather than addressing climate change.
"What I want them to do is to do what they are supposed to be doing - be concerned about the environment, the water, the air," he said. "I'd like to see an EPA there to actually serve people and make life better for them."
Inhofe said some of the members of the scientific advisory boards scheduled for cuts had political biases. "They're going to have to start dealing with science, not rigged science."
But S William Becker, executive director of the National Association of Clean Air Agencies, said eliminating the money for such advisory boards would inevitably compromise the agency's science capabilities.
"This is becoming a self-fulfilling prophecy," he said. "If they have less research and less peer review, they're going to have less of a foundation on which to base human health-based air quality standards."
The list of programmes eliminated grew in the latest plan.
A program to teach and monitor the proper handling of pesticides would be nearly eliminated, and instead will rely on fees paid by the industry.
Many people in industry might enlist lawmakers' help in opposing those plans. CropLife America Executive Vice President Beau Greenwood, whose group represents U.S. pesticide manufacturers and distributors, said in an interview Friday that while the industry is "willing to put skin in the game to ensure the agency has sufficient funding" for reviewing its products, it already provides more than $46 million a year under the Pesticide Registration Improvement Extension Act.
"Extra fees on top of extra fees is something that we would oppose," Greenwood said.
The latest EPA budget plan would abolish programmes that study known environmental hazards including lead, poor indoor air quality and radiation.
Other programmes that help protect Americans from cancer would also face the ax - including the $1.34 million indoor air radon program which works to protect the public against the invisible gas that is the leading cause of lung cancer among nonsmokers. Radon kills 21,000 people annually, according to the EPA.
The EPA's radiation program, currently funded at $2.34 million, which sets standards for safe levels of ionising radiation in the environment caused by radioactive elements such as uranium, is slated for elimination, but it is unclear how fully eliminating its activities is possible.
The document also recommends a $28.9 million cut in the enforcement of cleanup projects for Superfund sites, places where hazardous materials require long-term response plans.
In each case, the budget document says that these programmes can be eliminated because they do not represent core agency priorities or can be deferred to states.
(C) Washington Post
Join our commenting forum
Join thought-provoking conversations, follow other Independent readers and see their replies