Donald Trump condemns the removal of 'beautiful' statues of Confederate generals and slave owners
The President continues to respond to the violence in Charlottesville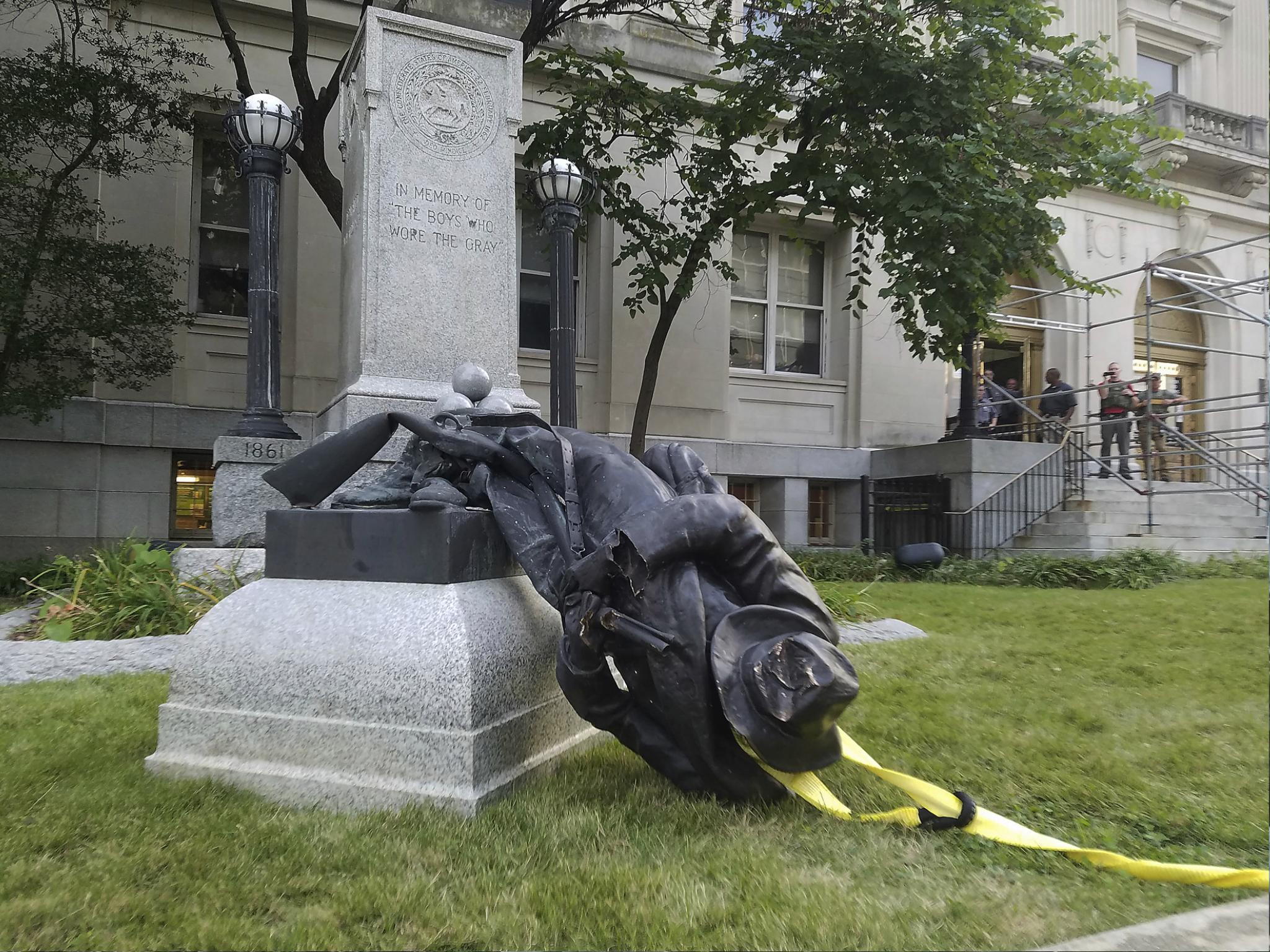 Donald Trump has again waded into the storm surrounding his comments over the violence in Charlottesville, saying that the removal of statues of Confederate generals makes him "sad to see the history and culture of our great country being ripped apart".
Mr Trump's latest remarks come as the White House looks for ways to manage the fallout from his response to the racially charged protests at the weekend, as he continues to isolate himself amid widespread criticism.
The President also tweeted "you can't change history, but you can learn from it", appearing to imply that keeping the statues up would be a reminder of the country's Civil War bloodshed and the scourge of slavery.
Mr Trump has given several conflicting statements over the protests, which began with white nationalists and neo-Nazis protesting the removal of a statue of Robert E Lee. The ensuing violence included one woman – 32-year-old Heather Heyer – being killed alongside more than a dozen other people being injured after a car drove through counter-protesters. A man alleged to be the driver of the car has been charged with second-degree murder and a number of other charges. He is believed to have held sympathies with far-right views.
Pressured by advisers, the President had taken a step back from the dispute on Monday and condemned far-right extremist groups, two days after he had enraged many by declining to single out white supremacists and neo-Nazis.
Yet he returned to his combative stance on Tuesday – insisting anew that "both sides" were to blame. And then in a burst of tweets on Thursday he renewed his criticism of efforts to remove memorials and tributes to the Civil War Confederacy.
"Robert E. Lee. Stonewall Jackson – who's next, Washington, Jefferson? So foolish," Mr Trump tweeted.
During the Tuesday news conference at Trump Tower, Mr Trump said multiple times that many of the protesters were there to "innocently... legally" oppose the removal of Civil War Confederate General Robert E Lee and that not all of them were neo-Nazis and white supremacists.
He added that the media "would know [that] if you're honest reporters, but you're not".
General Lee himself opposed erecting statues and monuments commemorating the Confederates after losing the war, saying that he felt it left the wounds of war open as the country was healing and coming together.
Violence on the streets of Charlottesville
Show all 9
In his tweets, Mr Trump said the statues will not be able to be "comparably replaced".
Mr Trump also lashed out at Republican Senators Lindsey Graham of South Carolina and Jeff Flake of Arizona.
He accused "publicity-seeking" Mr Graham of falsely stating his position on the demonstrators, called Mr Flake "toxic" and praised his primary election opponent.
Mr Graham said on Wednesday that Mr Trump "took a step backward by again suggesting there is moral equivalency" between the marching white supremacists and the people who had been demonstrating against them. And Mr Flake has been increasingly critical of the President in recent weeks.
While much of the Republican leadership have issued strong, but carefully worded, statements condemning white nationalists, but keeping away from directly criticising Mr Trump seemingly out of fear of alienating his base, many others have not been so kind.
The President "has not yet been able to demonstrate the stability, nor some of the competence, that he needs to demonstrate in order to be successful," Republican Senator Bob Corker said after an event in his home state.
The Tennessee Republican, typically an ally of the White House, warned "our nation is going to go through great peril" if Trump cannot show that he understands "what has made this nation great".
Meanwhile, House Minority Leader Nancy Pelosi called on Thursday for the removal of Confederate statues from the US Capitol as the contentious debate over the appropriateness of such memorials moved to the halls of Congress.
Democrat Ms Pelosi asked Speaker Paul Ryan to join her party in supporting legislation to remove the Confederate statues, as the Republicans control both chambers of Congress.
Ms Pelosi said the statues in the Capitol should "embody our highest ideals as Americans, expressing who we are and who we aspire to be as a nation."
About 10 statues in the Capitol's Statuary Hall are of men who served as Confederate soldiers or politicians. "The Confederate statues in the halls of Congress have always been reprehensible," Ms Pelosi said in a statement. "If Republicans are serious about rejecting white supremacy, I call upon Speaker Ryan to join Democrats to remove the Confederate statues from the Capitol immediately."
As for Mr Trump's own administration, Steve Bannon, the President's chief strategist, has described the far right as a "collection of clowns". Mr Bannon made a series of controversial remarks to The American Prospect, in which he discussed the ongoing issues and feuds within the White House, the violence in Charlottesville, US-China trade policy and possible military intervention in North Korea.
There have been renewed calls from both the left and right for Mr Bannon, the former editor of the right-wing Breitbart News website and the man who many feel is the mastermind of Mr Trump's nationalist agenda, to be removed from his post.
He also called the far right "irrelevant" as he responded to the suggestion that Mr Trump had refused to condemn the "ugly white nationalism epitomised by the racist violence in Charlottesville".
"Ethno-nationalism – it's losers. It's a fringe element. I think the media plays it up too much, and we gotta help crush it, you know, uh, help crush it more … These guys are a collection of clowns."
Mr Bannon also appeared to undermine Mr Trump's threats over a potential military end to the crisis in North Korea, over Pyongyang's continued investment in their nuclear programmes and the threat they pose to the US.
"There's no military solution [to North Korea's nuclear threats], forget it. Until somebody solves the part of the equation that shows me that 10 million people in Seoul don't die in the first 30 minutes from conventional weapons, I don't know what you're talking about, there's no military solution here, they got us."
Mr Bannon claimed he was unaware the conversation was on the record but his comments have come only days after Mr Trump declined to offer any reassurances over his future, with the President saying "we'll see" when asked if Mr Bannon would remain in his position.
Join our commenting forum
Join thought-provoking conversations, follow other Independent readers and see their replies