Donald Trump reverses campaign pledge to label China 'currency manipulator' in light of North Korea
Republican had vowed China was harming US exporters but now needs support to tackle North Korea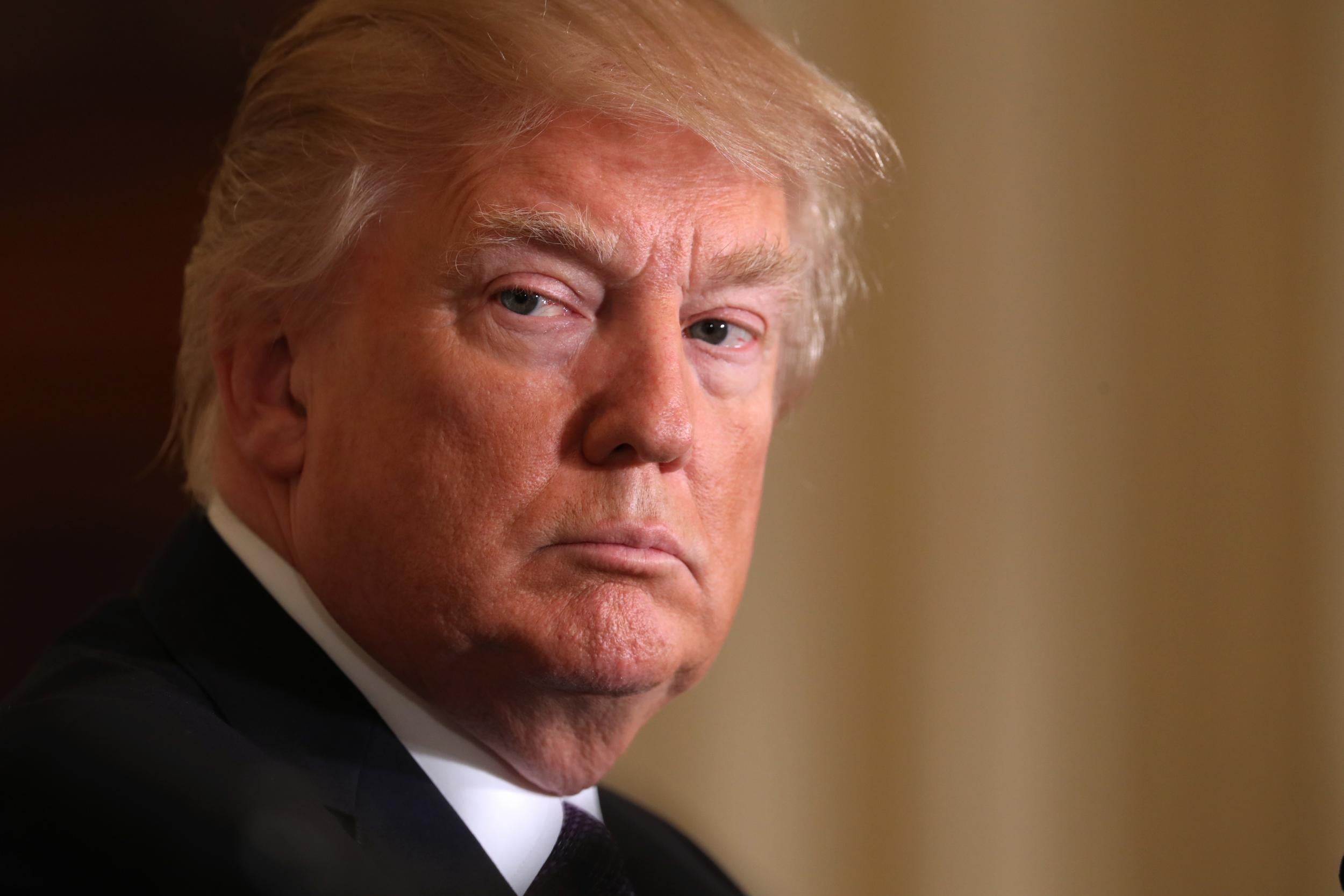 Donald Trump has questioned why he should label China a "currency manipulator" despite a vow to do so on his first day in office.
US manufacturers and Trump supporters who wanted tough talk on US trading partners could be disappointed that the President declined to use the label following his meeting with Chinese President Xi Jinping.
"Why would I call China a currency manipulator when they are working with us on the North Korean problem?" he wrote on Twitter. "We will see what happens!"
Supporters may view Mr Trump as having fallen into the same trap as his predecessors, some of whom vowed on the campaign trail to take strong action on China but watered down their positions when in office.
The recent semi-annual report from the Treasury Department on the US' major trading partners has instead placed China on a "watch list" – along with Japan, South Korea, Taiwan, Germany and Switzerland – to monitor their currency practices. It also stated that none of the major US trading partners "met the standards...for currency manipulation" in the second half of 2016.
Democrats condemned the President's apparent U-turn.
"Unfortunately the President's failure to name China a currency manipulator is symptomatic of a lack of real, tough action on trade against China," Senate minority leader Chuck Schumer said.
Donald Trump's closest advisor Steve Bannon thinks there will be war with China in the next few years
Mr Trump's closest adviser, Stephen Bannon, said there would be "war" with China in the near future, and his Secretary of State Rex Tillerson condemned China for its "illegal" artificial island-building in the disputed territory of the South China Sea, but Mr Trump appears to have watered down his stance to ensure China is on the same side as the US when it comes to tackling North Korea.
The recent Treasury report noted that while China had spent a decade deliberately buying and selling large amounts of its own currency on global markets to depreciate its value and make its exports more competitive, the country had turned around in recent months to make its currency appreciate in value.
"When our trading partners engage in currency manipulation, they impose significant, and often long-lasting hardship on American workers and businesses," Treasury Secretary Steven Mnuchin said in a statement.
Last year Mr Trump told his supporters in October that he would "force" China into negotiations, breaking tradition of past Presidents over the last two decades.
"We must stand up to China's blackmail and reject corporate America's manipulation of our politicians," the Trump campaign wrote on its website. The page which has since been taken down.
It added: "The US Treasury's designation of China as a currency manipulator will force China to the negotiating table and open the door to a fair — and far better — trading relationship."
The 2017 Treasury report struck a more mild tone, however.
It acknowledged that China had recently been propping up the value of its renminbi currency, which benefited American exporters, and hoped it would be a long-term move.
"China will need to demonstrate that its lack of intervention to resist appreciation over the last three years represents a durable policy shift by letting the RMB rise with market forces once appreciation pressures resume," the report says.
It added it "will be scrutinizing China's trade and currency practices very closely."
US/South Korea joint exercise Operation Pacific Reach
Show all 10
Mr Trump vowed for months to take strong actions against its major trading partners, including China and Mexico. Once in the White House, he withdrew the US from the Trans-Pacific Partnership, an Obama-era trade deal, and he signed two executive orders directing officials to investigate practises of trading partners.
He has failed so far, however, to re-negotiate the North American Free Trade Agreement, which he labelled a "disaster" under Bill Clinton. Congress has not yet approved the appointment of United States Trade Representative Robert Lighthizer, a top administration negotiator.
Mr Trump's softer stance on China comes after he met with the Chinese leader at his Mar-a-Lago resort on 6 and 7 April.
He anticipated that the meeting would be a "very difficult one" because of China's large trade deficit and its impact on US jobs.
After the meeting, he said the meeting had been one of "tremendous goodwill and friendship", and the two leaders had discussed a 100-day plan to boost US exports to China.
China also said it would offer US companies wider access to its financial services and beef markets.
Join our commenting forum
Join thought-provoking conversations, follow other Independent readers and see their replies