Syrian army 'deploys chlorine gas against rebels east of Damascus' despite US warning
Syrian government denies accusation made by rebel group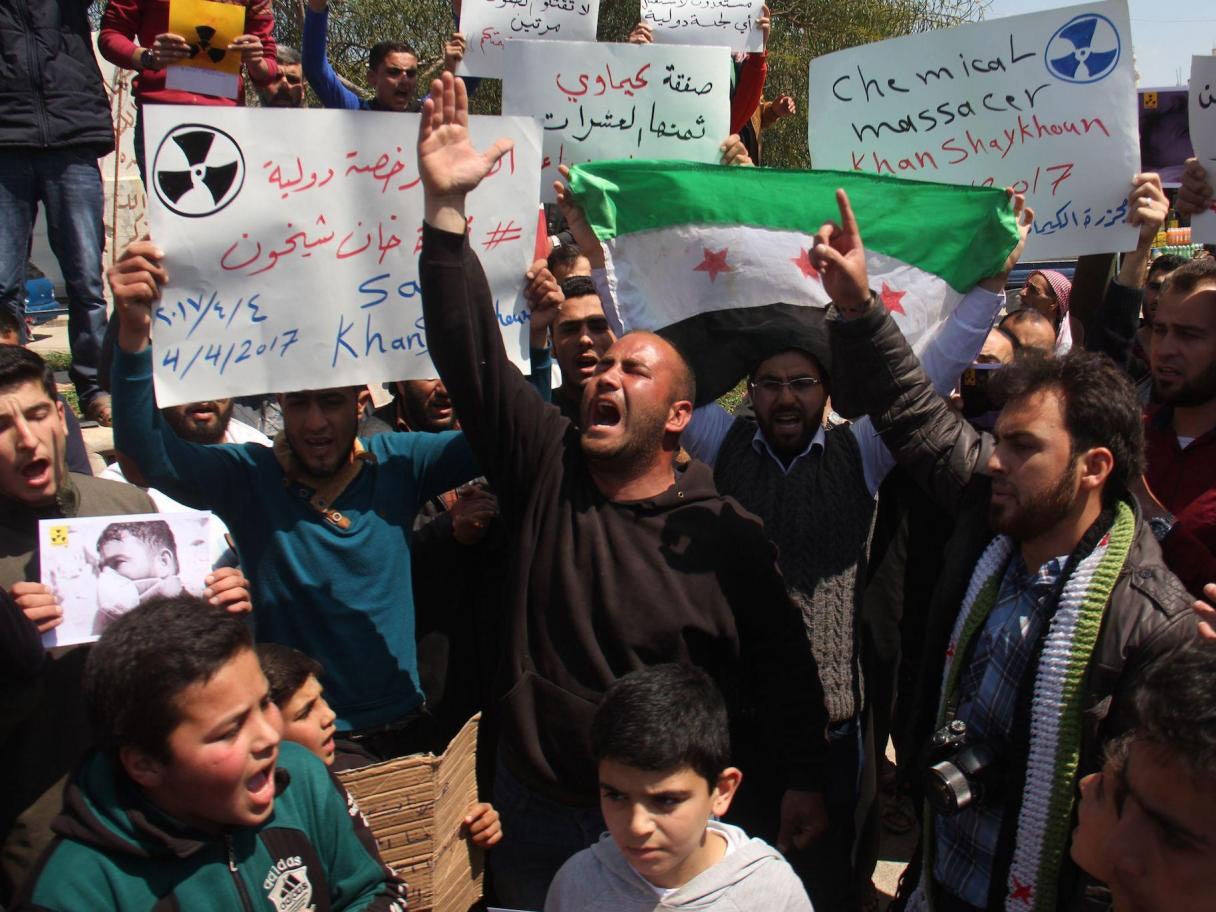 A Syrian rebel group has accused the Syrian army of using chlorine gas against its fighters in battles east of Damascus, after Donald Trump warned Bashar al-Assad's regime that it would "pay a heavy price" if it launched another chemical attack.
The Failaq al-Rahman group has said more than 30 people suffocated as a result of the assault in Ain Tarma in the Eastern Ghouta region, which Mr Assad's forces have been fighting to take back from insurgents.
In a statement circulated by state-run media, a military source said the Syrian army command completely denied the accusation that it used chemical weapons: "It has not used any chemical weapons in the past, and will not use them at any time".
Syria was said to have destroyed all of its chemical weapons under an agreement reached by the US, Russia, and the Assad regime in 2013.
The Organisation for the Prohibition of Chemical Weapons – the global chemical weapons watchdog – confirmed last week that the nerve agent sarin was used in an attack in April that killed more than 80 people in northwestern Syria. The Syrian government is alleged to have carried out the attack, but Mr Assad's regime has denied any role and dismissed the OPCW's report, saying it lacked "any credibility".
The OPWC also found that hexamine – a known component of the Syrian government's stockpiles of chemical weapons – was contained in samples taken from the scene and from the blood and urine of victims.
A United Nations investigative taskforce will try to determine who was responsible for the attack.
National monuments reviewed by Donald Trump
Show all 24
In retaliation for the April attack, the US launched 59 cruise missiles at a Syrian military airfield, marking the first direct military action the US has taken against Mr Assad's regime since the beginning of the country's six-year civil war. Six people were reportedly killed.
US Secretary of State Rex Tillerson said the strike did not signal a policy change toward Syria, but proved Mr Trump is "willing to act when governments and actors cross the line ... and cross the line in the most heinous of ways".
Last Monday, the White House said that it had identified potential preparations for another chemical weapons attack by Mr Assad's regime.
"As we have previously stated, the United States is in Syria to eliminate the Islamic State of Iraq and Syria," the White House said in a statement. "If, however, Mr Assad conducts another mass murder attack using chemical weapons, he and his military will pay a heavy price."
During a congressional hearing, Nikki Haley, the US's ambassador to the United Nations, that "many innocent men, women and children" were saved as the result of Mr Trump's warning.
"I can tell you, due to the president's actions, we did not see an incident," Ms Haley said.
Join our commenting forum
Join thought-provoking conversations, follow other Independent readers and see their replies