Donald Trump compares George Washington and Thomas Jefferson with Confederate general Robert E Lee
The President said he believes creating jobs is 'going to have a tremendous positive impact' on race relations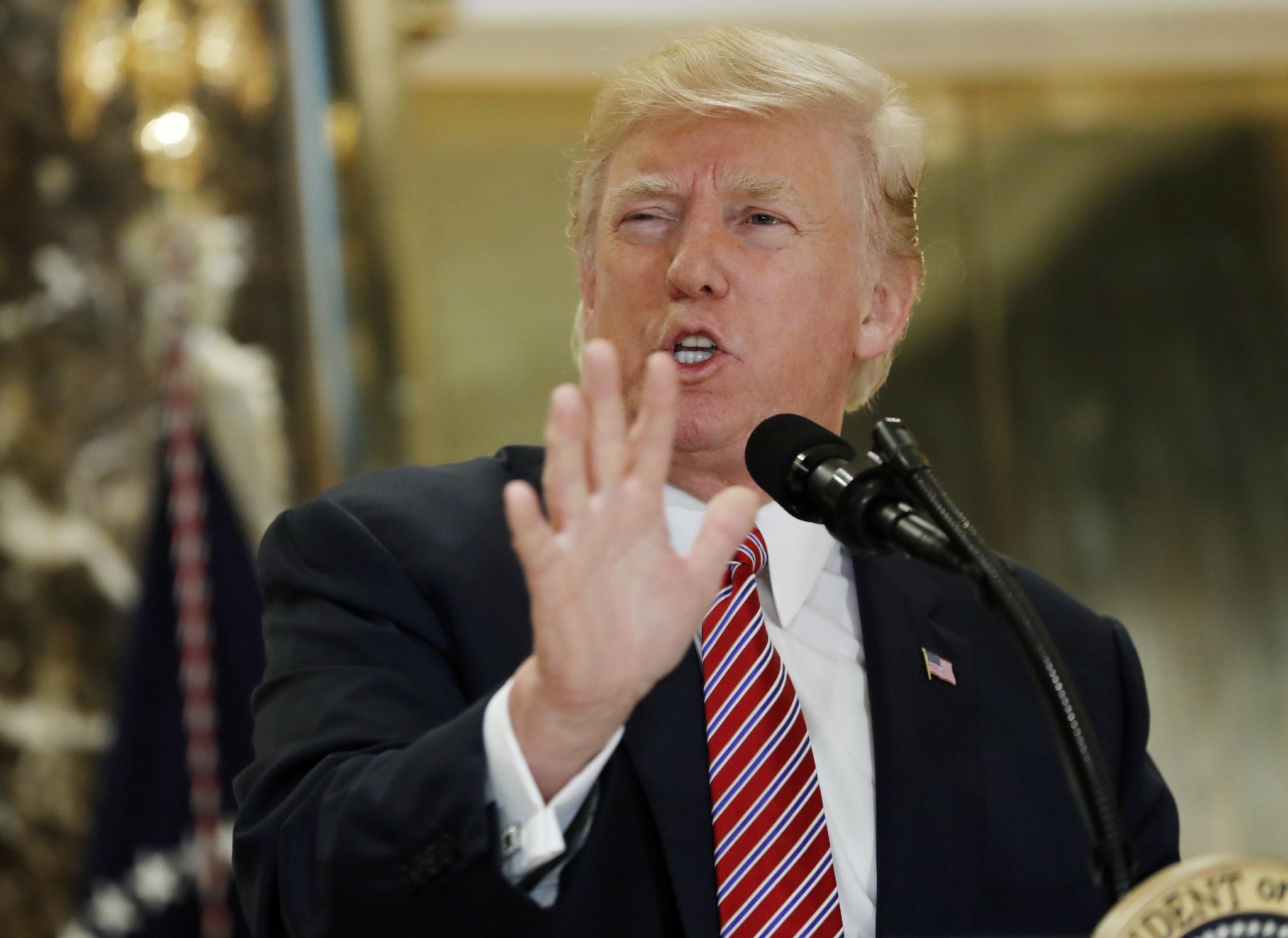 Donald Trump has plunged headfirst into hot water on the issue of race relations, comparing the removal of a Confederate general's statue to one of George Washington – three days after a white nationalist rally in Charlottesville erupted into deadly violence.
In a press conference that started with the President discussing US infrastructure, Mr Trump heatedly defended his first response to the bloody protests on Saturday as well as attacked the media for its coverage of the event.
When asked if race relations were better or worse under his presidency, Mr Trump replied, "they've been frayed for a long time," adding that he believes creating jobs is "going to have a tremendous positive impact" on the issue.
Mr Trump had received bipartisan criticism over the weekend for not directly denouncing the actions of neo-Nazis and members of the Ku Klux Klan who descended on Charlottesville to protest the removal of a statue of Confederate General Robert E Lee. The rally of white nationalists, met by counter-protests, quickly became violent, prompting the governor to declare a 'state of emergency'.
The incident – for which Mr Trump had placed blame on "many sides" – resulted in the death of a young woman after a car plowed into a crowd.
On Tuesday, the President said that "before I make a statement, I like to know the facts."
"I think the driver of the car is a disgrace to himself, his family, and his country," Mr Trump said. "And that is — you can call this terrorism, you can call it murder, you can call it whatever you want."
The alleged driver, James Fields, 20, is being held without bail on charges of murder and malicious wounding in the death of 32-year-old Heather Heyer.
When asked why he did not immediately condemn neo-Nazis, Mr Trump replied, "I didn't wait long. I want to make sure, unlike most politicians, that what I said was correct and not make a quick statement."
"The statement I made on Saturday, the first statement, was a fine statement," the President said. "But you don't make statements until you know the facts."
He also criticised "alt-left" groups that he claimed were "very, very violent" when they sought to confront the nationalist and Nazi groups, again saying there is "blame on both sides" and that "there are two sides to the story."
"Many of those people were there to protest the taking down of the statue of Robert E Lee," Mr Trump said. "This week, it is Robert E Lee and this week, Stonewall Jackson. Is it George Washington next? You have to ask yourself, where does it stop?" he said, later noting that both the first and third American presidents had owned slaves.
"George Washington was a slave owner. Are we gonna take down statues of George Washington? ... you're changing history, you're changing culture...you had many people in that group other than neo-Nazis and white nationalists. And the press has treated them absolutely unfairly."
Violence on the streets of Charlottesville
Show all 9
Mr Trump's comments received backlash from both Republicans and Democrats on Twitter as well as the praise of David Duke, a former KKK leader, who viewed the President's remarks as a condemnation of "leftist terrorists".
"Thank you President Trump for your honesty & courage to tell the truth about #Charlottesville," Mr Duke said in a tweet.
Senate Democratic Leader Charles Schumer said great and good American presidents seek to unite, not divide.
"Donald Trump's remarks clearly show he is not one of them," Mr Schumer wrote on Twitter. "By saying he is not taking sides, Donald Trump clearly is. When David Duke and white supremacists cheer, you're doing it very very wrong."
"Blaming 'both sides' for #Charlottesville?! No," wrote Representative Ileana Ros-Lehtinen, Republican of Florida. "Back to relativism when dealing with KKK, Nazi sympathizers, white supremacists? Just no."
The President said not all of those gathered in the Charlottesville park to protest the statue's removal were white supremacists or Nazis, adding that it was unfair to suggest they were.
"I've condemned neo-Nazis. I've condemned many different groups. Not all of those people were neo-Nazis, believe me. Not all of those people were white supremacists by any stretch."
On Monday, in much more measured and rehearsed language, Mr Trump declared to reporters in a statement that racism is "evil" and that the Ku Klux Klan, neo-Nazis, white supremacists and other hate groups are "repugnant".
But in front of reporters at Trump Tower in New York, the President seemingly spontaneously said there were "bad" people on both sides in Charlottesville, reopening the controversy and raising new questions as to how his administration will be viewed over race relations.
"You had a group on one side that was bad. You had a group on the other side that was also very violent," the President said. "Nobody wants to say that. I'll say it right now. You had a group on the other side that came charging in without a permit and they were very, very violent."
Join our commenting forum
Join thought-provoking conversations, follow other Independent readers and see their replies