Donald Trump seems inescapable but many Republicans embrace a campaign discussion without him
Going into Wednesday's Republican debate in Milwaukee, plenty of rank-and-file conservatives are happy that Donald Trump will not be there
Donald Trump seems inescapable but many Republicans embrace a campaign discussion without him
Show all 2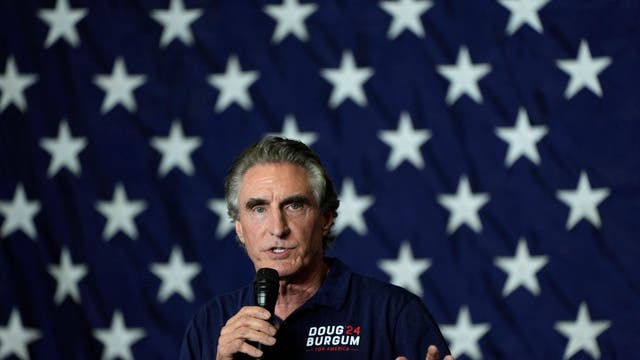 Donald Trump's decision to skip the first Republican debate may hurt television ratings and put more pressure on the eight contenders who will be on stage. But plenty of rank-and-file conservatives said they were eager to see their options without the former president dominating the conversation.
"People are just so focused on the circus," said Melissa Watford, a 53-year-old Republican from suburban Atlanta. "He's just a distraction. Distraction, distraction, distraction."
Watford's husband, Jack, said he would still consider supporting Trump if he wins the nomination, but he described the former president as "clickbait" and expressed relief that he is yielding the stage Wednesday in Milwaukee.
"When he's out of the picture," the 61-year-old said, "you can actually hear other candidates, actually listen to them."
The Watfords represent a notable share of Republican primary voters who, regardless of their feelings about Trump, want the party to wrestle with its identity and choices rather than hand the former president a third consecutive nomination without a fight. The group is difficult to quantify precisely, though GOP pollsters and Trump's competitors believe it's large enough to overcome Trump's base.
It extends beyond the small-but-vocal "Never Trump" faction. Instead, there is an expansive middle of the party open to new options — but that has supported Trump in the past, is at least somewhat sympathetic to his legal peril and would almost certainly vote for him again in a general election if he becomes the nominee.
"I'm deeply bothered by the bigger picture, by what Joe Biden and his administration are doing to the country," said Terry Lathan, a former Alabama Republican Party chairwoman who once backed Trump but now supports Florida Gov. Ron DeSantis for president. "The policy and the Republican platform have to be the top of the food chain here."
Lathan acknowledged, however, that "there is no bigger personality than President Trump ... There's a crush of people ready to do it all over again."
What a post-Trump party might look like was on display last weekend at conservative radio host Erick Erickson's annual political convocation, "The Gathering," staged in the GOP-leaning Buckhead neighborhood of Atlanta, a Democratic stronghold. Hundreds of activists, operatives and rank-and-file conservatives attended and tested their theories of Republicanism after Trump.
The dynamic at "The Gathering" underscored the challenge for Trump's rivals Wednesday night. None of them have yet won enough support to avoid splintering the GOP base.
Robert Kuehl, a 33-year-old Georgia Republican, recounted how he watched friends gravitate to Trump's populism in the 2016 campaign because of their disillusionment with an uneven economy and entrenched political class. "He spoke to them, and there's still a deep loyalty there," Kuehl said, before adding that the former president's latest campaign seems much more self-interested.
"There's a lot of optimism among the other candidates" about conservatism and the country at large, he said, "and that's something that's been missing" under Trump's control.
Erickson conducted one-on-one interviews with DeSantis, former New Jersey Gov. Chris Christie, South Carolina Sen. Tim Scott, former U.N. Ambassador Nikki Haley, tech entrepreneur Vivek Ramaswamy and former Vice President Mike Pence.
All planned to be on stage in Milwaukee.
Erickson did not invite Trump to Atlanta. He rejects Trump's false statements about the 2020 election and has consistently urged his listeners to look forward. There were no "Make America Great Again" hats dotting the audience. And Erickson did not ask candidates about the former president.
"We know what they would say," he said.
Still, the party seems poised to ride with Trump a third time and unsure about how to embark on a different direction. The broader takeaway from attendees at Erickson's event was a desire for candidates to make their pitches beyond a frame imposed by Trump.
"These candidates get pigeonholed or just ignored in the media, especially television," said Raz Shafer, a 37-year-old from Stephenville, Texas. "It is refreshing to hear a different, deeper perspective in their own voice."
Shafer said he was most impressed by DeSantis, Haley and Christie. DeSantis, he argued, crushed narratives that he is "falling apart." Haley, he said, demonstrated domestic and foreign policy depth as a former governor and ambassador. And Christie went beyond "the usual soundbites" of blasting Trump, he said.
Lorelei Eddy, a 58-year-old from Fayetteville, Georgia, said the New Jersey politician dispelled her notions that he "is, well, more on the liberal side of conservative." Instead, with extended time at the microphone, Christie explained how he battled leading legislators and local officials in deeply Democratic New Jersey while ultimately compromising with them to achieve policy victories.
Once Christie left the stage and met the media hoard outside, though, he eagerly answered Trump-related questions, calling the former president a "coward" for skipping Milwaukee and musing that Trump is "scared" of a "jail cell."
Criticism of Trump doesn't necessarily bother Eddy, as long as she hears more than that from the alternatives. She said she has never cast a ballot for Trump in either a primary or general election. "He never met my values as a conservative," she said, insisting it's possible to find a genuine conservative who can "accomplish things" and "not be divisive."
Melissa Watford said Ramaswamy stood out because he "sounded a lot like Trump, as an outsider, but without all the baggage." She said she is not ready to pick a candidate.
Of course, as voters talk through their choices, they offer reminders of how deeply the former president's imprint goes and demonstrate how distinctions among Trump's rivals can make it harder for any of them to corral a majority or even plurality coalition that rivals his.
For example, Eddy praised Scott, the South Carolina senator and highest-profile Black Republican nationally, as "very, very persuasive," but she wondered "whether he could win yet."
Shafer called Pence a "man of character" whom history "will remember fondly" for refusing Trump's efforts to overturn the 2020 election. But Shafer didn't include him in his top tier. Of Pence, Eddy said "most people aren't looking for that seasoned a politician."
Thomas Eddy, who came to Erickson's gathering with his wife, said he understands most voters will never have the kind of extended, up-close look at candidates he recently had. And he said he expected Wednesday's debate, even without Trump, could involve the kinds of Trump-centered questions Christie so willingly fielded in Atlanta.
"It's frustrating how this primary system works," he said. "There's got to be a better way."