Americans are divided along party lines over Trump's actions in election cases, AP-NORC poll shows
A new poll shows Americans are deeply divided along party lines in their views of President Donald Trump's actions in the most recent criminal charges brought against him
Americans are divided along party lines over Trump's actions in election cases, AP-NORC poll shows
Show all 2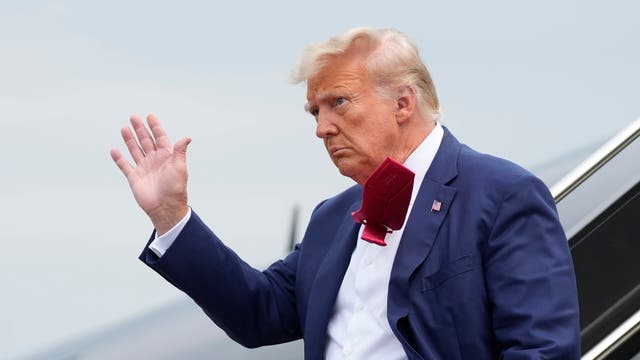 Americans are deeply divided along party lines in their views of President Donald Trump's actions in the most recent criminal cases brought against him, a new poll shows, with about half saying his alleged attempt to interfere in Georgia's 2020 vote count was illegal.
The poll from The Associated Press-NORC Center for Public Affairs Research, which was conducted before Monday's charges in the Georgia case, also shows that about half of Americans — 53% — approve of the Justice Department indicting Trump over his efforts to remain in office after losing the 2020 election.
The poll finds 85% of Democrats approve of the criminal charges brought Aug. 2 by Special Counsel Jack Smith, compared with 47% of independents and just 16% of Republicans. Overall, 3 in 10 Americans disapprove, including about two-thirds of Republicans.
The survey suggests that the unprecedented indictments of a former president have done little to shake up a fundamental divide in the electorate: The majority of Americans disapprove of Trump, but he remains popular within the GOP.
Overall, 35% of Americans have a favorable view of Trump and 62% unfavorable. Among Republicans, though, seven in 10 view the former president favorably, and about 6 in 10 say they want him to make another run for the White House.
The poll was conducted Aug. 10-14 , before Trump and 18 of his allies were indicted Monday in Georgia over their efforts to overturn the state's election results but with strong indications that charges were imminent. At the time of the survey, 51% of U.S. adults believed Trump acted illegally in that case, including 16% of Republicans. That's consistent with an AP-NORC poll conducted in June.
Trump has denied wrongdoing and says the charges against him are politically motivated as he seeks a rematch against Democratic President Joe Biden.
Only about 2 in 10 U.S. adults — 17% — say they have "a great deal" of confidence in the people running the Justice Department. The low level of confidence spans the political spectrum, with just 26% of Democrats, 14% of independents and 7% of Republicans saying they have a great deal of confidence in the federal law enforcement agency. About half of Americans have "only some" confidence in DOJ, while about a third have "hardly any confidence at all." Republicans are much more likely than Democrats to have hardly any confidence in the Justice Department, 48% to 18%.
"Trump is obviously running for president and the sitting administration is pushing to have their political rival arrested and put in jail," said Cary Arnold, a 56-year-old Republican from Eldersburg, Maryland. "Just on the surface that's a very, very bad look. That's something that you would expect to see in third world countries that are run by dictators."
Trump's actions did not cross the line to merit criminal charges, he said.
"I have not seen anything that seemed to be illegal," Arnold said. "I know people have said that he did things illegally, but none of the things that they've said make any sense."
Trump has been indicted four times since April, but Americans do not view the indictments equally.
While about half believe Trump did something illegal when it comes to the Jan. 6 insurrection and the Georgia charges, along with the case involving classified documents found at his home in Florida, only about one-third say Trump acted illegally in allegedly covering up hush money payments to a woman who said he had an affair with her. That was the basis for charges Trump faces in New York City brought by Manhattan District Attorney Alvin Bragg.
Overall, Americans say that Trump's actions after the 2020 presidential election did more to threaten democracy than to defend it, 54% to 19%. One-quarter of U.S. adults say he did neither. Republicans are split on the impact of Trump's decisions: 43% say he defended democracy, while 23% say he threatened it. About a third of Republicans say he neither defended nor threatened democracy.
"Trump and a lot of his supporters are saying, 'They're just using this to get at him in the election,'" said David Biggar, a 60-year-old Republican from Navarre, Florida who twice voted against Trump. "I think he's being targeted because he did stuff that he needs to be tried for."
Americans largely disagree with Trump's contention that the 2020 election was stolen from him. Seven in 10 say that Biden was legitimately elected president, a number that's been consistent in the last year. But among Republicans, 57% say Biden's election was illegitimate, compared with 32% of independents and 2% of Democrats.
Treasa Howell, a 58-year-old Republican from Springfield, Missouri, said a lot of the accusations against Trump ring true, but she believes they're motivated more by politics than justice and Trump is being singled out.
"I honestly don't feel like anybody in the political arena plays 100% fair," Howell said. "I feel like it was a political indictment, but I absolutely believe it's true. And that's my problem with Trump."
But if Trump wins the GOP nomination and faces a rematch against Biden, she'll reluctantly vote for him, she said.
___
Cooper reported from Phoenix.
___
The poll of 1,165 adults was conducted using a sample drawn from NORC's probability-based AmeriSpeak Panel, which is designed to be representative of the U.S. population. The margin of sampling error for all respondents is plus or minus 3.8 percentage points.