With Trump newly indicted, here's what to know about the documents case and what's next
Donald Trump has been indicted on three additional charges in a case that accuses him of illegally possessing classified documents
With Trump newly indicted, here's what to know about the documents case and what's next
Show all 6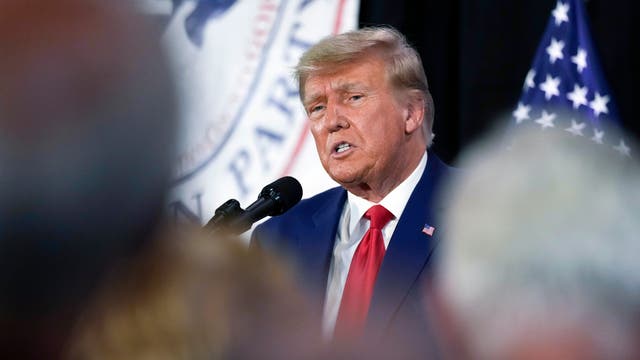 Former President Donald Trump has been indicted on three additional charges in a case that accuses him of illegally possessing classified documents at his Mar-a-Lago estate, allegations that add fresh detail to the criminal case initially issued last month.
Here's a look at the charges, the special counsel's investigation and how Trump's case differs from those of other politicians known to be in possession of classified documents:
WHAT ARE THE NEW CHARGES?
There are three new charges against Trump, as well as a new defendant in the case.
Prosecutors accuse the former president of trying to "alter, destroy, mutilate, or conceal evidence," and of inducing another person to do so. They say Trump asked a staffer — Mar-a-Lago property manager Carlos De Oliveira — to delete camera footage at his Florida estate in an effort to obstruct the federal investigation into his possession of classified documents.
Prosecutors allege that De Oliveira schemed with Trump and his valet, Walt Nauta, to conceal the footage from investigators.
A third count also accuses Trump of willfully retaining national defense information related to a presentation about military activity in another country.
Investigators say Trump showed a classified document during July 2021 meeting at his Bedminster, New Jersey, resort to the writer and publisher of the memoir of his former chief of staff Mark Meadows. Details about that document and the meeting were included in the original indictment, but none of the charges had related to it until now.
Trump had returned that document to the government on Jan. 17, 2022 — nearly a year after he left office, according to the indictment.
Trump was indicted last month on 37 counts related to the mishandling of classified documents. The charges include counts of retaining classified information, obstructing justice and making false statements, among other crimes.
Trump is accused of keeping documents related to "nuclear weaponry in the United States" and the "nuclear capabilities of a foreign country," along with documents from White House intelligence briefings, including some that detail the military capabilities of the U.S. and other countries, according to the indictment. Prosecutors alleged Trump showed off the documents to people who did not have security clearances to review them and later tried to conceal documents from his own lawyers as they sought to comply with federal demands to find and return documents.
The top charges carry a penalty of up to 20 years in prison.
After leaving office in 2021, the former president showed someone working for his political action committee a map that detailed a military operation in a foreign country, prosecutors allege in the document. On another occasion that year, Trump showed a writer, a publisher and two of his staffers — none of whom had security clearances — a military plan of attack.
HOW IS TRUMP REACTING?
A Trump campaign statement dismissed the new charges as "nothing more than a continued desperate and flailing attempt" by the Biden administration "to harass President Trump and those around him" and to influence the 2024 presidential race.
In an interview Thursday night with Breitbart News, Trump called the superseding indictment "harassment," repeating his insistence that his activities were "protected by the Presidential Records Act."
On Friday, Trump and a dozen other Republicans seeking the 2024 presidential nomination were expected at an Iowa GOP event.
WHAT HAPPENS NEXT?
De Oliveira is due in court in Florida on Monday.
Both Trump and Nauta have pleaded not guilty to the original 38-count indictment.
Their trial is currently scheduled for May 20, 2024 — deep into the presidential nominating calendar, and probably well after the Republican nominee is known — and it was unclear if the addition of a new defendant could result in a postponement.
Prosecutors, who had wanted the case to go to trial in December, wrote in a separate court filing Thursday that the new charges "should not disturb" the May trial date, "and the Special Counsel's Office is taking steps related to discovery and security clearances to ensure that it does not do so."
Trump's lawyers have claimed that he can't get a fair trial before the 2024 election.
HOW DID THIS CASE COME ABOUT?
Officials with the National Archives and Records Administration contacted representatives for Trump in spring 2021 when they realized that important material from his time in office was missing.
According to the Presidential Records Act, White House documents are considered property of the U.S. government and must be preserved.
A Trump representative told the National Archives in December 2021 that presidential records had been found at Mar-a-Lago. In January 2022, the National Archives retrieved 15 boxes of documents from Trump's Florida home, later telling Justice Department officials that they contained "a lot" of classified material.
That May, the FBI and Justice Department issued a subpoena for remaining classified documents in Trump's possession. Investigators who went to visit the property weeks later to collect the records were given roughly three dozen documents and a sworn statement from Trump's lawyers attesting that the requested information had been returned.
But that assertion turned out to be false. With a search warrant, federal officials returned to Mar-a-Lago in August 2022 and seized more than 33 boxes and containers totaling 11,000 documents from a storage room and an office, including 100 classified documents.
In all, roughly 300 documents with classification markings — including some at the top secret level — have been recovered from Trump since he left office in January 2021.
HOW DID A SPECIAL COUNSEL GET INVOLVED?
Last year, U.S. Attorney General Merrick Garland picked Jack Smith, a veteran war crimes prosecutor with a background in public corruption probes, to lead investigations into the presence of classified documents at Trump's Florida estate, as well as key aspects of a separate probe involving the Jan. 6, 2021, insurrection and efforts to undo the 2020 election.
Smith's appointment was a recognition by Garland of the politics involved in an investigation into a former president and current White House candidate. Garland himself was selected by Democratic President Joe Biden, whom Trump is seeking to challenge for the White House in 2024.
Special counsels are appointed in cases in which the Justice Department perceives itself as having a conflict or where it's deemed to be in the public interest to have someone outside the government come in and take responsibility for a matter.
According to the Code of Federal Regulations, a special counsel must have "a reputation for integrity and impartial decision making," as well as "an informed understanding of the criminal law and Department of Justice policies."
DIDN'T BIDEN AND FORMER VICE PRESIDENT MIKE PENCE HAVE CLASSIFIED DOCUMENTS, TOO?
Yes, but the circumstances of their cases are vastly different from those involving Trump.
After classified documents were found at Biden's think tank and Pence's Indiana home, their lawyers notified authorities and quickly arranged for them to be handed over. They also authorized other searches by federal authorities to search for additional documents.
There is no indication either was aware of the existence of the records before they were found, and no evidence has so far emerged that Biden or Pence sought to conceal the discoveries. That's important because the Justice Department historically looks for willfulness in deciding whether to bring criminal charges.
A special counsel was appointed earlier this year to probe how classified materials ended up at Biden's Delaware home and former office. But even if the Justice Department were to find Biden's case prosecutable on the evidence, its Office of Legal Counsel has concluded that a president is immune from prosecution during his time in office.
As for Pence, the Justice Department informed his legal team this month that it would not be pursuing criminal charges against him over his handling of the documents.
DOES A FEDERAL INDICTMENT PREVENT TRUMP FROM RUNNING FOR PRESIDENT?
No. Neither the indictment itself nor a conviction would prevent Trump from running for or winning the presidency in 2024.
And, as his indictment earlier this year in a New York hush-money case showed, criminal charges have historically been a boon to his fundraising. The campaign announced that it had raised over $4 million in the 24 hours after that indictment became public, smashing its previous record after the FBI search of Trump's Mar-a-Lago club.
___
Meg Kinnard can be reached at http://twitter.com/MegKinnardAP