Trump enjoys strong support among Republicans. The general election could be a different story
After every indictment that has come his way, Donald Trump has boasted that his standing among Republicans only improves — and he has a point
Trump enjoys strong support among Republicans. The general election could be a different story
Show all 2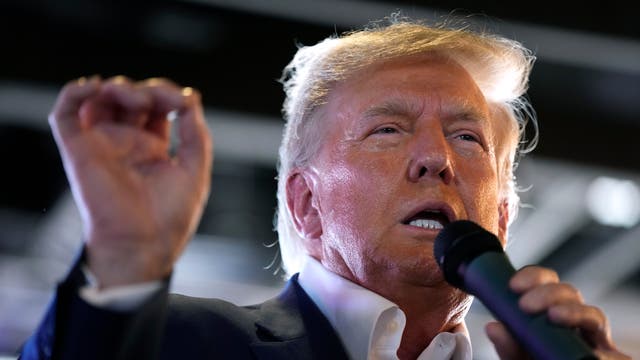 After every new indictment, Donald Trump has boasted that his standing among Republicans only improves — and he has a point.
Nearly two-thirds of Republicans — 63% — now say they want the former president to run again, according to new polling from The Associated Press-NORC Center for Public Affairs Research. That's up slightly from the 55% who said the same in April when Trump began facing a series of criminal charges. Seven in 10 Republicans now have a favorable opinion of Trump, an uptick from the 60% who said so two months ago.
But in a crucial warning sign for the former president and his supporters, Trump faces glaring vulnerabilities heading into a general election, with many Americans strongly dug in against him. While most Republicans — 74% — say they would support him in November 2024, 53% of Americans say they would definitely not support him if he is the nominee. Another 11% say they would probably not support him in November 2024.
The findings bolster the arguments of some of Trump's rivals for the Republican nomination who laud his tenure as president, but warn that he can't win in a general election when he must compete for votes beyond the GOP base. Trump lost the popular vote in the 2016 campaign, attaining the presidency only by winning a majority in the Electoral College. He lost to Democrat Joe Biden by an even larger 7 million-vote margin in 2020, a defeat he has falsely attributed to widespread voter fraud.
Some Republicans who are pushing the party to move past Trump argue his standing with the broader public has only deteriorated since the last presidential election, dragged down by his role in sparking the violent Jan. 6, 2021, riot at the U.S. Capitol and the constant turmoil that surrounds him, epitomized by his unprecedented legal woes.
"There is a meaningful number of voters who have voted for Trump twice and can't vote for him again after all of this," said Sarah Longwell, an anti-Trump Republican strategist who has been running focus groups with GOP voters.
A spokesman for Trump's campaign did not respond to a request for comment on the dynamics described in the poll, which was conducted before Trump was charged late Monday in Georgia in a sprawling 98-page indictment that accuses him and 18 others of a criminal conspiracy to overturn the results of that state's 2020 election. He now faces a whopping 91 total felony charges in cases brought in Georgia, New York, Washington, D.C., and Florida.
Adding to Trump's headwinds, the poll found that opposition to Biden's reelection is not as deeply entrenched. The 80-year-old president, who faces only nominal rivals in a Democratic primary, faces skepticism among voters, particularly over his age. But just 43% of Americans say they would definitely not support him in a general election, with another 11% saying they probably wouldn't.
Meanwhile, the charges in Georgia and Washington have turned Trump's attention back to his grievances about the last election — something aides and allies have spent months urging Trump to limit focusing on at his events.
Hours after the Georgia indictment was made public, he announced plans on his social media site to hold an event next Monday at his New Jersey golf club to unveil a new "report" that would offer "irrefutable" proof of election fraud.
Federal and state election officials and Trump's own attorney general have said there is no credible evidence that the election was tainted. The former president's allegations of fraud were also roundly rejected by courts, including by judges Trump appointed. And in Georgia, the state at the center of his latest indictment, three recounts were conducted after the election — each of which confirmed his loss to Biden.
While Trump's appeals resonate among GOP voters, they are less popular among the independents and swing voters he will need to win over in a general election and were blamed for some GOP losses in the 2022 midterm elections.
"Trump needs to embody the voters' grievances and not his own grievances," Longwell said. "Anytime he's talking about 2020 he's looking backward and the voters get more excited about looking forward."
As Trump's legal woes intensify, other Republican presidential hopefuls have spent the past week courting voters at the Iowa State Fair, a rite of passage in a more traditional era of politics. While Republicans at the fair were largely supportive of Trump, there was some evidence of concern about the political impact of the indictments.
Rich Stricklett, a Republican and Trump supporter from Bondurant, Iowa, echoed Trump's dismissal of the charges as a "witch hunt."
"I do think it's politically driven to knock out a candidate that's a threat to the current president," he said. "I think that's what they're trying to do is make sure that I don't go out and vote for him because he's got that hanging over his head."
While Stricklett pointed to polls showing indictments appear to have helped Trump in the primary, he said he is worried about the potential impact.
"What I'm concerned about," he said, "is that it'd be enough that he wouldn't win."
Mary Kinney, a Republican from Des Moines who caucused for Trump in 2016, was also critical of the charges.
"It seems like they are just throwing anything at the wall to see if it will stick because they are so afraid of him," she said.
But as Kinney eyes the next election, she's planning to support South Carolina Sen. Tim Scott in the caucuses, arguing that it's time for the party to move forward with a next-generation candidate.
"I think people are just done with it," she said. "It's time to move on. I think people are trying to move forward from 2020."
But others warn that it would be premature to assume Trump's legal woes will lead to his political downfall. Former Wisconsin Gov. Scott Walker, who ran against Trump in the 2016 GOP primary, said he was skeptical that the onetime president would face political consequences from the courtroom dramas.
"Anybody else, circumstances would be much different," he said. "But one of the key things that President Trump has done well on is kind of positioned this as, 'They're going after me because I dared to take on the machine, I dared to take on the swamp, I dared to take on the establishment.'"
Walker said he believes there are many voters — "not only in the primary, but a lot of swing voters ... who've been let down so many times" and "want someone who's not afraid of anyone. So in some ways, this makes the point that he just may be doing right for the average American because the left is out to get him."
Former House Speaker Newt Gingrich, a Trump ally who blasted the charges as "disgusting," predicted they would "enrage the country" and help Trump, even in a general election.
"I think every American who cares about the rule of law should be enraged by what they saw," Gingrich said. "He'll be stronger and he'll win the general election."
___
Associated Press writers Thomas Beaumont and Hannah Fingerhut in Des Moines, Iowa, contributed to this report.
___
The poll of 1,165 adults was conducted Aug. 10-14 using a sample drawn from NORC's probability-based AmeriSpeak Panel, which is designed to be representative of the U.S. population. The margin of sampling error for all respondents is plus or minus 3.8 percentage points.