Donald Trump 'printed out fake £300bn Nato invoice and handed it to Angela Merkel'
President estimated Germany's underspend on alliance over the past 12 years, then added interest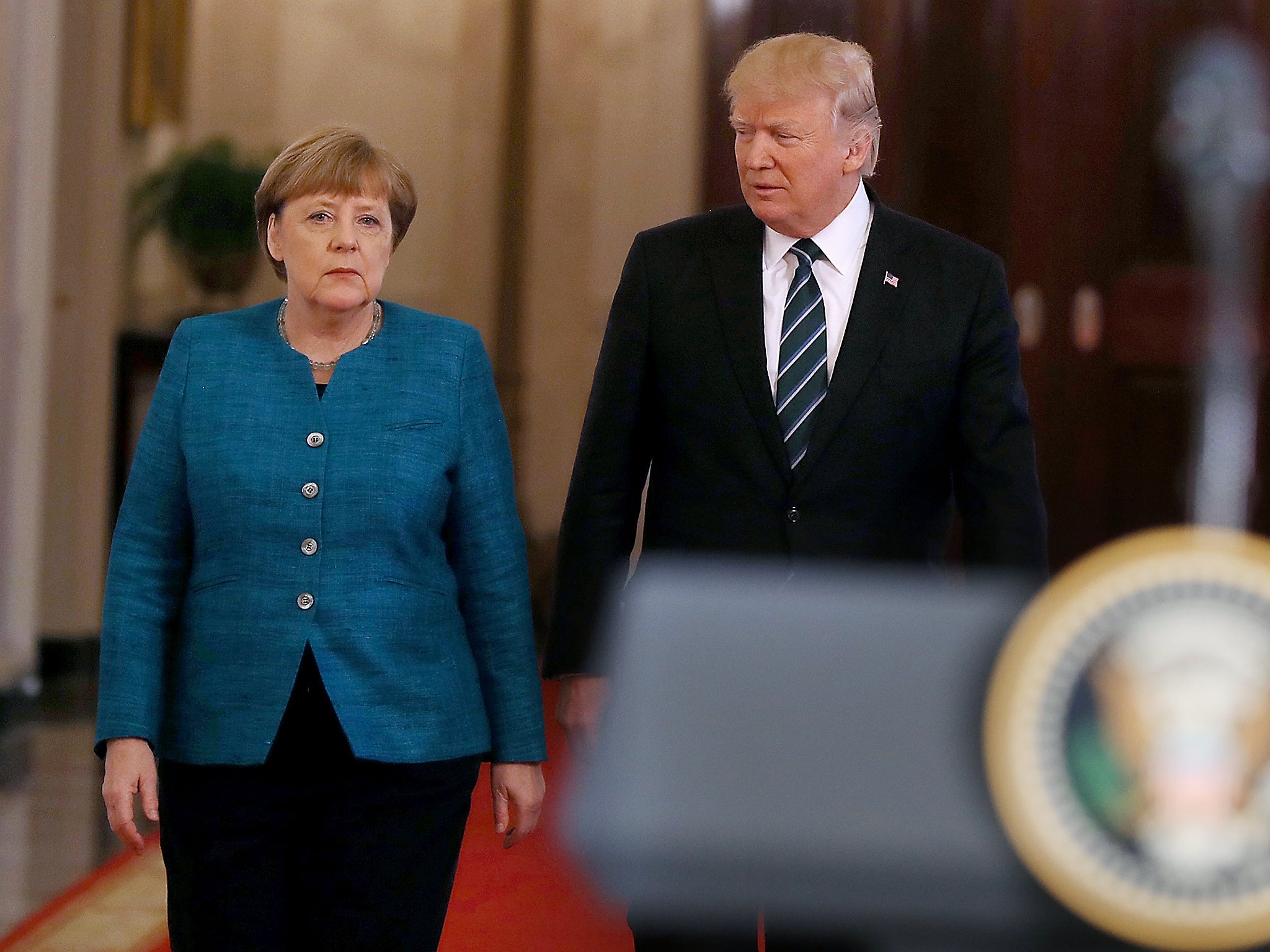 Donald Trump reportedly gave German Chancellor Angela Merkel a bill for £300bn when the pair met recently to cover contributions he believes are owed to Nato.
The US president made the demand during private talks when the pair met in Washington DC, the Sunday Times reported.
One German minister described the reported move by Mr Trump as "outrageous".
Trump refuses to shake Angela Merkel's hand
Nato countries pledged in 2014 to spend two per cent of their GDP on defence, something only a handful of nations – including the UK, Greece, Poland and Estonia – currently do.
The sum being demanded by the US has been backdated to 2002, the year Mrs Merkel's predecessor, Gerhard Schröder, pledged to spend more on defence, according to the report.
Mr Trump reportedly instructed aides to calculate how much German spending fell below two per cent over the past 12 years, then added interest.
The unnamed German minister added: "The concept behind putting out such demands is to intimidate the other side, but the Chancellor took it calmly and will not respond to such provocations."
The reports follow a meeting between the pair earlier this month, in which Mr Trump appeared to refuse to shake Ms Merkel's hand.
The controversial orders Donald Trump has already issued
Show all 9
A day after the meeting, Mr Trump tweeted: "Despite what you have heard from the FAKE NEWS, I had a GREAT meeting with the Chancellor Angela Merkel.
"Nevertheless, Germany owes ... vast sums of money to NATO & the United States must be paid more for the powerful, and very expensive, defense it provides to Germany!"
White House press secretary has denied reports that Mr Trump gave Ms Merkel a bill during their meeting, telling Business Insider: "No, this is not true."
German defence minister Ursula Von der Leyen has rejected the notion the European nation owed the US or Nato.
She issued a statement following Mr Trump's tweets saying: "There is no debt account at Nato.
"Defence spending also goes into UN peacekeeping missions, into our European missions and into our contribution to the fight against [Isis] terrorism."
Her comments were backed by Ivo Daalder, permanent representative to Nato from 2009 to 2013 under the Obama administration, who queried the President's understanding of the organisation.
He tweeted: "Sorry Mr President, that's not how Nato works. The US decides for itself how much it contributes to defending Nato.
"This is not a financial transaction, where Nato countries pay the US to defend them. It is part of our treaty commitment."
Mr Trump has repeatedly voiced his criticism over member payments to Nato, throwing doubt on the future role of the US in the organisation.
He has singled out a number of Nato countries, including Germany, over their defence contributions claiming the US has been forced to bear the brunt and pick up the tab.
Join our commenting forum
Join thought-provoking conversations, follow other Independent readers and see their replies