Democratic party chair Debbie Wasserman Schultz announces resignation on eve of convention
The chairwoman has been a lightning rod for criticism throughout the presidential campaign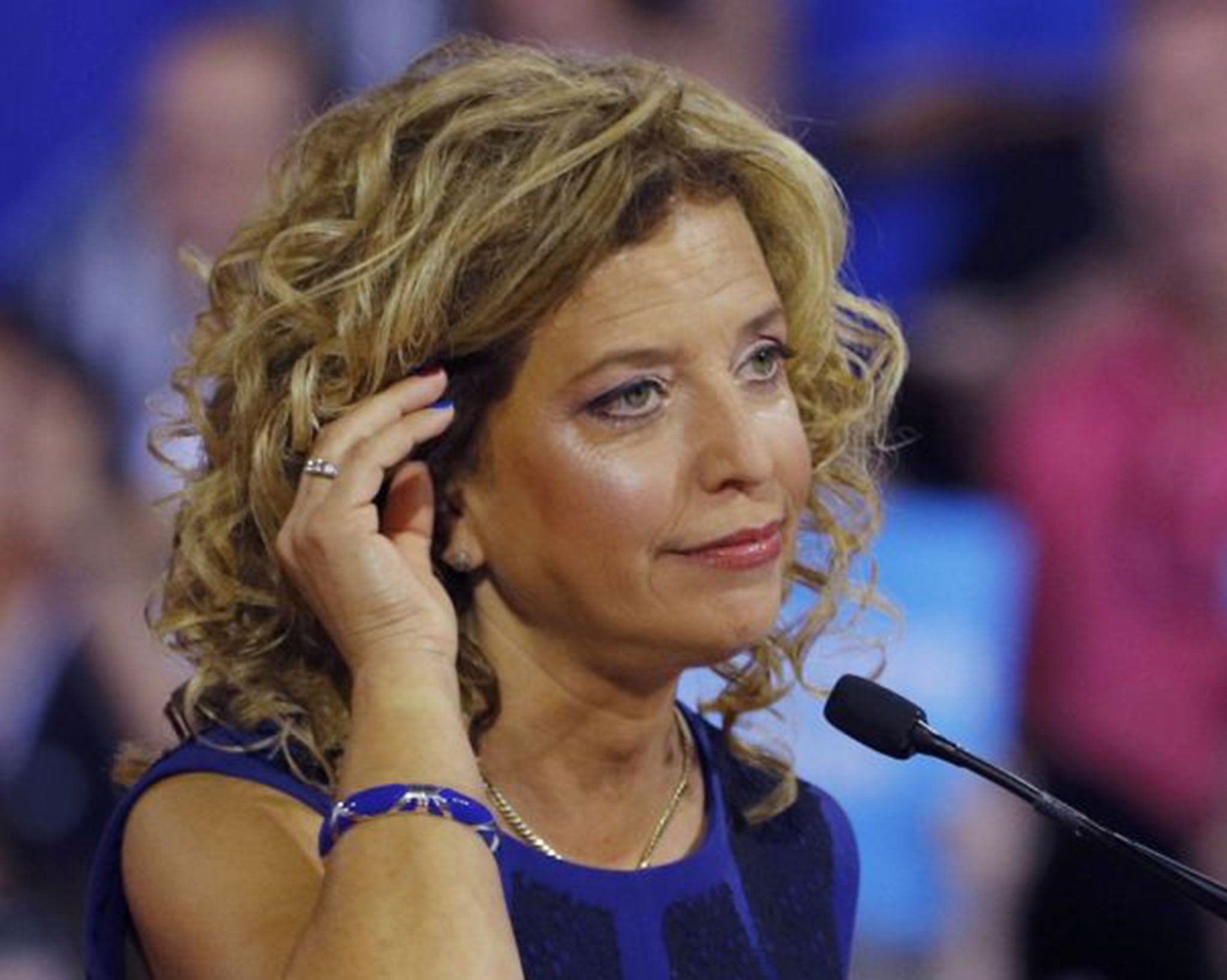 The row over the plot to smear and undermine Bernie Sanders claimed a high profile scalp when Debbie Wasserman Schultz annouced she was resigning under pressure as Democratic Party chairwoman - a dramatic shakeup as party officials gather in Philadelphia to nominate Hillary Clinton.
Ms Wasserman Schultz's announcement follows a massive row over hacked emails that suggested the Democratic National Committee (DNC) favoured Ms Clinton during the primary, despite pledging neutrality. The leaked emails prompted primary runner-up MrSanders to call for Wasserman Schultz's immediate resignation.
In a statement, Ms Wasserman Schultz said she will step down at the end of the four-day convention. She said she plans to formally open and close the convention, as well as address delegates, but will not make a lengthy address.
Her statement does not address the email controversy.
Mr Sanders issued his own statement, saying he welcomed the move. "Debbie Wasserman Schultz has made the right decision for the future of the Democratic Party. The party leadership must always remain impartial in the presidential nominating process, something which did not occur in the 2016 race," he said.
Ms Wasserman Schultz's swift ouster underscores party leaders desire to avoid convention confrontations with Mr Sanders' loyal supporters, the Associated Press said. The chairwoman has been a lightning rod for criticism throughout the presidential campaign, with Mr Sanders repeatedly accusing the DNC of backing Clinton.
Mr Sanders said the 19,000 emails published by the website Wikileaks appeared to confirm his suspicions. In one leaked email, a DNC official wondered whether Sanders' religious beliefs could be used against him, questioning whether the candidate may be an atheist.
"Nobody has apologised. But this does not come as a surprise to me or my supporters. There is no doubt that the DNC was on Secretary Clinton's campaign from day one," Mr Sanders on Sunday told NBC.
Bernie Sanders campaigns with Hillary Clinton
Show all 15
Mr Sanders had pressed for Ms Wasserman Schultz to quit as chairwoman immediately. He also suggested that Ms Clinton's choice of running mate, Virginia Senator Tim Kaine, was a disappointment and that he would have preferred Massachusetts Senator Elizabeth Warren, a favourite of liberals.
"His political views are not my political views. He is more conservative than I am. Would I have preferred to see somebody like an Elizabeth Warren selected by Secretary Clinton? Yes, I would have," Mr Sanders said.
The Clinton team worked to portray their party's convention in a different light from the just concluded Republican gathering in Cleveland, where Donald Trump accepted the GOP nomination but party divisions flared when his chief rival, Texas Senator Ted Cruz, refused to endorse the billionaire businessman.
Mr Trump cast himself as the law-and-order candidate in a nation suffering under crime and hobbled by immigration, as the GOP convention stuck to a gloom-and-doom theme. Democrats said they wanted to convey a message of optimism and improving the lives of all Americans.
But party disunity also seems to be a factor in Philadelphia, given Mr Sanders' demands for a new leader and general unhappiness among his many supporters about how the nomination process unfolded.
Norman Solomon, a delegate who supports Bernie Sanders, says there is talk among Sanders' delegates of walking out during Kaine's acceptance speech or turning their backs as a show of protest.
Mr Solomon said he believes a "vast majority" of Mr Sanders' delegates supported these kinds of protests to express their dismay. Mr Sanders' supporters say they are concerned that Kaine is not progressive enough, the AP said.
Dan O'Neal, 68, is a retired school teacher and delegate from Arizona, said Wasserman Schultz has to be censured.
"We knew they were stacking the deck against Bernie from the get-go, but this type of stuff coming out is outrageous," he said. "It proves our point that they've tried to marginalize him and make it as difficult as possible."
Trump's campaign chairman, Paul Manafort, agreed, saying Sanders' supporters "have a lot to complain about."
"The emails have proven the system was rigged from the start," Mr Manafort told Fox News Sunday.
Ms Clinton's campaign manager, Robby Mook, tried to shift blame away from DNC officials to "Russian state actors" who, he said, may have hacked into DNC computers "for the purpose of helping Donald Trump," the Republican presidential nominee.
Sanders Endorses Clinton for President
How the emails were stolen hasn't been confirmed.
"It was concerning last week that Donald Trump changed the Republican platform to become what some experts would regard as pro-Russian," Ms Mook said.
Ms Clinton is within just days of her long-held ambition to become the party's official presidential nominee.
After the DNC released a slightly trimmed list of superdelegates — those are the party officials who can back any candidate — it now takes 2,382 delegates to formally clinch the nomination. Clinton has 2,814 when including superdelegates, according to an AP count. Sanders has 1,893.
Mr Sanders has endorsed Clinton, but his delegates are pushing for a state-by-state tally. The state-by-state roll call is scheduled for Tuesday.
Also Sunday, Mr Kaine and his wife, Anne Holton, were back at their longtime church in Richmond, Virginia, a day after he made his campaign debut with Ms Clinton.
Mr Kaine, a former choir member at St. Elizabeth Catholic Church, sang a solo during Communion. He later told reporters outside the church: "We needed some prayers today and we got some prayers, and we got some support and it really feels good."
Join our commenting forum
Join thought-provoking conversations, follow other Independent readers and see their replies