DACA: Trump ends amnesty for 800,000 young immigrants in move that could lead to mass deportations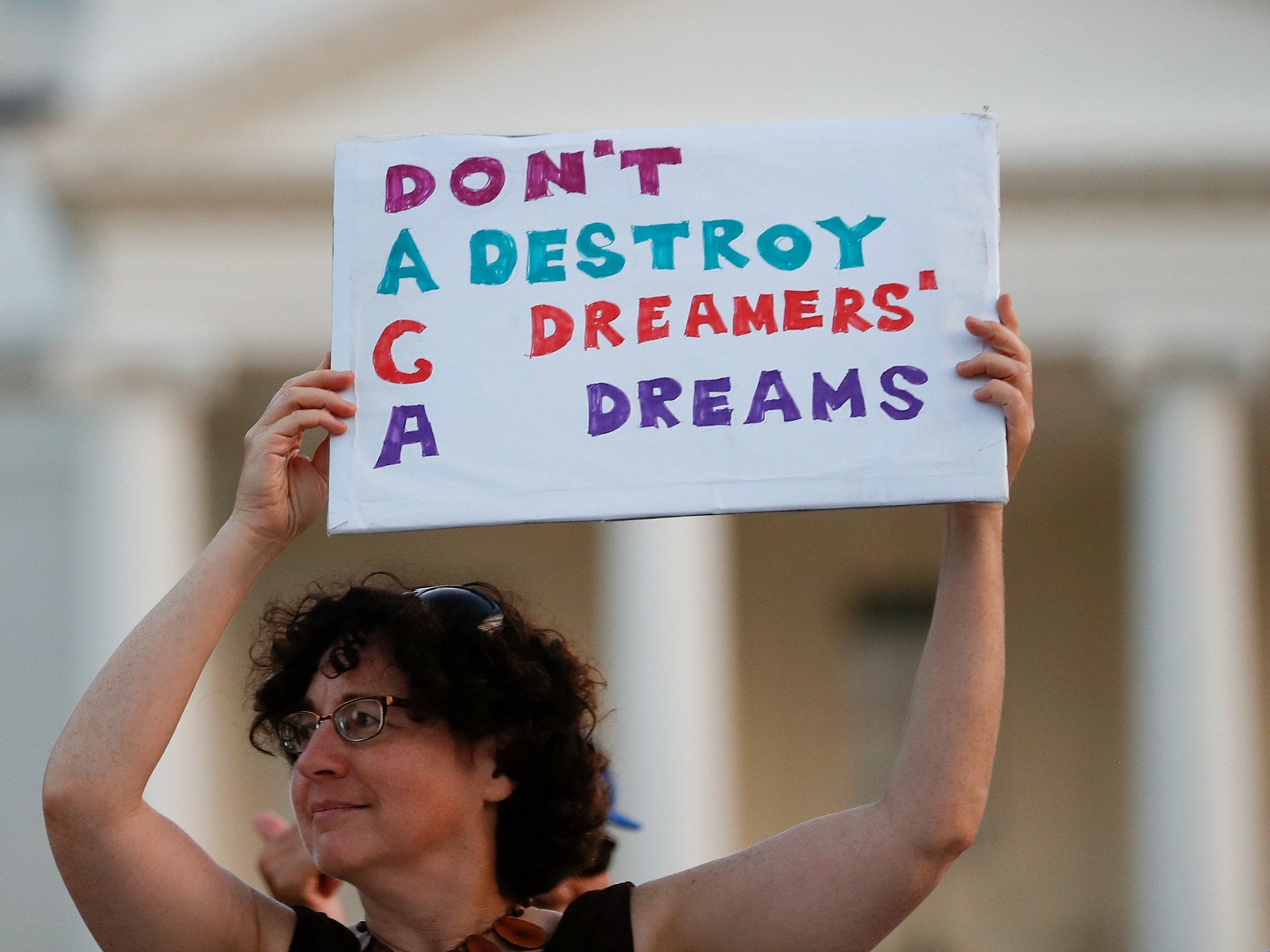 Donald Trump has ended a policy that has shielded nearly 800,000 young undocumented immigrants from deportation – but has called on Congress to pass legislation to let the so-called 'Dreamers' stay in the US.
Immigration has been a difficult issue for Congress, with former President Barack Obama having implemented the Deferred Action for Childhood Arrivals (DACA) programme after a lack of action on immigration reform.
The move by Mr Trump is likely to expose deep rifts in the Republican party over the issue, which could make passing new legislation difficult – and leave hundreds of thousands with uncertain futures.
"I do not favour punishing children, most of whom are now adults, for the actions of their parents," Mr Trump said in a statement. "But we must also recognise that we are nation of opportunity because we are a nation of laws." Mr Trump had pledged to end DACA during his presidential campaign.
The President later on Tuesday told reporters that he has "great love" for Dreamers.
Mr Trump's Attorney General Jeff Sessions announced the decision to scrap the DACA programme, calling it an "open-ended circumvention of immigration laws" and an unconstitutional use of executive authority.
"The programme known as DACA that was effectuated under the Obama administration is being rescinded," Mr Sessions, a longtime DACA opponent, said, adding that "the policy was implemented unilaterally, to great controversy and legal concern."
"The executive branch through DACA deliberately sought to achieve what the legislative branch specifically refused to authorise on multiple occasions," Mr Sessions said.
Mr Obama, who had personally appealed to Mr Trump to keep the programme, called the termination of DACA a "political decision" and said the targeting of Dreamers was "wrong".
The controversial orders Donald Trump has already issued
Show all 9
"Whatever concerns or complaints Americans may have about immigration in general, we shouldn't threaten the future of this group of young people who are here through no fault of their own, who pose no threat, who are not taking away anything from the rest of us," Mr Obama said. "These Dreamers are Americans in their hearts, in their minds, in every single way but one: on paper."
After Mr Sessions' remarks, more than a hundred protesters marched past the Justice Department in Washington singing "This Land Is Your Land, This Land is My Land" in Spanish and "Venceremos," or, "We shall overcome."
Hundreds of Dreamers and activists also marched on Trump Tower in New York, stopping traffic along Fifth Avenue. The activists crowded the sidewalks and were corralled by metal barriers that police set up at the last minute to keep order.
Donald Trump's immigration crackdown encapsulated in poignant footage of father being deported
At least 10 were arrested after sitting down in a line that crossed the avenue, peacefully disobeying the police's orders to evacuate voluntarily. None elected to do so, and each was cheered on by the watching crowds as they were escorted, hands held behind their backs by plastic zip-ties, to a police van.
"I think that it's a call to action to go put pressure on Congress to put something more permanent in place," Sarai Bravo, a 24-year-old DACA recipient, told The Independent.
Ms Bravo came to the United States from Mexico 20 years ago with her mother to visit her father, who was working in the US. They decided to stay together as a family.
"It was a step forward," Ms Bravo said of Mr Obama's decision to implement the DACA program. "It showed we're not criminals."
Mario Bueno, 24, said he was brought to the US when he was four years old. Receiving DACA has allowed him to try and keep being a good role model for his two younger siblings, allowed him to visit his sick grandmother a year ago in Mexico — and return, legally — and, recently, allowed him to get a barber's license.
"I'm very worried because I have big dreams, and now that that's happened, my dreams won't be able to come true," Mr Bueno said. "I don't know what's going to happen. I don't know if I'll be able to live my dream. It's sad, you know? I want to keep on dreaming. I'm only here for a dream, you know?"
A majority of the 800,000 Dreamers came to the US from Mexico, and Mexico's Deputy Foreign Minister, Carlos Sada, said that Mr Trump's decision has created "anxiety, anguish and fear."
The term Dreamers comes from the proposed DREAM Act, which would have given unauthorised immigrants legal status in exchange for attending college or joining the military. The bill was first introduced in 2001, and the latest version was voted down in the Senate in December 2010.
The Trump administration has given Congress until March 5 to pass legislation to replace DACA. According to administration officials, the government will no longer accept new applications from undocumented immigrants to protect them from deportation under the programme. But the nearly 800,000 current DACA recipients will not be immediately affected by what Mr Trump referred to as "an orderly transition and wind-down" of Mr Obama's policy.
Elaine Duke, the acting Homeland Security secretary, said that Mr. Trump chose to "wind the program down in an orderly fashion that protects beneficiaries in the near-term while working with Congress to pass legislation."
Under DACA, Dreamers were able to apply to defer deportation and legally reside in the US for two years. After that, they could apply for renewal.
Administration officials have said current programme participants whose permits expire before March 5, 2018, will be able to renew their status if they file applications by October 5. But if Congress fails to act by March, thousands of undocumented immigrants who were brought to the US as children could face deportation.
Thousands march against Donald Trump in LGBT rights parade
Show all 8
White House officials – seemingly realising there is popular support for the 'Dreamers' outside of Mr Trump's base – have made clear in recent weeks that deporting criminals is still the priority. "Our enforcement priorities remain unchanged," Mr Trump said in his statement on Tuesday. "We are focused on criminals, security threats, recent border-crossers, visa overstays, and repeat violators."
Mr Trump is said to have agonised over the decision, having previously told Fox News in 2011: "You have people in this country for 20 years: They've done a great job, they've done wonderfully, they've gone to school, they've gotten good marks (and) they're productive," "Now we're supposed to send them out of the country? I don't believe in that," he added at the time.
Democrats and immigrant advocacy groups quickly denounced Mr Trump's choice to terminate the programme.
House Minority Nancy Pelosi tweeted, "Trump's cowardice is on full display today. His cruelty must not stand! #ProtectDREAMers".
While House Speaker Paul Ryan said last week that he didn't think Mr Trump should rescind DACA, saying it was "something that Congress has to fix," he released a statement on Tuesday declaring that the programme was a "clear abuse of executive authority" even if it was well-intentioned.
"At the heart of this issue are young people who came to this country through no fault of their own, and for many of them it's the only country they know," Mr Ryan said. "Their status is one of many immigration issues, such as border security and interior enforcement, which Congress has failed to adequately address over the years. It is my hope that the House and Senate, with the president's leadership, will be able to find consensus on a permanent legislative solution that includes ensuring that those who have done nothing wrong can still contribute as a valued part of this great country."
Senator Lindsey Graham, a Republican from South Carolina, said passing the DREAM Act would be a "defining moment" for this party. "Right means taking care of these kids," he added.
Republican Senator Marco Rubio called on the White House to clearly outline what kind of legislation Mr Trump is willing to sign into law.
"Congress now has less than six months to deal with this the right way, through the legislative process," Mr Rubio said in a statement. "We have no time to waste on ideas that do not have the votes to pass or that the president won't sign."
Join our commenting forum
Join thought-provoking conversations, follow other Independent readers and see their replies