Charlottesville: Donald Trump quietly slashed funds to groups fighting white supremacy months ago
US President's decision to freeze funds facing fresh scrutiny in wake of deadly nationalist violence in Virginia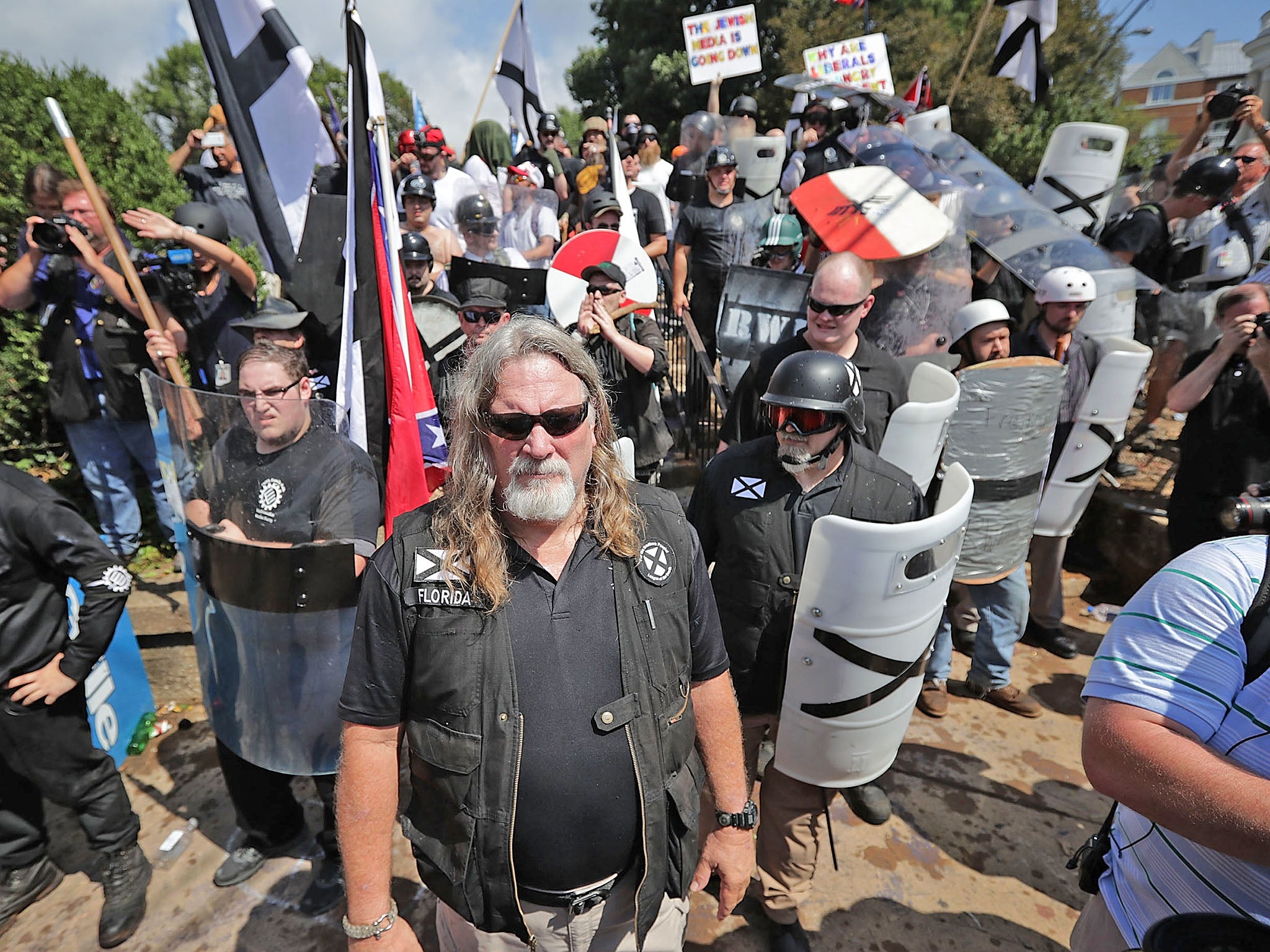 Donald Trump's decision to slash funding to counter right-wing extremism in the US is facing fresh scrutiny in the wake of the Charlottesville violence that left three people dead.
The US President froze $10 million (£7.7m) of grants destined to fight violent extremism in the US back in May.
More than 30 organisations had been pegged by former President Barack Obama's office to receive the funding, but the White House put the grants on hold pending review soon after Mr Trump took office.
Among those approved were local governments, city police departments, universities and non-profit organisations fighting all forms of violent extremism in the US.
Former white supremacist Chuck Leek, who has since become a volunteer with Life After Hate - one of the organisations that was due to receive government funding - warned at the time that white supremacy in the US was becoming more active.
His prediction came true at the weekend when deadly violence broke out between those opposed to the removal of a statue from a local park of Civil War Confederate General Robert E Lee and counter-protesters.
The rally was the largest assembly of white nationalist groups in over a decade and saw brawls between people holding KKK banners and confederate flags, and groups of anti-fascist counter protestors spill onto the streets.
Critics pointed to the US President's campaign rhetoric for enabling far-right extremist groups in the country to regain a foothold.
Violence on the streets of Charlottesville
Show all 9
Mr Trump's slow response to the demonstrations was also condemned, after he spoke out against "violence on many sides" in the wake of the attacks - despite white nationalist James Fields allegedly ploughing a car into a crowd of counter-protesters, killing 32-year-old Heather Heyer.
"We condemn in the strongest possible terms this egregious display of hatred, bigotry and violence on many sides," he said. "On many sides."
More than 30 people were injured in the car ramming and Fields has been charged with second-degree murder.
Neo-nazis applauded Mr Trump's first response to the violent clashes, saying that it was "really, really good" that the President did not condemn them.
Two troopers also died when a Virginia State Police helicopter monitoring the violence crashed near the city.
The White House released a statement on Monday following a second press conference by Mr Trump, saying: "The President said very strongly in his statement yesterday that he condemns all forms of violence, bigotry and hatred and of course that includes white supremacists, KKK, neo-nazi and all extremist groups."
The US leader eventually condemned those groups directly, in a spoken statement on Monday night - in which he labelled them "evil".
But earlier this year, the Trump administration was pushing to downplay the threat of white extremism by erasing neo-Nazis and white supremacists from the US government's counter-extremism programme and moving it to focus exclusively on Islamist terrorism.
American officials briefed on the proposed changes said the Countering Violent Extremism (CVE) initiative could be renamed "Countering Radical Islamic Extremism".
The reclassification would remove its work combatting far-right attacks and mass shootings, such as the massacre of black churchgoers in Charleston, which are rarely classified as terrorism by American authorities.
Join our commenting forum
Join thought-provoking conversations, follow other Independent readers and see their replies