Trump Russia investigation: Can the president fire special counsel Robert Mueller?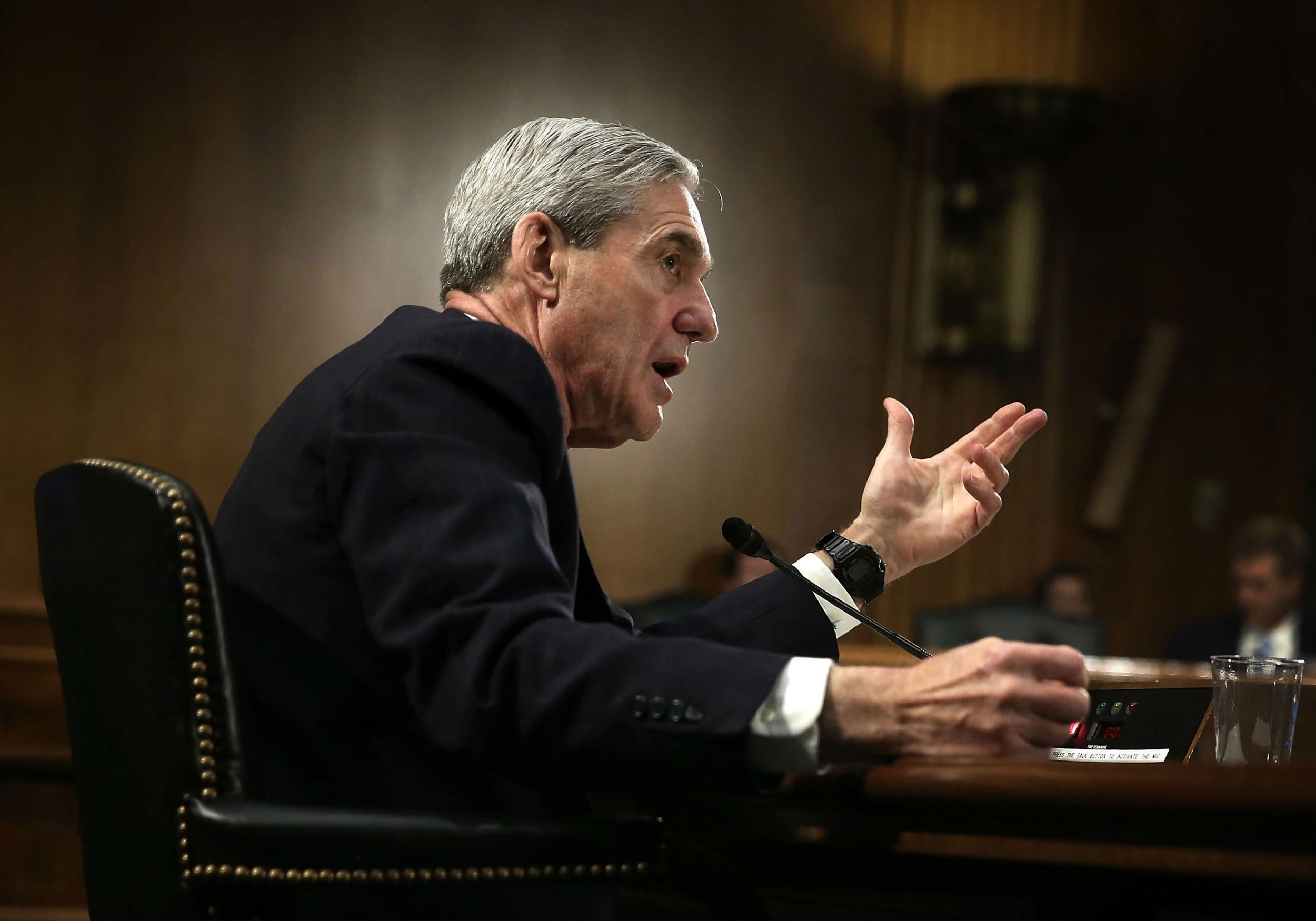 Ever since special counsel Robert Mueller was appointed to oversee the investigation into Russian meddling in the 2016 election, questions have swirled around whether President Donald Trump might fire him.
Mr Mueller, who was appointed to lead the council by Deputy Attorney General Rod Rosenstein after the president dismissed former FBI Director James Comey — citing, at the time, the bureau's Russia investigation as a reason for doing so — is a veteran Justice Department official, a former FBI director under both Republican and Democratic administrations, and has reportedly been ratcheting up pressure on Mr Trump and his allies.
News last week that federal investigators in New York — acting on evidence given to them by Mr Mueller's investigation — had raided the offices and hotel room of Michael Cohen, Mr Trump's personal lawyer, have only fuelled speculation that the president might take drastic measures.
The raids on the president's personal lawyer's office and hotel room have reportedly reportedly left Mr Trump furious. But, can he do anything about it?
Mr Trump cannot really fire Mr Mueller — at least not directly
That's according to former Watergate lawyer Nick Ackerman, who says that established Justice Department guidelines remove the special counsel from the president's direct purview. Those guidelines dictate that the special counsel can only be fired by the attorney general, or in this case Mr Rosenstein, since Attorney General Jeff Sessions has recused himself from Russia investigation matters.
"It can't be the president," Mr Ackerman told The Independent, noting that even Mr Rosenstein would need to have cause, in writing, to fire Mr Mueller. "The president does not have the authority to do it, period."
Mr Trump could, however, attempt to force someone else to do it
Mr Trump may not be able to fire Mr Mueller, but he does have authority over Mr Rosenstein — which he could use to try and compel a Mueller firing. If Mr Rosenstein resisted, Mr Trump could fire him, then ask that the next in line — the solicitor general — get rid of Mr Mueller.
This could theoretically continue until Mr Trump finds someone willing to do what he wants.
It would not be the first time a president has fired top Justice Department officials to get what he wants
On October 20, 1973, former President Richard Nixon set precedent for such an event when he demanded that then-Attorney General Elliot Richards fire independent special prosecutor Archibald Cox — who was in charge of the Watergate prosecution that later led to Mr Nixon's resignation.
Mr Richards refused to fire Mr Cox, and then resigned effective immediately. Mr Nixon then asked then-Deputy Attorney General William Ruckleshaus to do the deed, leading to his refusal and resignation as well. Finally, Mr Nixon asked then-Solicitor General Robert Bork — who considered resigning but decided to do the president's bidding.
The public and political toll for that "Saturday Night Massacre" was severe for Mr Nixon, and a judge later ruled the firing to have been illegal, and a special counsel was appointed.
Mr Trump may have his sights on a different target, though
There is a ton of speculation about who the president might choose to fire next in his administration, and who will feel the burn from the raids on Mr Cohen's office. Since Mr Sessions has recused himself, it seems unlikely that he would fire him for anything related to the Russia investigation.
The New York Times reported Tuesday that the president has considered firing Mr Mueller as recently as December. CNN has reported that Mr Trump might want to get rid of Mr Rosenstein.
There would likely be different political punishments if either gets sacked
If Mr Rosenstein is fired, the fallout is likely to be less severe for Mr Trump than firing Mr Mueller.
Firing the deputy attorney general would definitely raise cries of outrage — and potentially get Democrats to call for impeachment — but the general consensus is that, unless he pursues the end of Mr Mueller's investigation, this particular firing wouldn't necessarily be a major game changer for Mr Trump's turbulent presidency.
It's likely that the conservative base, and the Fox News-watching crowd, would support the move to some degree. And, Mr Trump could instal a new deputy who would be stricter with Mr Mueller, and who could reign in some of the non-2016 election charges that Mr Mueller has appeared comfortable with.
But, if Mr Trump proceeded to have his own version of the "Saturday Night Massacre", and pushed for the dismissal of Mr Mueller? That could be pretty bad: Republicans have even said it would be the end of Mr Trump's presidency.
"I think it'd be devastating," Mr Ackerman said.
It is hard to say what Mr Trump will ultimately decide to do
"With Trump, you never know," Mr Ackerman said. "The guy is completely unhinged. Who knows?"
When asked if firing Mr Mueller would amount to obstruction, Mr Ackerman said that that would just be a piece of the potential case for Mr Trump having obstructed justice in relation to the Russia investigation.
"That's just another piece of the obstruction — you could go on with the firing of Comey. You could go on with him trying to get Comey to stop investigating [former National Security Adviser Michael] Flynn. You could go on with [Mr Trump's] admission to Lester Holt that he fired Comey in order to stop the investigation," he said.
"There's a whole series of things [showing obstruction]," he said. "I could go on forever with that one."
On the flip side, there have been reports that Mr Trump is at least somewhat interested in being interviewed by Mr Mueller's team. Reports have indicated he has told his lawyers he would like to do so, and has received push back. Other reports indicate that Mr Trump's legal team has already received a list of questions from the special counsel, and that defining the parameters of the interview is still being debated.
Join our commenting forum
Join thought-provoking conversations, follow other Independent readers and see their replies