US, South Korea and Japan to unveil three-way emergency 'hotline' at Camp David summit
Unprecedented talks come after months of 'heroic' diplomatic efforts to bridge historic differences between the two key US allies in Asia-Pacific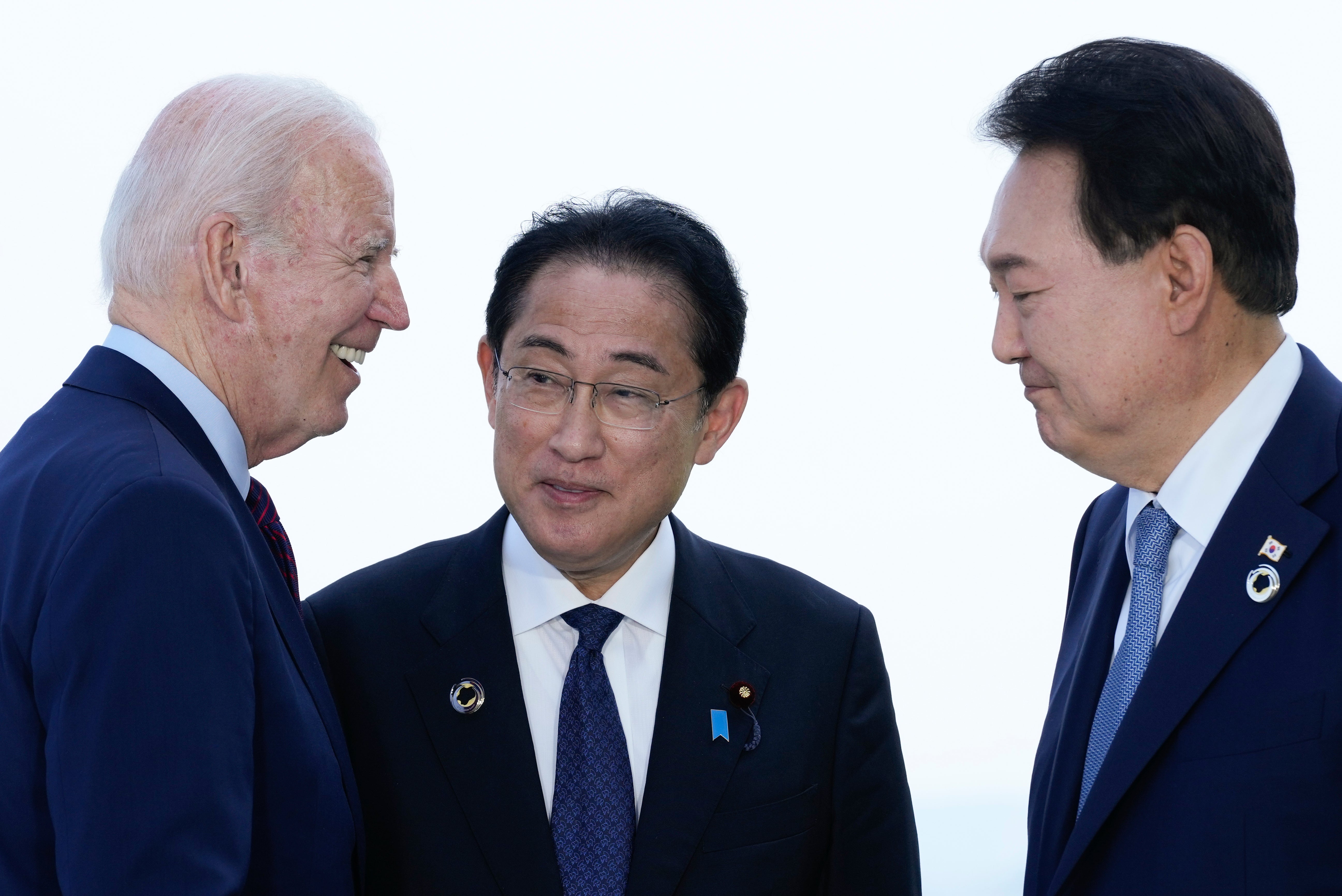 Friday's unprecedented trilateral summit between the leaders of the United States, Japan and the Republic of Korea will cap off months of what the White House describes as "courageous diplomacy" on the part of the Japanese and South Korean heads of government, Fumio Kishida and Yoon Suk-yeol.
Both leaders have met a number of times over the last several months in an effort to ease longstanding tensions between the two US allies, including old grievances dating back a century to the Japanese Empire's occupation of the Korean Peninsula.
According to a senior Biden administration official, the two Asian leaders have "taken further steps to reengage technologically, militarily and politically" at each of their previous meetings, receiving quiet encouragement from Mr Biden during respective bilateral engagements.
The official said Mr Kishida and Mr Yoon have both had to overcome "uncertainties" about the rapprochement, including "substantial" questions and opposition about their tentative steps towards deeper cooperation.
"There were some starts and stops along the way. But what we've seen over the course of the last several months is nothing short of courageous diplomacy on the part of President Yoon and matching efforts by Prime Minister Kishida," the official said.
But it was Mr Biden, who has staked his foreign policy reputation on his ability to build and grow alliances both in Europe and the Indo-Pacific, who was brought in to close the deal.
The official said the US president reminded both leaders about "what was at stake" and the importance of fulfilling their shared "desire to build a durable trilateral partnership that would be with us for the 21st century and help shape and react to the challenges that we are facing".
He added that Mr Biden had charged Secretary of State Antony Blinken and National Security Adviser Jake Sullivan with arranging the details of the Camp David summit, with the choice of the presidential retreat as venue seen as a nod to the importance and significance of the meeting, and Camp David's history as a stage for high-level international diplomacy.
"I think we believe this is clearly at that level," the official said.
Both Mr Kishida and Mr Yoon have been in Washington since late Thursday, and each leader will travel to Camp David on Friday by helicopter.
Each will be separately met by Mr Biden, who arrived at the Thurmont, Maryland retreat Thursday evening and spent the night preparing for the event alongside top advisers.
A senior official who briefed reporters on plans for the trilateral summit said each of the two leaders would have bilateral meetings with Mr Biden for the purpose of "raising specific issues with the president and his team", followed by a "substantial set" of trilateral meetings between the three leaders and their official delegations.
Mr Biden, Mr Kishida and Mr Yoon will then share a private lunch alongside Mr Blinken, Mr Sullivan, and their Japanese and South Korean counterparts, followed by a break, after which they will close out the summit with a three-way joint press conference.
The leaders will then roll out "a series of three-way statements and deliverables" that the official said would cover "every arena of engagement between our three countries – education, technology, diplomacy, [and] military," and take questions on the "three-way commitments" that will be undertaken by the American, Japanese and South Korean governments.
Those "commitments" that will be unveiled on Friday afternoon will include the establishment of a three-way "hotline" between Washington, Tokyo and Seoul modelled after the famous Washington-Moscow hotline established during the Cold War.
A White House official said the "hotline" would be built using "appropriate" and "state-of-the-art" technology to allow all three leaders to "engage in moments of crisis and uncertainty".
The official added that Mr Biden, Mr Kishida and Mr Yoon will each pledge to have what he called "a duty to consult in the event of a crisis or a set of circumstances that affect the security of any one of our countries".
Friday's summit will mark a significant shift in the tone of relations between Tokyo and Seoul. Although both nations have strong security relationships with the US based on mutual defence agreements dating back decades, the Japanese-Korean relationship has been an icy one, due in part to Japan's history of aggression and occupation leading up to the Second World War.
A senior administration official acknowledged that Japan and South Korea have long cooperated with the US on certain issues, particularly ones concerning North Korea and that country's illicit nuclear and ballistic missile programmes.
But the official said China's more aggressive posture and Russia's unprovoked invasion of Ukraine "really overturned the threat board" and changed how many US "allies and partners thought about their own security".
"Those forces have increasingly obviously created incentives to cooperate, but as those things have occurred, I think the ROK and Japan have also understood that they increasingly have aligned affirmative interests and objectives," the official said. "Those include their interests in a shared secure technology environment, they include shared values, they include deep interest in supporting partners in places like Southeast Asia and the Pacific Islands".
The official also said Mr Biden had provided "a clear vector of support" for the leaders' efforts, including by having each of the leaders as some of the first foreign heads of state or government to visit the White House under his administration, and by visiting both countries during his previous travel to the region.
But she also stressed that the "remarkable moment" that will occur at Camp David is due to the "courageous leadership" of Mr Kishida and Mr Yoon, each of whom was "willing to take considerable risks, to do what they believe is right to ensure that we're all standing side by side and able to work as one to face the challenges and seize the opportunities ahead".
Join our commenting forum
Join thought-provoking conversations, follow other Independent readers and see their replies