Bill Clinton and other dignitaries gather to remember Bill Richardson during funeral Mass
Former U.S. President Bill Clinton will be among those paying homage to Bill Richardson during his funeral Mass
Bill Clinton and other dignitaries gather to remember Bill Richardson during funeral Mass

Show all 12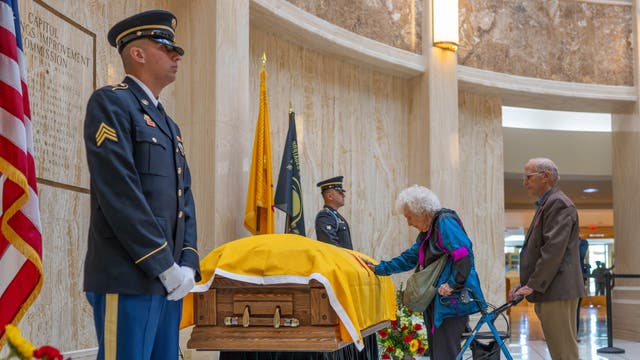 Political allies, Native American leaders and people touched by Bill Richardson's work to free Americans imprisoned abroad gathering Friday for a funeral Mass to honor a man known for his innate political skills, soaring ambition and ability to both clash and reconcile with rivals.
Former U.S. President Bill Clinton will be among those paying homage to Richardson during a Mass at Santa Fe's downtown Cathedral Basilica of St. Francis of Assisi. Richardson served as U.N. ambassador and energy secretary under the Clinton administration.
Despite Richardson's longstanding friendship with the Clintons, they had a falling out after he dropped out of the 2008 presidential race and endorsed Barack Obama over Hillary Clinton. Still, the Clintons expressed their sadness after learning of Richardson's death earlier this month, recalling him as a masterful and persistent negotiator and a trailblazer for Latinos.
The line to enter the historic cathedral stretched around the block as hundreds filed inside, from members of New Mexico's congressional delegation to tribal governors and dignitaries from around the globe.
Richardson throughout his career was tapped for numerous unofficial diplomatic missions, using his knack for negotiation to free many Americans held hostage abroad.
Dozens also turned out Wednesday as Richardson's casket laid in state in the Capitol's rotunda. An arrangement of white roses sent by President Joe Biden and first lady Jill Biden was joined by flowers from others who were there to remember the work he had done for the state.
Richardson served two terms as governor starting in 2003. His casket was flanked by police guard and draped in the New Mexico state flag with its ancient Zia Pueblo symbol of the sun.
Barbara Richardson, his wife for more than 50 years, was the first to approach and place a hand on the closed casket.
Richardson died in his sleep at his home in Chatham, Massachusetts, earlier this month at age 75.
Santa Fe Archbishop John C. Wester is presiding over the funeral Mass. In addition to Clinton delivering words of remembrance, Mickey Bergman, the vice president of The Richardson Center for Global Engagement, will also speak.
The memorial services have reunited top advisers and Cabinet secretaries to Richardson in his years as governor, which were marked by splashy employment and public works projects — the creation of a commuter rail line connecting Santa Fe with Albuquerque, an aerospace "spaceport" launch facility and generous incentives to attract film productions to New Mexico in the era before "Breaking Bad."
Richardson enacted initiatives with a Democratic-led Legislature that put an end to the death penalty in the state, eliminated sales taxes on medicine and food in efforts to combat poverty and renewed rights to collective bargaining by government workers that had expired under his Republican predecessor.