Mass protests against Israeli government's plans to change legal system enter 21st week
Tens of thousands of Israelis are gathered for the relentless weekly protests against Prime Minister Benjamin Netanyahu government's plans to change the legal system in the country
Mass protests against Israeli government's plans to change legal system enter 21st week
Show all 4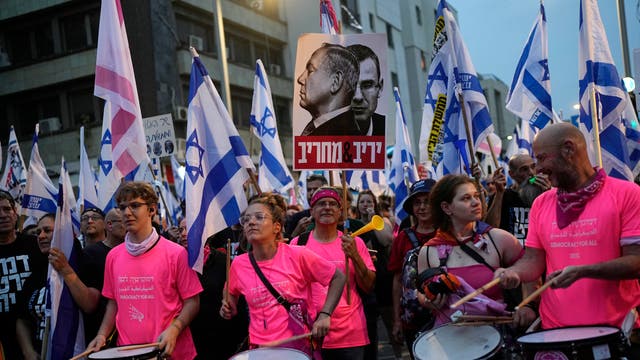 Tens of thousands of Israelis gathered on Saturday for the relentless weekly protests against Prime Minister Benjamin Netanyahu government's plans to overhaul the legal system in the country.
The mass protests entered their 21st week. This week's rallies come days after Netanyahu's coalition of ultra-Orthodox and ultranationalist parties passed a new two-year budget.
The main rally took place in Tel Aviv, drawing thousands of flag-waving protesters.
The passing of the new budget could grant some stability to Israel's most hard-line government ever. However, it also appeared to fuel the protestors' views that Netanyahu appeals to his religious allies rather than address the wider economic woes of the broader society.
Organizers of grassroot protests bill them as a movement to save democracy. They say the government's plans to weaken the Supreme Court would destroy the country's system of checks and balances and compromise Israeli democracy.
Proponents of the judicial overhaul say it is needed to rein in an overzealous Supreme Court.
Netanyahu delayed the proposed changes in March, but protest organizers say they want to keep the demonstrations up until the plans are scrapped.