Barack Obama to make $1.2m from three Wall Street speeches
Ex-president's spokesman says speeches allow him to give $2m to children's charities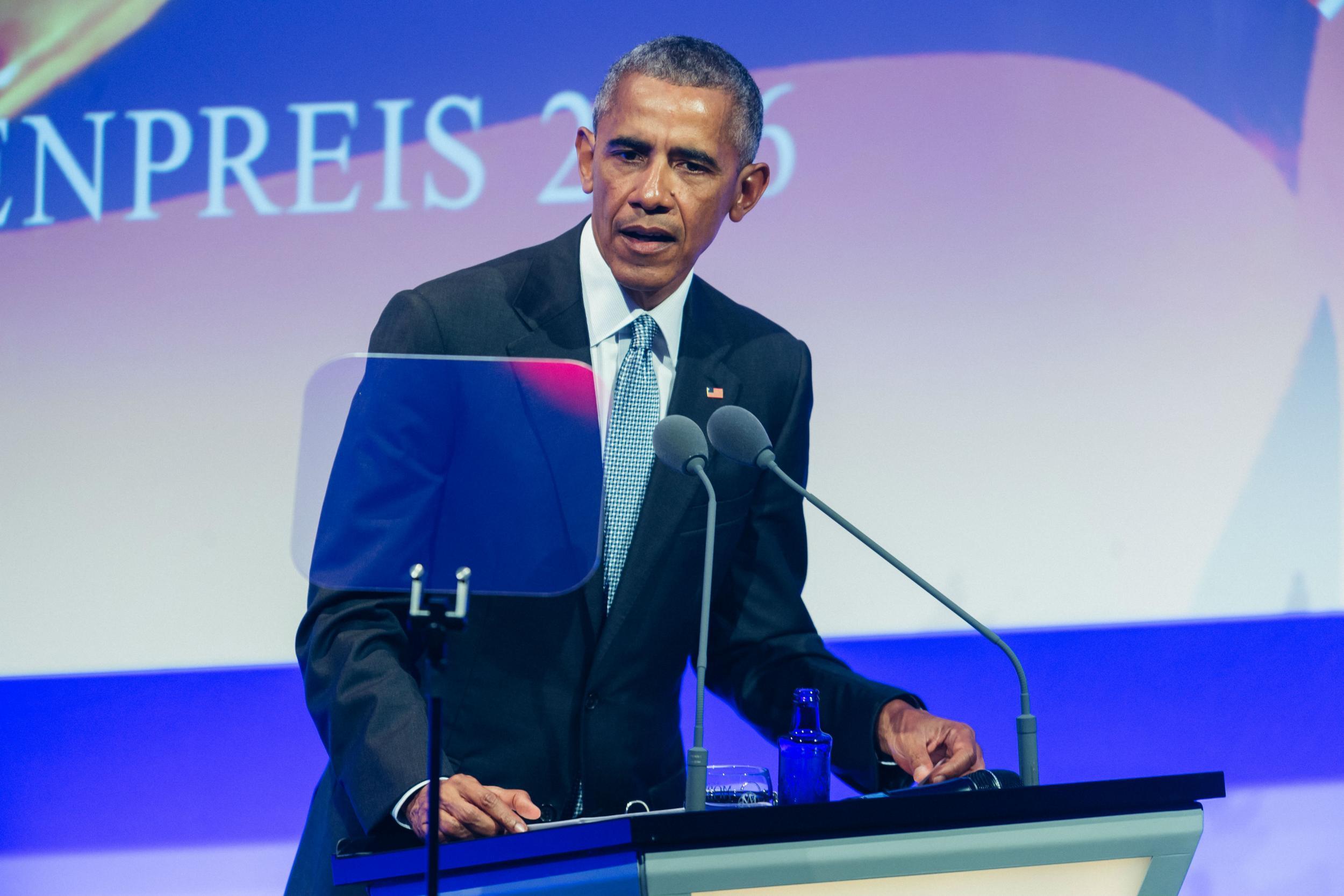 Former President Barack is reportedly set to be paid $1.2m for a series of speeches to major Wall Street firms, less than a year after he left the White House.
Earlier this year, Mr Obama attracted criticism from several Democratic senators when it was revealed he was to speak at a September conference organised by financial services company Cantor Fiztgerald.
Now, it has been reported that in addition to the speech he is due to give next week, the former president has already been paid $800,000 for two speeches he delivered to Wall Street firms - Northern Trust Corp, which he spoke to last month, and an address last week to the Carlyle Group.
Bloomberg News said the former president will be speaking at a three-day event organised by Cantor Fitzgerald for current and prospect clients, where he will make remarks and take questions.
Howard Lutnick, CEO of the company, which lost more than 600 staff during the 9/11 attacks, told the news organisation: "Everybody would like to come. Hopefully, we will really talk about the Affordable Care Act in interesting and nuanced ways, which I think is really cool."
Hillary Clinton, the woman whom Mr Obama hoped would succeed him in the White House, found herself under intense criticism during the 2016 presidential election campaign over speeches she gave to Wall Street firms, after she stepped down as secretary of state.
High school students freak out when Barack Obama surprises them to give message of encouragement
Reports said she made a total of 92 speeches to banks, financial services organisations and suchlike between 2013 and 2015, earning up $21.6m in two years but also opening her up to criticism from rivals such as Bernie Sanders and Donald Trump who claimed she was an elitist who was out of touch with the concerns and interests of ordinary voters.
In October 2013, she was paid $225,000 - her standard fee - to speak at Goldman Sachs "Builders and Innovators" conference, held at the Ritz Carlton Dove Mountain Resort in Marana, Arizona.
The series of speeches to Wall Street firms does not represent the first time Mr Obama has earned a speaking fee since leaving the White House. In April, he received $400,000 for a 90-minute conversation with presidential historian Doris Kearns Goodwin at New York's Pierre Hotel, at an event organised by A&E Networks, a cable network.
Barack Obama's best moments in the White House
Show all 11
Kevin Lewis, a spokesman for Mr Obama, told Bloomberg News that since leaving office, he had given speeches "true to his values."
"His paid speeches in part have allowed President Obama to contribute $2m to Chicago programmes offering job training and employment opportunities to low-income youth," Mr Lewis said.
Yet some have questioned Mr Obama's actions. Earlier this year, when it emerged he would be appearing the Cantor Fitzgerald event, Mr Sanders, the Vermont senator, said it was "unfortunate" the former president had agreed to take part.
"I think it just speaks to the power of Wall Street and the influence of big money in the political process," he said.
Senator Elizabeth Warren said she was "troubled by" the speaking fee. "I was troubled by that," she told a radio station.
Mr Obama has not always had a close relationship with Wall Street. In 2009, he attacked bankers for their role in the global financial crisis.
His administration then issued a number of new rules and regulations to try and rein in the largest banks, but did not prosecute any CEOs and resisted calls from his party to break up the largest institutions. He also used public money to bail out many of the most influential financial firms.
Join our commenting forum
Join thought-provoking conversations, follow other Independent readers and see their replies