Argentina arrests dozens in looting attempts amid fear of growing violence ahead of October election
Argentine authorities have reported a large number of arrests for lootings and attempted lootings in recent days, raising concerns about violence ahead of October presidential elections and prompting the president to appeal for calm
Argentina arrests dozens in looting attempts amid fear of growing violence ahead of October election
Show all 4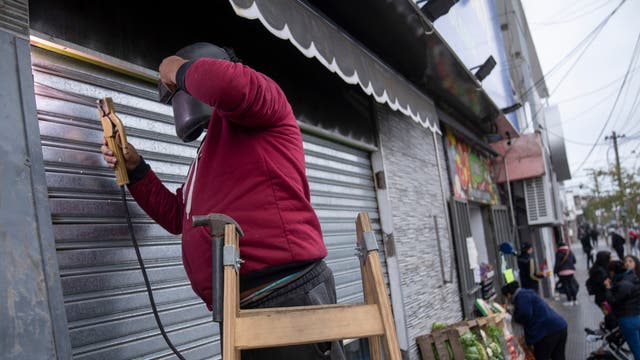 Argentine authorities have reported a large number of arrests for lootings and attempted lootings in recent days, raising concerns about violence ahead of October presidential elections and prompting the president to appeal for calm.
The arrests have prompted some business owners to prepare for the possibility that their stores could get ransacked. It also has unleashed a highly partisan exchange of blame for the spate of incidents between the president's office and the right-wing populist candidate Javier Milei, who gained the most votes in the Aug. 13 presidential primary.
Buenos Aires provincial authorities said Wednesday that 94 people had been detained in what were more than 150 looting attempts since Monday following days of isolated incidents of looting in the central Córdoba, western Mendoza and southern Neuquén provinces over the weekend.
President Alberto Fernández said Wednesday that the incidents "evidently were organized" and said that it was "very important" for Argentines to "preserve social peace" ahead of Oct. 22 elections.
The president spoke shortly after his spokeswoman, Gabriela Cerruti, blamed Milei and his followers for instigating the looting by spreading "rumors and agitation" about the crimes because they wanted to destabilize the country.
Milei vehemently denied playing any such role, and countered that the government itself might be behind the looting.
Looting holds a special significance in Argentina because it was widespread in 2001, when the country suffered a spectacular economic collapse.
Many of the rumors of looting spread on social media this week proved to be false, involving footage from old incidents. But there also were real incidents. In one of the most serious, looters destroyed and set fire to a supermarket in the Buenos Aires suburb of Moreno on Tuesday evening. In nearby Loma Hermosa, footage posted on social media showed store owners firing shotguns to scare away potential looters.
As word of looting spread, some store owners closed businesses early. On Wednesday, store owners in Loma Hermosa were reinforcing their steel curtains, and some warned they wouldn't hesitate to take justice into their own hands.
"If they get close we're going to shoot," said Enrique Gentile, a 78-year-old butcher. "Everyone has weapons here."
Emanuel Castillo, who owns a nearby store, said looters didn't get into his business "thanks to the neighbors who defended us."
Security Minister Aníbal Fernández said the lootings were "not spontaneous" and that there was an "effort to generate some sort of conflict." He said his ministry would set up a new commando unit of various law enforcement forces to tackle any efforts at looting.
The looting incidents come as many in Argentina are struggling to make ends meet amid rising inflation that already clocks in at more than 100% per year and as around four-in-10 residents live in poverty.