The killing of an opposition supporter in Zimbabwe was by ruling party followers, witnesses say
Witnesses say a deadly attack on a Zimbabwean opposition supporter was the work of ruling party followers, underlining fears of a violent buildup to this month's general election
The killing of an opposition supporter in Zimbabwe was by ruling party followers, witnesses say
Show all 3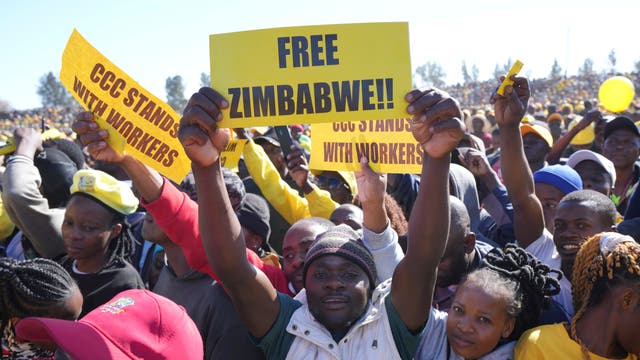 This week's deadly attack on a Zimbabwean opposition supporter was the work of ruling party followers, witnesses said Friday, underlining fears of a violent buildup to this month's general election.
The opposition Citizens Coalition for Change, or CCC, party had publicized the death Thursday of Tinashe Chutsunge in an attack while on his way to a rally in the capital, Harare, and blamed it on supporters of the ruling ZANU-PF party.
On Friday, witnesses told The Associated Press that Chitsunge was beaten and stoned to death as he tried to flee from dozens of men wearing ZANU-PF party T-shirts in the Glen View township. At least 15 other people were injured in the attack, the witnesses said.
Police said they have arrested 10 people in connection with Chitsunge's death but gave no details about their identities or a possible motive, including any links to ZANU-PF.
The killing of CCC supporter Chitsunge came in the same week that party leader Nelson Chamisa said in an interview with the AP that many of his party's supporters were facing violence and intimidation at the hands of ruling party activists. The intimidation, Chamisa said, meant many people faced the choice of either supporting the ruling party or being killed.
"It is not an election of political choices, but it's an election of death or ZANU-PF," Chamisa said.
On Twitter on Friday, he condemned the killing of Chitsunge and called it a cold-blooded murder.
Chamisa is the principal challenger to President Emmerson Mnangagwa in an election on Aug. 23. International rights groups Amnesty International and Human Rights Watch have already warned that there has been a brutal crackdown on opposition to Mnangagwa and ZANU-PF.
"We deplore violence against any Zimbabwean," ZANU-PF spokesman Christopher Mutsvangwa said in response to Chitsunge's killing. "They are not our members. A person who kills somebody is not a party member but a murderer, so the police must deal with the case."
Zimbabwe has a history of violent elections and Chitsunge's death was the first election-related killing reported ahead of this month's vote. A family spokesman said the 44-year-old had a wife and two children.
He was beaten and hit with stones while on the way to a CCC rally at a soccer field, witnesses said. He tried to escape and get back on a truck that was carrying the CCC supporters but didn't make it, said Musekiwa Kuziwa, another CCC supporter.
"They were in their dozens and we were outnumbered," Kuziwa said. He said he hid in an alley while Chitsunge was being attacked.
Images of Chitsunge's body were shared after the attack, showing him lying on the ground with his yellow CCC T-shirt stained with blood and his head covered with a yellow garment. Police eventually took his body away in a metal coffin, Kuziwa said.
Grantmore Hakata, the CCC candidate for Glen View South constituency, said he helped take 15 other injured people to a medical facility. Juliet Muchena, 52, said she was beaten and hit with stones, and her attackers also ripped her clothes off. She had a white bandage on a gash on the top of her head.
"It's only 19 days before the election," Muchena said. "We have to stay strong because election violence is not new in Zimbabwe. Change will not come without a struggle."
ZANU-PF has been in power in Zimbabwe for 43 years since independence from white-minority rule, firstly through long-ruling autocrat Robert Mugabe. Mnangagwa replaced Mugabe in a coup in 2017 and then beat Chamisa in a disputed election in 2018.
___
AP Africa news: https://apnews.com/hub/africa