Ukraine's defense minister resigns following Zelenskyy's announcement of his replacement
Ukraine's defense minister has submitted a letter of resignation after President Volodymyr Zelenskyy said that he would be replaced this week and named his successor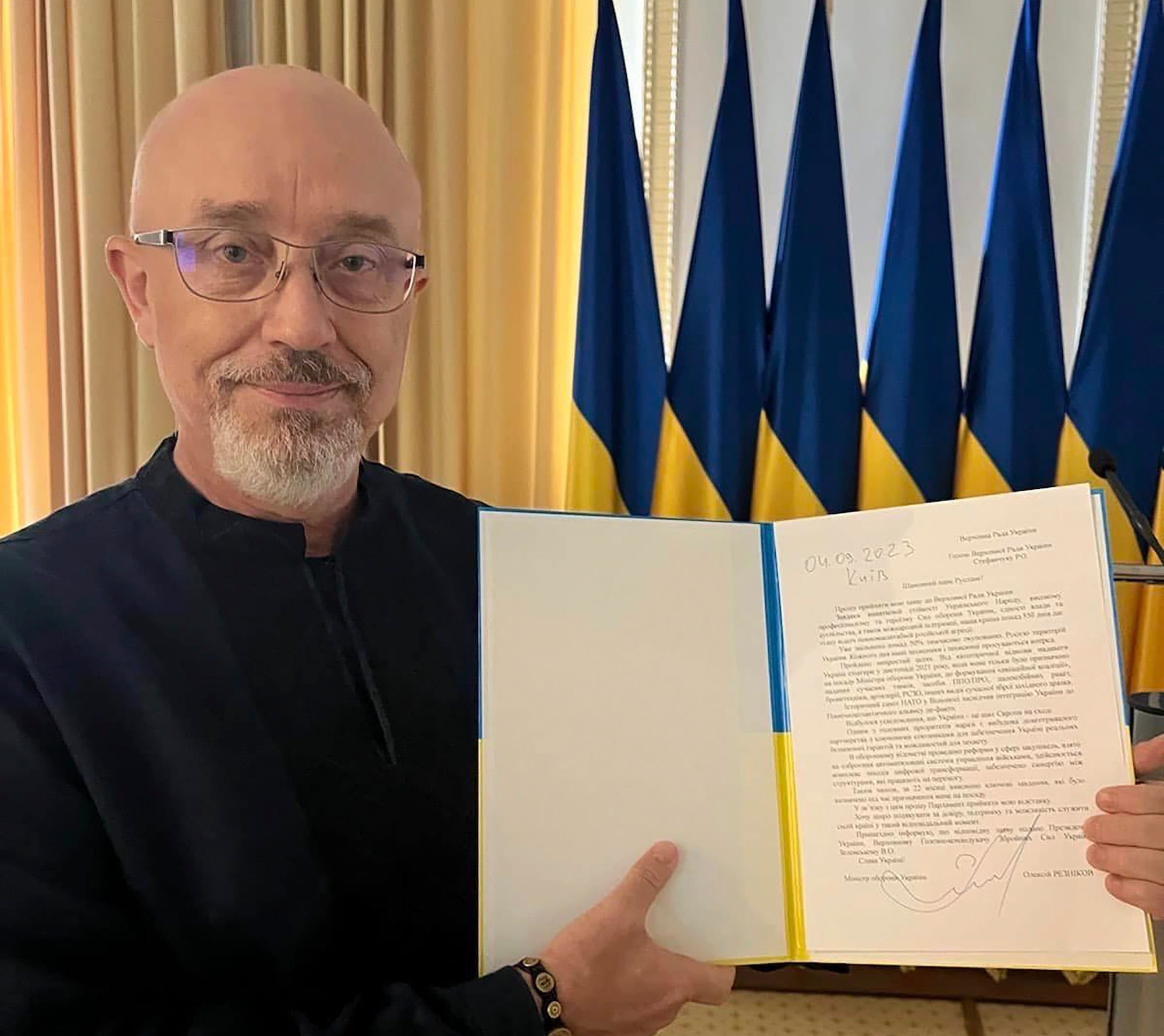 Ukrainian Defense Minister Oleksii Reznikov submitted a letter of resignation on Monday after President Volodymyr Zelenskyy said he would be replaced and named his successor.
Oleksii Reznikov's removal follows a scandal around the defense ministry's procurement of military jackets. It was not the first similar case during the ongoing war.
Zelenskyy made the announcement on his official Telegram account, writing that new leadership was needed after Reznikov went through "more than 550 days of full-scale war." He named Rustem Umerov, a Crimean Tatar lawmaker, as the new defense minister.
"Reznikov was a good and prominent international negotiator, but it appears that there is chaos and disorder within the Ministry of Defense, which many deputies have taken advantage of, resulting in corruption scandals during the war," said analyst Volodymyr Fesenko from the Kyiv-based Penta Center.
"All actions of the Ukrainian authorities are geared toward the interests of the war, and scandals and statements about Ukraine's slow counteroffensive in the face of very limited military resources compel Zelenskyy to be flexible and seek new personnel solutions."
Reznikov was appointed in November 2021, several months before Russia's invasion of Ukraine. In his resignation letter, Reznikov pointed out that it had been "not an easy journey" from his appointment until today, but that he had been part of the process of persuading international donors to give Ukraine sophisticated weaponry, from "the categorical refusal to provide Ukraine with Stingers in November 2021 to the creation of an 'aviation coalition.'"
Umerov, 41, a politician with the opposition Holos party, has served as head of the State Property Fund of Ukraine since September 2022. He resigned from that position on Monday, according to the Verkhovna Rada, Ukraine's parliament.
An economist by training, he has worked in the telecommunications and investment sectors, was involved in human rights advocacy and has founded numerous funds to support the rights of Crimean Tatars.
Fesenko said that Western partners value Umerov for this role as head of the State Property Fund, and he is one of the few politicians in Ukraine with direct contact with Turkish President Recep Tayyip Erdogan.
Since the full-scale war broke out, Umerov has been involved in prisoner exchanges and was part of the Ukrainian delegation in negotiations with Russia over the U.N.-backed grain deal.
Military analysts say that the replacement of the minister will not affect the situation on the front lines because the minister is not responsible for operational decisions.
Military analyst Roman Svitan said the advance of the Ukrainian army southward towards the occupied Melitopol and Berdiansk will continue without a pause during the autumn-winter period. Therefore, the new minister will need to "intensify negotiations with Western partners of Kyiv and ensure a continuous cycle of supplying the necessary weaponry to the front lines."
___
Follow AP's coverage of the war in Ukraine: https://apnews.com/hub/russia-ukraine
___
Karmanau reported from Tallinn, Estonia.