Tunisians protest president's expanding powers and demand release of all jailed political opponents
Opposition demonstrators have rallied on the main thoroughfare of Tunisia's capital to denounce policies pursued by President Kaïs Saied
Tunisians protest president's expanding powers and demand release of all jailed political opponents
Show all 3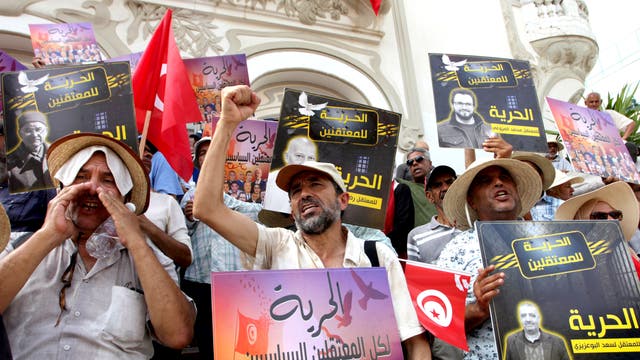 Despite scorching heat, opposition demonstrators gathered on Tuesday on the main thoroughfare in Tunisia's capital to denounce policies pursued by President Kaïs Saied, two years to the day after he suspended parliament in the first step of a gradual rollback of Tunisia's democratic freedoms.
Hundreds of people joined the protest by a coalition of opposition parties and independent politicians, chanting "Down with Kaïs Saied." A reinforced security presence surrounded the crowd gathered in front of the capital's municipal theater.
The demonstrators called for the release of political prisoners on trial for an alleged plot against state security, and other political opponents jailed or facing investigations.
"We have gathered today to denounce the coup d'état carried out by Kaïs Saied, to demand the release of opponents, a return to democracy and an improvement in the country's economic and social situation," Islamist leader Riadh Chaihbi said.
On July 25, 2021, Saied dismissed the government and suspended the work of parliament in a move he said was needed to save the country from worsening social crisis. He then last year dissolved the parliament and introduced a new constitution granting the president broad new powers, approved by a referendum a year ago.
A new parliament with restricted powers was elected with an even lower turnout earlier this year. Saied also dismissed more than 50 magistrates and appointed a new High Council of the Judiciary. Human rights activists have reported arbitrary arrests of critics, and interference in the judiciary. He has also lashed out at migrants, with comments that triggered racist abuse.
Addressing the crowd, the head of the opposition National Salvation Front, Ahmed Nejib Chebbi, said that Tunisia's situation had gone from bad to worse.
Chebbi called for unity among opposition forces and a strong popular movement to restore freedoms, democracy and political competition, and to find solutions for the multidimensional crisis facing Tunisia. Inflation and joblessness are high and the economy is teetering toward collapse amid high debts.
"In two years, he (Saied) has destroyed all the institutions and democratic gains of the revolution," said Samira Chaouachi, vice-president of the dissolved parliament.
She was referring to the 2010-2011 popular uprising that overthrew Tunisia's autocratic ruler, unleashing the Arab Spring movements across the region and ushering in a new era of democracy for Tunisia.
Referring to persistent shortages of basic foodstuffs, she said that Saied's government is "incapable of meeting the essential needs of the population".
"We are experiencing a democratic setback in the absence of any platform for dialogue," she said.
Political analyst Slaheddine Jourchi described Saied's last two years of accumulating power as "negative in political, economic and social terms, both internally and internationally.''
"The attack on freedoms, the restrictions imposed on civil society and the sidelining of key opposition figures certainly constitute a dangerous turning point," he said.
He described disappointment among the populace that Saied has not fulfilled electoral promises. Saied, a constitutional lawyer, was seen as a fresh face and academic with integrity when he ran for election in 2019 and won with 72% of the vote.