Bosnian Serbs stage protests in support of their separatist leader
Hundreds of Bosnian Serbs, some waving flags with the image of Russian President Vladimir Putin, have staged protests in support of their separatist leader who seeks union with neighboring Serbia
Bosnian Serbs stage protests in support of their separatist leader
Show all 3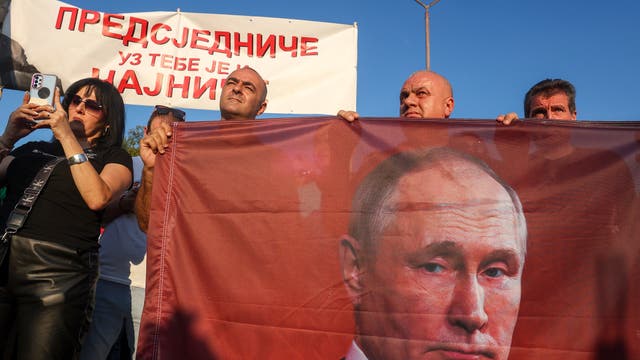 Hundreds of Bosnian Serbs waved flags of Serbia and Russia and banners of Russian President Vladimir Putin on Friday as they staged a protest in support of their separatist leader who seeks union with neighboring Serbia.
The protests were held at the unmarked internal border in Bosnia that separates the country into two entities — the Bosnian Serb Republika Srpska and the Bosniak-Croat federation — as called for under the U.S.-mediated peace deal that ended the country's 1992-95 war.
The Serb protesters chanted slogans against Bosnia being a single state. They briefly blocked traffic between the two entities, but there were no major incidents reported.
"We were always on the side of winners," said Ljubisa Cosic, a Bosnia Serb official. "We were always on the side of freedom. So our connection to the Russian Federation and Russian people is great."
Bosnian Serb President Milorad Dodik, who has close ties to Putin, has openly been striving to separate Bosnian Serb territories from the rest of Bosnia and join them with neighboring Serbia. Because of that, he was sanctioned by the U.S. in 2017.
There are widespread fears that Serbia, an ally of Russia, could inflame tensions in the Balkans to divert at least some of the world attention from the war in Ukraine.
Bosnian prosecutors are in the process of filing charges against Dodik for his separatist actions and for defying decisions by an international official overseeing peace in the country.
He could face up to five years in jail if sentenced by a Bosnian court on those charges.