Ukrainian president meets with world leaders at G7 as Russia claims a key victory in the war
Ukrainian President Volodymyr Zelenskyy huddled with some of his biggest backers at the Group of Seven meeting in Hiroshima on Sunday, hoping to add to the momentum for his country's war effort even as Russia claimed a symbolic victory on the battlefield
Ukrainian president meets with world leaders at G7 as Russia claims a key victory in the war
Show all 15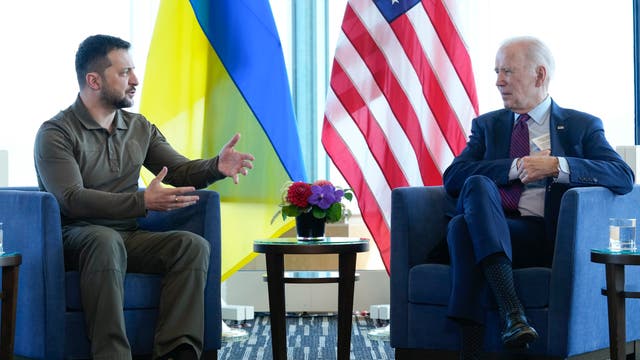 Ukrainian President Volodymyr Zelenskyy huddled with some of his biggest backers at the Group of Seven meeting in Hiroshima on Sunday, hoping to add to the momentum for his country's war effort even as Russia claimed a symbolic victory on the battlefield.
The Ukrainian leader's in-person appearance during the final day of the summit underscored the centrality of the war for the bloc of rich democracies. It also stole much of the limelight from many of the other priorities, ranging from security challenges in Asia and outreach to the developing world, that the leaders focused on at the three-day gathering.
Zelenskyy was holding two major rounds of meetings Sunday, one with G7 leaders only and a second with the group and a host of invited guests including India, South Korea and Brazil. He also held one-on-one talks with several of the leaders, including U.S. President Joe Biden.
Biden on Sunday announced a new military aid package for Ukraine during his meeting with Zelenskyy, saying the U.S. would provide ammunition and armored vehicles.
"We have Ukraine's back and we're not going anywhere," Biden said.
Zelenskyy thanked Biden for the support.
"We are very thankful. We will never forget. Thank you," he said.
Even before Zelenskyy landed Saturday aboard a French plane, the G7 nations had unveiled a slew of new sanctions and other measures meant to punish Moscow over its invasion that began in February last year. His visit closely followed the United States agreeing to allow training on American-made F-16 fighter jets, laying the groundwork for their eventual transfer to Ukraine.
Hanging over Sunday's talks was the claim by Russia's Defense Ministry that forces of the Wagner private army, backed by Russian troops, had seized the Ukrainian city of Bakhmut. The eight-month battle for the eastern city is the longest and likely the bloodiest of the war.
Asked if Bakhmut was still in Ukraine's hands, Zelenskyy said he thought that Russian forces had taken the city after a months-long siege that "destroyed everything."
"For today, Bakhmut is only in our hearts. There is nothing in this place," Zelenskyy said.
But the Ukrainian leader said that the fight had left nothing in Bakhmut but a lot of "dead Russians."
Ukraine is the overwhelming focus of the summit, but the leaders of Japan, the United States, the United Kingdom, France, Germany, Canada and Italy, as well as the European Union, are also working to address global worries over climate change, AI, poverty, economic instability and nuclear proliferation.
Two U.S. allies — South Korea and Japan — continued efforts Sunday to improve ties that have often been hurt by lingering anger over issues linked to Japan's brutal 1910-1945 colonization of the Korean Peninsula. Japanese Prime Minister Fumio Kishida and South Korean President Yoon Suk Yeol visited a memorial to Korean victims, many of them slave laborers, of the Aug. 6, 1945, atomic bombing.
Washington wants the two neighbors, both of which are liberal democracies and bulwarks of U.S. power in the region, to stand together on a host of issues, including rising aggression from China, North Korea and Russia.
Biden, Yoon and Kishida met briefly as a group outside the summit venue posing for photos in front of Hiroshima Bay. Biden invited the two leaders to visit Washington for a trilateral meeting and they accepted, a US official said.
On Friday, Biden announced his support for training Ukrainian pilots on U.S.-made F-16 fighter jets, a precursor to eventually providing those aircraft to Ukraine.
"It is necessary to improve (Ukraine's) air defense capabilities, including the training of our pilots," Zelenskyy wrote on his official Telegram channel after meeting Italian Premier Giorgia Meloni, one of a number of leaders he talked to.
Zelenskyy also met on the sidelines of the summit with Indian Prime Minister Narendra Modi, their first face-to-face talks since the war, and briefed him on Ukraine's peace plan, which calls for the withdrawal of Russian troops from the country before any negotiations.
India, the world's largest democracy, has avoided outright condemnation of Russia's invasion. While India maintains close ties with the U.S. and its Western allies, it is also a major buyer of Russian arms and oil.
Summits like the G7 are a chance for leaders to put pressure on one another to align or redouble their diplomatic efforts, according to Matthew Goodman, an economics expert at the Center for Strategic and International Studies think tank in Washington.
"Zelenskyy's presence puts some pressure on G7 leaders to deliver more — or explain to him directly why they can't," he said.
Russian Foreign Minister Sergey Lavrov criticized the G7 summit for aiming to isolate both China and Russia.
"The task has been set loudly and openly: to defeat Russia on the battlefield, but not to stop there, but to eliminate it as a geopolitical competitor. As a matter of fact, any other country that claims some kind of independent place in the world alignment will also be to suppress a competitor. Look at the decisions that are now being discussed and adopted in Hiroshima, at the G7 summit, and which are aimed at the double containment of Russia and China," he said.
The G7, however, has vowed to intensify the pressure.
"Russia's brutal war of aggression represents a threat to the whole world in breach of fundamental norms, rules and principles of the international community. We reaffirm our unwavering support for Ukraine for as long as it takes to bring a comprehensive, just and lasting peace," the group said in a statement.
Another major focus of the meetings was China, the world's No. 2 economy.
There is increasing anxiety that Beijing, which has been steadily building up its nuclear weapons program, could try to seize Taiwan by force, sparking a wider conflict. China claims the self-governing island as its own and regularly sends ships and warplanes near it.
The G7 said they did not want to harm China and were seeking "constructive and stable relations" with Beijing, "recognizing the importance of engaging candidly with and expressing our concerns directly to China."
They also urged China to pressure Russia to end the war in Ukraine and "support a comprehensive, just and lasting peace."
China's Foreign Ministry said that "gone are the days when a handful of Western countries can just willfully meddle in other countries' internal affairs and manipulate global affairs. We urge G7 members to ... focus on addressing the various issues they have at home, stop ganging up to form exclusive blocs, stop containing and bludgeoning other countries."
The G7 also warned North Korea, which has been testing missiles at a torrid pace, to completely abandon its nuclear weapon ambitions, "including any further nuclear tests or launches that use ballistic missile technology," the leaders' statement said.
The G7 leaders have rolled out a new wave of global sanctions on Moscow as well as plans to enhance the effectiveness of existing financial penalties meant to constrain President Vladimir Putin's war effort. Russia is now the most-sanctioned country in the world, but there are questions about the effectiveness.
Russia had participated in some summits with the other seven countries before being removed from the then-Group of Eight after its 2014 annexation of Crimea.
The latest sanctions aimed at Russia include tighter restrictions on already-sanctioned people and firms involved in the war effort. More than 125 individuals and organizations across 20 countries have been hit with U.S. sanctions.
Kishida has twice taken leaders to visit to a peace park dedicated to the tens of thousands who died in the world's first wartime atomic bomb detonation. Kishida, who represents Hiroshima in parliament, wants nuclear disarmament to be a major focus of discussions.
The G7 leaders also discussed efforts to strengthen the global economy and address rising prices that are squeezing families and government budgets around the world, particularly in developing countries in Africa, Asia and Latin America.
The group reiterated its aim to pull together up to $600 billion in financing for the G7's global infrastructure development initiative, which is meant to offer countries an alternative to China's investment dollars.
__
Associated Press writers Josh Boak, Elaine Kurtenbach and Mari Yamaguchi contributed reporting.