RFK Jr. says he's not anti-vaccine. His record shows the opposite. It's one of many inconsistencies
As Democratic presidential primary candidate Robert F
RFK Jr. says he's not anti-vaccine. His record shows the opposite. It's one of many inconsistencies
Show all 7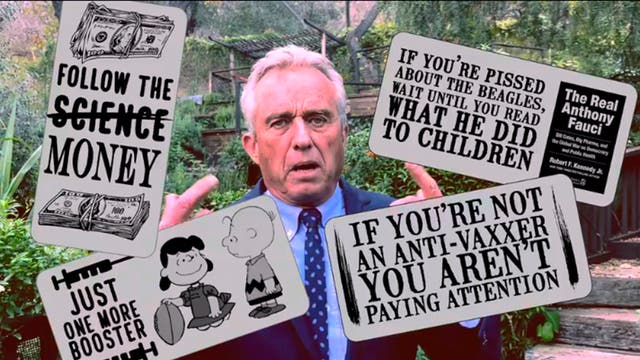 Democratic presidential candidate Robert F. Kennedy Jr. rose to prominence during the COVID-19 pandemic because of his strident opposition to vaccines. Yet, he insists he's not anti-vaccine. He has associated with influential people on the far right – including Tucker Carlson, Steve Bannon and Michael Flynn – to raise his profile. Yet, he portrays himself as a true Democrat inheriting the mantle of the Kennedy family.
As he challenges President Joe Biden, the stories he tells on the campaign trail about himself, his life's work and what he stands for are often the opposite of what his record actually shows.
Though Kennedy's primary challenge to a sitting president is widely considered a long-shot, he's been sucking up media attention due to his famous name and the possibility that his run could weaken Biden ahead of what is expected to be a close general election in 2024. He's drawn praise from Republican presidential candidates like Donald Trump and Florida Gov. Ron DeSantis. Meanwhile, Trump supporters, including his longtime ally Roger Stone, have ginned up interest by floating a Trump-Kennedy unity ticket.
Debra Duvall, 62, who lives in Fort Myers, Florida, and said she serves on the Lee County GOP executive committee, described herself as a longtime Trump supporter, but said she's torn for 2024.
"I'll take Trump or RFK. Either one," she said, explaining that she was drawn to both because she believes they can't be bought.
That kind of support has demonstrated some of the contradictions in Kennedy's candidacy. He has said he wants to "reclaim" the Democratic Party, while aligning himself with far right figures who have worked to subvert American democracy. He touts his credentials as an environmentalist, yet pushes bitcoin — a cryptocurrency that requires massive amounts of electricity from supercomputers to generate new coins, prompting most environmental advocates to loudly oppose it.
And though he peppers his speeches, podcast appearances and campaign materials with invocations of the Democratic Party legacies of his uncle President John F. Kennedy and his father Robert F. Kennedy, his relatives have distanced themselves from him and even denounced him.
"He's trading in on Camelot, celebrity, conspiracy theories and conflict for personal gain and fame," Jack Schlossberg, President Kennedy's grandson, said of his cousin in an Instagram video earlier this month. "I've listened to him. I know him. I have no idea why anyone thinks he should be president. What I do know is, his candidacy is an embarrassment."
Kennedy's recent comments that COVID-19 could have been "ethnically targeted" to spare Ashkenazi Jews and Chinese people — which he denies were antisemitic but concedes he should have worded more carefully — also drew a condemnation from his sister, Kerry Kennedy.
The contradictions between what Kennedy says and his track record were nowhere more apparent than when he testified before a congressional committee this month at the invitation of Republican members.
Anti-vaccine activists, some who work for Kennedy's nonprofit group Children's Health Defense, sat in the rows behind him, watching as he insisted "I have never been anti-vaxx. I have never told the public to avoid vaccination."
But that's not true. Again and again, Kennedy has made his opposition to vaccines clear. Just this month, Kennedy said in a podcast interview that "There's no vaccine that is safe and effective" and told FOX News that he still believes in the long-ago debunked idea that vaccines can cause autism. In a 2021 podcast he urged people to "resist" CDC guidelines on when kids should get vaccines.
"I see somebody on a hiking trail carrying a little baby and I say to him, better not get them vaccinated," Kennedy said.
That same year, in a video promoting and anti-vaccine sticker campaign by his nonprofit, Kennedy appeared onscreen next to one sticker that declared "IF YOU'RE NOT AN ANTI-VAXXER YOU AREN'T PAYING ATTENTION."
A close examination of Kennedy's campaign finance filings shows that the anti-vaccine movement lies at the heart of his campaign.
Several of his campaign staff and consultants have worked for his anti-vaccine group Children's Health Defense, including Mary Holland, the group's president on leave, campaign spokeswoman Stefanie Spear, and Zen Honeycutt, who hosted a show for the group's TV channel, CHD TV.
Children's Health Defense currently has a lawsuit pending against a number of news organizations, among them The Associated Press, accusing them of violating antitrust laws by taking action to identify misinformation, including about COVID-19 and COVID-19 vaccines.
The campaign paid KFP Consulting, a Texas-based company run by Del Bigtree, head of the anti-vaccine group ICAN, and a leading voice in the movement, more than $13,000 for communications consulting, the AP found. Bigtree appeared to still be working for the campaign last week, when an AP reporter saw him helping facilitate a Kennedy event in New York.
Kennedy also has received substantial support from activists who have spread misinformation about the coronavirus and vaccines, including Steve Kirsch, an entrepreneur who has falsely claimed COVID-19 vaccines kill more people than they save, chiropractors Patrick Flynn and Kevin Stillwagon, and others.
Ty and Charlene Bollinger, who run an anti-vaccine business and who the AP has previously reported have had a financial relationship with Kennedy, gave more than $6,000. The couple, along with Kennedy's communication consultant Bigtree, were involved in hosting a rally near the Capitol on Jan. 6, and Ty Bollinger has said he was among the people who crowded at the Capitol doors in an attempt to get inside, though he said he did not enter.
American Values 2024, a super PAC supporting Kennedy, is run by close associates to Kennedy who have propped up anti-vaccine ideas — the former head of the New York chapter of Children's Health Defense John Gilmore is its CEO and Kennedy's publisher Tony Lyons is its co-chair.
The Kennedy campaign did not return emails seeking comment about a number of questions, including how he can say he is not anti-vaccine given his record and his support from anti-vaccine activists.
Kennedy's run is also getting plenty of financial support from the right. A super PAC supporting Kennedy's presidential run, called Heal the Divide PAC, has deep ties to Republicans, F ederal Election Commission records show.
The committee's address is listed in the care of RTA Strategy, a campaign consulting firm that has been paid for its work to help elect Republicans including Georgia Rep. Marjorie Taylor Greene and the former Georgia Senate candidate Herschel Walker.
The PAC's treasurer, who works for RTA Strategy, is Jason Boles, a past donor to Trump and many other Republicans who includes "MAGA" and "AmericaFirst" in his bio on the platform X, formerly known as Twitter.
Kennedy denied knowing Boles or the Heal the Divide PAC when it came up at the congressional hearing, saying, "I've never heard of Mr. Boles, and I've never heard of that super PAC."
But video available online shows he was a guest speaker at a Heal the Divide event just two days earlier. The video features a "Heal the Divide 2024" logo with clips of him speaking at length about plans to back the U.S. dollar with bitcoin and precious metals.
Kennedy says that as president, he would fight for government honesty and transparency, heal the political divide, reverse economic decline, end war and preserve civil liberties. He has made freedom of speech a major part of his platform, arguing that the government's communication with social media companies unfairly censors protected speech.
Kennedy's press office did not respond to several messages asking about his support from the far right.
It also did not respond to questions about whether his stance on bitcoin was at odds with being an environmentalist.
Kennedy lists the environment as one of six top priorities on his campaign website and has spent many years speaking against pollution and climate change as an environmental lawyer. Yet he has made supporting the energy-intensive cryptocurrency bitcoin a key part of his platform.
Bitcoin mining, the process of generating new coins, uses massive amounts of electricity — more than some entire countries use, said Scott Faber of the Environmental Working Group.
That's because it works by tasking a network of supercomputers with solving complex mathematical puzzles — even as some other cryptocurrencies have adopted far more energy efficient mining methods.
"No one who claims to be an environmentalist could support a digital asset that needlessly consumes more electricity than all Americans use to power the lights in our homes," Faber said. "In fact, bitcoin produces more climate pollution than any other digital asset."
Despite the environmental downsides of bitcoin, some Democrats, including elected officials, have advocated for the currency.
Kennedy, for his part, told a crowd at Bitcoin 2023 that environmentalists like himself "will continue to pressure you to improve." Online, he has promoted the argument that demand for bitcoin will boost investment in new renewable energy projects.
Regardless, his financial disclosure documents show he has already personally invested between $100,001 and $250,000 in bitcoin, and he promised at Bitcoin 2023 that he wouldn't let the environmental argument hinder the currency's use.
"As president, I will make sure that your right to hold and use bitcoin is inviolable," he said.
During the past several years, Kennedy has cultivated his ties to the far right. He has appeared on Infowars, the channel run by Sandy Hook conspiracy theorist Alex Jones. He has granted interviews to Trump ally Steve Bannon and Tucker Carlson. After he headlined a stop on the ReAwaken America Tour, the Christian nationalist road show put together by former Trump national security adviser Michael Flynn, he was photographed backstage with Flynn, Charlene Bollinger and Trump ally Roger Stone.
Those appearances have led to goodwill on the right, and he has found enthusiastic support among a segment of Trump's base, with some suggesting him as a potential vice presidential pick.
At a July 1 rally in the tiny town of Pickens, South Carolina, Adrian Palashevsky – a small businessman who described himself as more of a "libertarian" than a Republican – posited a unity ticket, with Kennedy as his top pick for Trump's VP.
"I think they would get along just fine," he said. "They're both anti-establishment, and that's why they're under so much attack."
DeSantis, one of Trump's Republican challengers, has also indulged in praise for the fringe candidate, saying in a recent interview that while he wouldn't make Kennedy vice president, he would consider appointing him to one of the federal agencies that regulates vaccine safety and protects public health.
"If you're president, you know, sic him on the FDA if he'd be willing to serve, or sic him on CDC," DeSantis said.
Not everyone is buying the Kennedy mystique.
At the annual meeting of the National Association of Latino Elected and Appointed Officials in New York earlier this month, Kennedy leaned heavily on his family legacy, mentioning his father's alliance with labor leader Cesar Chavez and his uncle's work in Latin American countries.
But in his nearly 20-minute speech, he didn't lay out any plan or policy proposals of his own, or talk about specific issues facing the Latino community. He spent most of his time telling a story about getting arrested with the Mexican American actor Edward Olmos in 2001, an attempt at relating with the community that disappointed both Republicans and Democrats in the audience.
Mario Ceballos, president of a PAC representing LGBTQ+ Latinos, said Kennedy's speech — and the candidate's conspiracy theory beliefs — saddened him.
"When I was living in Mexico, Kennedy was an American president that my whole family respected," Ceballos said. "And what he is presenting are esoteric, dangerous options that are actually going to hurt the same people that his father and uncle wanted to help."
___
Associated Press writers Jill Colvin in West Palm Beach, Florida, and Meg Kinnard in Pickens, South Carolina, contributed to this report.