Kenyan religious leaders urge the president to repeal a new tax law as protests surge
Christian and Muslim leaders in Kenya are urging President William Ruto to repeal a finance bill whose new taxes have sparked protests and police killings of civilians
Kenyan religious leaders urge the president to repeal a new tax law as protests surge
Show all 2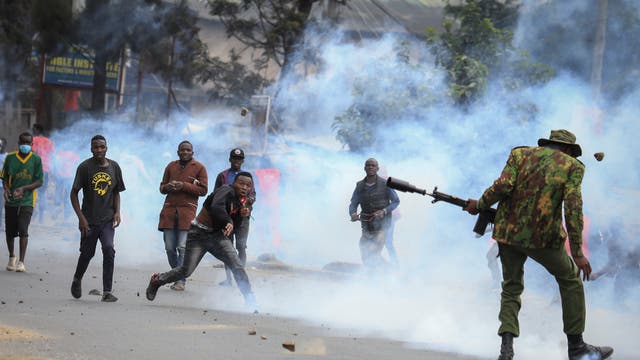 Christian and Muslim leaders in Kenya are urging President William Ruto to repeal a finance bill whose new taxes have sparked protests and police killings of civilians, warning that Kenyans face a level of hopelessness that "can easily inspire insurrection."
Friday's statement by national religious organizations came as the main political opposition group announced the next protest would take place next Wednesday, and as Ruto declared it would not be allowed.
Human rights watchdogs have asserted that police killed as many as 10 people in the latest protests this week, while a police official told The Associated Press that officers killed at least six across the country for disturbing businesses. Meanwhile, more than 50 children were sent to a medical clinic after tear gas was thrown into a school in the capital, Nairobi.
"Firearms should never be used to disperse protests," the United Nations human rights office said Friday. It urged Kenyan authorities to ensure the right to peaceful assembly as guaranteed by the constitution.
Ruto's government accused demonstrators of "extensive damage of major public assets" after hundreds on Wednesday dismantled part of an entrance to a recently constructed toll expressway that for some symbolizes inequality as everyday traffic surges in its shadow.
The government also blames longtime opposition leader Raila Odinga for the unrest. Odinga, who lost last year's election to Ruto, has urged Kenyans to civil disobedience to protest the rising cost of living. Odinga's movement seeks to protest Wednesday, Thursday and Friday next week.
Some Kenyans have described the new taxes as leaving them with the highest burden they've ever faced. The finance bill increased the value added tax on petroleum from 8% to 16%, boosted a business turnover tax from 1% to 3% and created a new 1.5% percent housing tax for salaried workers.
Pressure is rising on Ruto, who won election by appealing to Kenya's "hustlers" as a man of humble childhood and by vowing to reduce the cost of living. But the country struggles with debt and has turned to the new taxes for some relief.
The statement by religious groups also warned Odinga that his calls for mass action risked pushing Kenya into insurrection. "Indeed, the destruction of businesses as well as public and private properties is pushing the cost of living higher, not lower," it said.
The statement also urged all Kenyans to embrace dialogue and non-violence: "We must not allow the selfish interests of political leaders to destroy our homeland and push us into destitution," it said.