'Mississippi's Giant Houseparty' shows sharp divide between GOP governor and Democratic challenger
Mississippi's political divide was on full display as Republican Gov. Tate Reeves and Democratic challenger Brandon Presley spoke to a rowdy outdoor crowd at the largest political event of this election year
'Mississippi's Giant Houseparty' shows sharp divide between GOP governor and Democratic challenger
Show all 2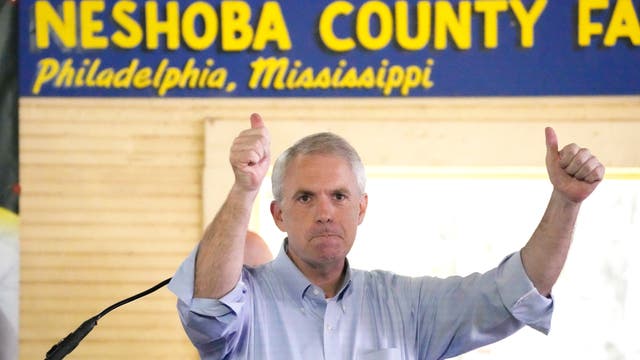 Mississippi's political divide was on full display Thursday in the blazing heat as Republican Gov. Tate Reeves and Democratic challenger Brandon Presley spoke to a rowdy outdoor crowd at the largest political event of this election year, less than two weeks before party primaries.
Spectators cheered their own candidate — "Tate! Tate! Tate!" "Bran-don! Bran-don!" — and heckled the other — "Liar! Liar!" "Later, Tater!" — at the Neshoba County Fair, a gathering known as "Mississippi's Giant Houseparty."
For several days, groups of friends and families live in colorful cabins on the fairgrounds. Political speeches are one form of entertainment, along with concerts and horse races.
While candidates spoke Thursday, more than 1,000 people stood in the sunshine or sat on long wooden benches under a tin-roofed pavilion, fanning themselves as the temperature hovered at a humid 97 degrees Fahrenheit (36.1 degrees Celsius).
Presley, a four-term state utility regulator and cousin of the late rock 'n' roll icon Elvis Presley, talked about being raised in a small town by a widowed mother after his father was murdered on the first day Presley attended third grade. He said his mother earned so little working at a garment factory that their water and electricity were sometimes cut off for nonpayment.
"I understand where working people are and Tate Reeves doesn't have a clue," Presley said. "He doesn't have a clue as to what people in Mississippi are struggling with. When he comes up here in a few minutes, he's going to do his best to whistle past the problems in Mississippi, including our health care crisis."
Reeves said Presley is ignoring Mississippi's low unemployment rate and improvements in education performance. Reeves also described Presley as being backed by "national liberals" who are mad that Mississippi brought the U.S. Supreme Court case that overturned Roe v. Wade, the 1973 ruling that had legalized abortion nationwide.
"This is not a campaign between two Mississippians offering Mississippi ideas to solve Mississippi's challenges," Reeves said. "I wish it was. But it's not. The national liberals have made Mississippi their target."
Presley did not mention abortion in his speech Thursday, but he has publicly described himself as "pro-life" many times.
Reeves drew loud cheers from his own supporters when he talked about two laws he signed — one in 2021 that bans transgender people from playing girls' or women's sports, and one this year that bans gender-affirming health care for transgender people younger than 18.
"The eternal truth is that boys are boys and girls are girls," Reeves said to loud cheers from his supporters.
Presley said at a press forum in June that he trusts families to make health care decisions for their children. Responding to questions Thursday after the speeches, Presley said that he would not try to overturn the laws dealing with sports or transgender health care if he is elected governor.
"That law is settled in Mississippi," Presley said.
On stage Thursday, Presley said Reeves did nothing to prevent "the largest public corruption scandal in the state of Mississippi." He was referring to the misspending of tens of millions of dollars of welfare money that was intended to help some of the poorest people in the U.S.
A former Mississippi Department of Human Services director and others have pleaded guilty to charges in the case that was first revealed to the public in early 2020, soon after Reeves moved up from lieutenant governor to governor.
Presley accused Reeves of only caring about campaign donors.
"It's why in this campaign, you watch up here today, he will not open his mouth one time to propose ethics reform in Mississippi to stop the welfare scandal from ever happening again," Presley said.
Reeves did not mention the welfare misspending during his speech. But he said: "Brandon Presley and his party are happy to see people go on welfare. He campaigns on wanting more welfare."
Presley has criticized Reeves for referring to Medicaid, a government-funded health insurance program, as "welfare." Presley has said Mississippi has lost billions of dollars by not joining 40 other states that have expanded Medicaid to working people whose jobs don't provide health insurance.
Reeves, responding to questions after the speeches, said he remains opposed to Medicaid expansion. He said Mississippi should work to attract jobs that will provide private health insurance for employees.
Presley is unopposed for the Democratic nomination. In the Aug. 8 Republican primary, Reeves faces David Hardigree and John Witcher, who are both running low-budget campaigns.
Hardigree is a military veteran who said Thursday that he wants to talk to all sheriffs to try to reduce crime. Witcher is a physician who said he is "against the woke agenda" and believes COVID-19 vaccinations are dangerous.
In the Nov. 7 general election, Presley will face the Republican nominee and one independent candidate, Gwendolyn Gray.