'Parental rights' group Moms for Liberty plans nationwide strategy for school board races in 2024
The "parental rights" group Moms for Liberty is looking to expand its efforts to elect school board candidates in 2024 and beyond, as well as get involved in other education races
'Parental rights' group Moms for Liberty plans nationwide strategy for school board races in 2024
Show all 8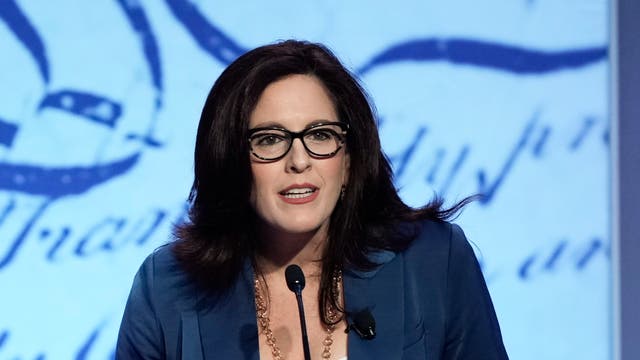 Moms for Liberty, a "parental rights" group that has sought to take over school boards in multiple states, is looking to expand those efforts across the country and to other education posts in 2024 and beyond. The effort is setting up for a clash with teachers unions and others on the left who view the group as a toxic presence in public schools.
The group's co-founder, Tiffany Justice, said during its annual summit over the weekend in Philadelphia that Moms for Liberty will use its political action committee next year to engage in school board races nationwide. It also will "start endorsing at the state board level and elected superintendents."
Her comments confirm that Moms for Liberty, which has spent its first two years inflaming school board meetings with aggressive complaints about instruction on systemic racism and gender identity in the classroom, is developing a larger strategy to overhaul education infrastructure across the country.
As the group has amassed widespread conservative support and donor funding, its focus on education ensures that even as voters turn their attention to the 2024 presidential race, school board elections will remain some of the most contentious political fights next year.
Moms for Liberty started with three Florida moms upset with COVID-19 restrictions in 2021, but has quickly ascended as a national player in Republican politics. Its support for school choice and the "fundamental rights of parents" to direct their children's education has drawn allies such as Florida Gov. Ron DeSantis, a leading GOP presidential contender, and the conservative Heritage Foundation.
The group has been labeled an "extremist" organization by the Southern Poverty Law Center for allegedly harassing community members, advancing anti-LGBTQ+ misinformation and fighting to scrub diverse and inclusive material from lesson plans.
Justice said in an interview that she and her co-founder, Tina Descovich, were two moms who "had faith in American parents to take back the public education system in America" and that they "fully intend on reclaiming and reforming" that system.
So far, the group has had mixed success at getting its preferred candidates elected. In 2022, slightly more than half of the 500 school board candidates it endorsed across the country won,. In the spring of 2023, fewer than one-third of the nearly 30 candidates it endorsed in Wisconsin were elected.
Focusing on state-level candidates could give Moms for Liberty an opportunity to assert its influence on some of the positions that have more control in determining curriculum, said Jon Valant, a senior fellow at the Brookings Institution who has studied education policy.
A close partnership with the conservative training organization the Leadership Institute and added money from a growing donor base also could help the Moms for Liberty run more electable candidates and help them win in 2024.
Monty Floyd, vice chair of the Moms for Liberty chapter in Hernando County, Florida, knows what it's like to have the group's support in a political campaign. He ran for school board in 2022 and received the group's endorsement, as well as $250 from its Florida-based PAC.
Floyd lost that race but plans to run again in 2026, he told The Associated Press at the summit. He looks forward to seeing how the group's political influence grows and said that even more than the money, the national network of Moms for Liberty provides a "great resource" to a candidate.
"The wealth of knowledge they have and the network of support and just the advocacy tips that we're learning from the speakers today," he said. "They have good advice to give. So you kind of learn a lot about what you can improve in your messaging."
Moms for Liberty may face obstacles, however, as its rising national presence has driven a countermovement of activists who oppose it, Valant said.
Randi Weingarten, president of the American Federation of Teachers, said she thinks groups such as Moms for Liberty have "created more action and more energy" among teachers unions.
"We have 41 new units that we have organized as the AFT this year. We've never had that," she said. She said the union would "do what we have to do" during elections to show the contrast between its endorsed candidates and Moms for Liberty candidates.
Beyond unions, Moms for Liberty is likely to face opposition from grassroots groups and voters who "just don't agree with their vision of what public education should be," Valant said.
Martha Cooney, a Pennsylvania educator who was one of about 100 protesters dancing and holding signs outside the summit Saturday afternoon, agreed. She said that as Moms for Liberty tries to assert more political power, she and others will continue to stand in its way.
"They are a very small minority who are trying to act like they represent this whole nation, and they do not," Cooney said.
Moms for Liberty did not answer questions on which races it would focus on in 2024, besides making it clear that it would not endorse in legislative races or the presidential election.
But even as the group says it will not get involved in the White House race, Republican candidates have tried to harness Moms for Liberty's influence and broad network of more than 120,000 members in 45 states to woo its voting bloc and benefit their primary campaigns.
Five GOP candidates gave speeches during the gathering in Philadelphia, which ended Sunday. They included DeSantis and former President Donald Trump. The rivals tried to outflank each other with claims that "woke ideology" had overtaken education and that pronouns and "critical race theory" needed to be struck from classrooms.
"I think moms are the key political force for this 2024 cycle," DeSantis said in his address to attendees Friday.
Other Republican presidential candidates who appeared at the summit included former U.N. Ambassador Nikki Haley, former Arkansas Gov. Asa Hutchinson and biotech entrepreneur Vivek Ramaswamy, who brought his wife and two children to the stage Saturday. He pledged to prioritize parents' rights and shutter the U.S. Department of Education if elected.
"The membership of this organization is just a small tip of the iceberg of a broader pro-parent movement, pro-children movement in our country," Ramaswamy told reporters at the summit. "And so how important is that? You better believe it's pretty darn important."
___
The Associated Press receives support from several private foundations to enhance its explanatory coverage of elections and democracy. See more about AP's democracy initiative here. The AP is solely responsible for all content.