AP News Digest 3:20 am
Show all 8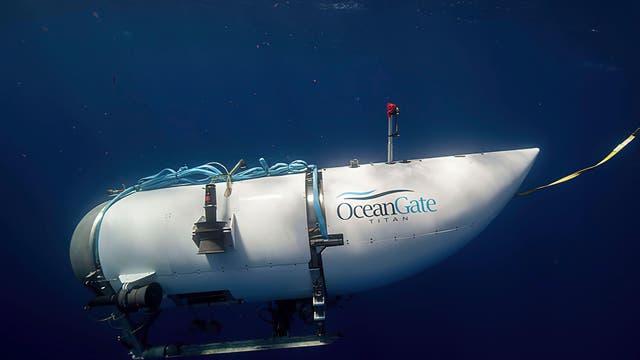 Here are the AP's latest coverage plans, top stories and promotable content. All times EDT. For up-to-the minute information on AP's coverage, visit Coverage Plan.
——————-
TOP STORIES
——————-
TRUMP-RUSSIA PROBE-EXPLAINER — An investigation into the origins of the FBI's probe into ties between Russia and Donald Trump's 2016 presidential campaign has finally been concluded. The prosecutor leading the inquiry has submitted a much-awaited report that contains withering criticism for the FBI but few significant revelations. By Eric Tucker. SENT: 1,010 words, photos. With TRUMP-RUSSIA PROBE — Prosecutor ends probe of FBI's Trump-Russia investigation.
DEBT LIMIT — Congressional leaders meet with President Joe Biden at the White House, as the country pushes closer to a crisis over the need to raise its legal borrowing limit. Time is getting short as Biden prepares to depart for the Group of Seven summit in Japan on Wednesday. By Congressional Correspondent Lisa Mascaro. SENT: 800 words, photos. UPCOMING: 990 words after 3 p.m. meeting.
NEW MEXICO-SHOOTING — An 18-year-old man armed with at least three guns roamed through a northwestern New Mexico community firing randomly at cars and houses, killing three people and injuring six others including two police officers before he was killed, authorities said. The shootings occurred in Farmington, a city of about 50,000 people near the Four Corners that is a supply line and bedroom community to the region's oil and natural gas industry. By Susan Montoya Bryan, Ken Ritter and Morgan Lee. SENT: 1,030 words, photos, video.
RUSSIA-UKRAINE-WAR — Loud explosions sounded above Kyiv as Russia launched an intense air attack on the capital using a combination of drones, cruise missiles and possible ballistic missiles. The Russian air raids come as President Volodymyr Zelenksyy concluded a whirlwind European tour to greet Ukraine's key wartime allies, which spurred an additional tranche of pledged military aid. SENT: 260 words, photos.
NEW ZEALAND-HOSTEL-FIRE — A fire ripped through a hostel in New Zealand's capital, killing at least six people and forcing others to flee the four-story building in their pajamas in what a fire chief called his "worst nightmare." Six bodies were found but not all areas of the building had been searched yet because the roof on the top floor had collapsed, bringing down debris and making the area unsafe. By Nick Perry. SENT: 710 words, photos, video.
THE LONELY NATION — American lore is full of tales of the rugged individualist who will do what needs to be done and ride off into the sunset, alone. In reality, loneliness in America can be deadly. This month, the U.S. surgeon general declared it an American epidemic, saying that it takes as deadly a toll as smoking. Does American's emphasis on individualism encourage isolation and alienation? Or is that, like other chunks of the American story, a premise built on myths? By National Writer Ted Anthony. SENT: 1,290 words, photos.
————————-
MORE ON RUSSIA-UKRAINE WAR
————————-
COUNCIL OF EUROPE-UKRAINE — Leaders from across the continent were heading toward Iceland for a rare summit of the 46-nation Council of Europe that will once more step up support for member state Ukraine and condemn expelled Russia for inflicting war on its neighbor. SENT: 520 words, photos. UPCOMING: Developing throughout the day.
——————-
MORE NEWS
——————-
CONGRESS STAFF ATTACKED — Man attacks two with baseball bat at congressman's office. SENT: 910 words, photos.
PEOPLE-MARTHA STEWART — At 81, Martha Stewart a Sports Illustrated swimsuit model. SENT: 250 words, photo.
GIULIANI LAWSUIT — Woman sues Giuliani, saying he owes her $2 million in unpaid wages. SENT: 520 words, photo.
GRIZZLIES-MORANT-NBA INVESTIGATION — Ja Morant in limbo again in NBA's latest gun video probe. SENT: 690 words, photos.
BANKS-EPSTEIN LAWSUITS-MUSK — U.S. Virgin Islands seeks to subpoena Musk in Epstein lawsuit. SENT: 410 words, photos.
NFL PLAYOFFS-PEACOCK — Peacock will exclusively carry NFL playoff game. SENT: 590 words, photo.
COMMUNIST-HISTORICAL MARKER CONTROVERSY — Historical marker removed in New Hampshire after two weeks. SENT: 400 words, photo.
DUI-MAN-DOG — Colorado man tries to trade places with dog to avoid DUI arrest. SENT: 140 words.
——————-
WASHINGTON/POLITICS
——————-
ELECTION 2023-KENTUCKY — Kentucky Republicans are picking a nominee to challenge incumbent Democratic Gov. Andy Beshear in primary elections. SENT: 650 words, photos. UPCOMING: 800 words after polls close at 6 p.m.
ELECTION 2024-PENCE — Allies of former Vice President Mike Pence are launching a new super PAC to support his expected candidacy for the 2024 Republican presidential nomination. SENT: 950 words, photo.
ELECTION 2023-PENNSYLVANIA HOUSE — Democrats' narrow majority in the Pennsylvania House of Representatives is on the line with two special elections that will determine which party controls the chamber. SENT: 650 words, photo.
——————-
NATIONAL
——————-
WASHINGTON DRUG LAW — Washington lawmakers are considering a major new drug policy in a special session, a day after reaching a compromise that Democratic and Republican leaders say strikes a balance between public order and compassion for those with substance abuse issues. SENT: 520 words, photos. With WASHINGTON DRUG LAW-THINGS TO KNOW.
SAN FRANCISCO-WALGREENS SHOOTING — San Francisco's district attorney released surveillance video showing the fatal shooting of a suspected shoplifter by an on-duty Walgreens security guard, along with other footage and documents that she said support her decision not to file charges against the guard. SENT: 700 words, photos.
MALL SHOOTING-TEXAS — Members of several Texas groups representing people of color demanded that authorities quickly acknowledge whether they believe the neo-Nazi who killed eight people at a Dallas-area mall over a week ago was racially motivated in choosing his victims. SENT: 700 words, photos.
ABORTION-NORTH CAROLINA — North Carolina's Republican-controlled legislature will attempt to quickly override the governor's veto of legislation banning nearly all abortions after 12 weeks of pregnancy in a consequential test of unity for the party's recently attained supermajority. SENT: 320 words, photo.
HADDOCK OVERFISHING — Federal fishing managers say haddock, a staple fish of East Coast fishermen for centuries, is experiencing overfishing. SENT: 590 words, photo.
——————-
INTERNATIONAL
——————-
G-7-JAPAN-SOUTH KOREA-WARMING RELATIONS — Amid the high-level efforts to deal with a raft of global emergencies, this weekend's Group of 7 summit of rich democracies will also see an unusual diplomatic reconciliation as the leaders of Japan and South Korea look to continue mending ties that have been marked for years by animosity and bickering. SENT: 970 words, photo.
ECUADOR-PRESIDENT — Ecuador's opposition-led National Assembly is expected to start impeachment proceedings to try to remove President Guillermo Lasso over embezzlement allegations — something the Ecuadorian leader denies. SENT: 530 words, photos.
COLOMBIA-PEACE TALKS — Colombia's rebel leader said that peace talks between his National Liberation Army and the government have been put "on pause" due to remarks made last week by President Gustavo Petro. SENT: 460 words, photo.
PAKISTAN-COALMINE-CLASH — Police say at least 15 people have been killed in a bloody clash between two tribes over the ownership rights of a coal mine in northwestern Pakistan bordering Afghanistan. SENT: 190 words.
——————-
BUSINESS/ECONOMY
——————-
RETAIL SALES — The Commerce Department releases U.S. retail sales data for April and analysts expect it to have risen 0.6%. By Retail Writer Anne D'Innocenzio. UPCOMING: 130 words, photo, after 8:30 a.m. release, then expanded.
FINANCIAL MARKETS — Asian shares were mostly higher even though the latest data showed China's economy is weaker than expected, with domestic demand failing to bounce back as much as hoped for after the pandemic. By Business Writer Elaine Kurtenbach. SENT: 660 words, photos.
CHINA-ECONOMY — China's economic recovery faces pressure from sluggish consumer and export demand, a government official said, after retail sales and other activity in April were weaker than expected. SENT: 240 words, photos.
——————-
HEALTH/SCIENCE
——————-
FERTILITY CARE-INSURANCE COVERAGE — Fertility care coverage remains hard to find in many corners of insurance even as it becomes a must-have benefit for big employers. By Health Writer Tom Murphy. SENT: 1,020 words, photos.
ABORTION PILLS-APPEALS COURT — Three conservative appeals court judges with a history of supporting restrictions on abortion will hear arguments Wednesday on whether a widely used abortion drug should remain available. SENT: 800 words, photos.
——————-
SPORTS
——————-
KRAKEN-STARS — Roope Hintz and Wyatt Johnston scored goals and the Dallas Stars advanced to the Western Conference final with a 2-1 win over the Seattle Kraken in Game 7. By Sports Writer Stephen Hawkins. SENT: 810 words, photos.
——————-
ARTS/ENTERTAINMENT
——————-
FRANCE-CANNES OPENING — The Cannes red carpet springs to life again as the 76th Cannes Film Festival gets underway with the premiere of the Louis XV period drama "Jeanne du Barry," starring Johnny Depp. By Film Writer Jake Coyle. SENT: 440 words, photos, video. UPCOMING: Developing, will be updated.
THEATER-TONY AWARDS — Striking members of the Writers Guild of America have said they will not picket next month's Tony Awards broadcast, clearing a thorny issue facing show organizers and opening the door for some sort of Broadway razzle-dazzle on TV. By Entertainment Writer Mark Kennedy. SENT: 430 words, photo.
SEXUAL MISCONDUCT-DANNY MASTERSON — Closing arguments are expected to begin at the second rape trial of "That '70s Show" actor Danny Masterson. By Entertainment Writer Andrew Dalton. SENT: 280 words, photos.
——————-
HOW TO REACH US
——————-
At the Nerve Center, Jerome Minerva can be reached at 800-845-8450 (ext. 1600). For photos, Masayo Yoshida (ext. 1900). For graphics and interactives, ext. 7636. Expanded AP content can be obtained from AP Newsroom. For access to AP Newsroom and other technical issues, contact apcustomersupport@ap.org or call 844-777-2006.