AP News Digest 5:30 a.m.
Show all 5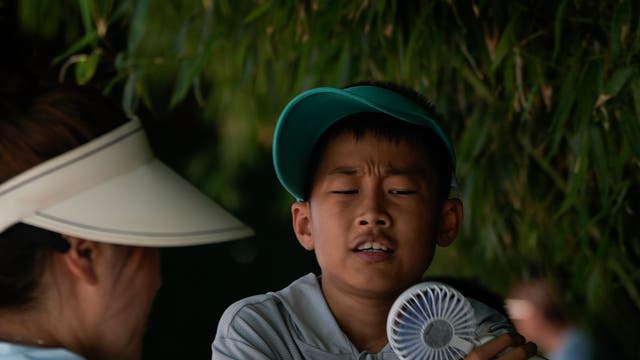 Here are the AP's latest coverage plans, top stories and promotable content. All times EDT. For up-to-the minute information on AP's coverage, visit Coverage Plan.
———————————-
ONLY ON AP
———————————
TEXAS-MASS-SHOOTING-SHERIFF — Sheriff Greg Capers was the picture of a Texas lawman as he announced the capture of a suspected mass shooter. But his turn in the national spotlight belied years of complaints about corruption and dysfunction previously unknown outside San Jacinto County. An Associated Press investigation led the sheriff's office to disclose that deputies took nearly four times as long as Capers initially said to arrive at the April 28 mass shooting. Former deputies say Capers' staff neglects basic police work while pursuing asset seizures. Capers' second-in-command says the sheriff initially gave his "best guestimation" about the response time and that the accusations against him are lies. SENT: 1,840 words, photos. With TEXAS-MASS-SHOOTING-SHERIFF-TAKEAWAYS — Takeaways from AP's investigation of a Texas sheriff's history of alleged corruption and dysfunction (sent).
PROVIDENCE-LEFT BEHIND LEAD — Many American cities have been excavating water mains, revealing lead pipes and leaving them there. The work's disruption of the pipe can also spike lead levels, an investigation by The Associated Press has found. It's a common practice that some people who study lead poisoning say is immoral. Many cities say they can leave the pipes and use chemical treatment instead. But that isn't foolproof, and the Biden administration has said it wants all 9.2 million lead pipes in the U.S. replaced. By Michael Phillis. SENT 1,440 words, photos. With CHICAGO-LEFT-BEHIND-LEAD — Here's why there is still so much lead pipe in Chicago (sent).
——————————
TOP STORIES
BIDEN-NATO — As the Russian invasion of Ukraine continues with no end in sight, NATO's much-celebrated unity faces fresh strains when leaders gather for their annual summit this week in Vilnius, Lithuania. The world's biggest security alliance is struggling to reach an agreement on admitting Sweden as its 32nd member. Military spending by member nations still lags behind longstanding goals. And an inability to compromise over who should serve as NATO's next leader forced an extension of the current secretary general's term for an extra year. By Chris Megerian, Lorne Cook and Seung Min Kim. SENT: 1,370 words, photos.
BIDEN-BRITAIN — A dash of pomp and a dose of politics are on the agenda during a stopover visit to the U.K. where President Joe Biden will discuss the environment with King Charles III and the war in Ukraine with Prime Minister Rishi Sunak. By Jill Lawless and Danica Kirka. SENT: 910 words, photos.
HEAT-ILLNESS-LESSONS-LEARNED — With Earth breaking average heat records, cities are sure to be giving a fresh look at their readiness plans for temperatures that can kill. Dire heat waves in the past have prompted effective efforts by cities to do better at protecting people — especially their most vulnerable. A heat wave in Chicago in 1995 killed more than 700 people. The city responded by developing an emergency plan that includes a massive push to alert people to the coming danger — and connect people with the resources they may need to survive it. Many other cities have adopted similar measures. But experts say the inequality that makes some people more vulnerable to the heat is a problem that persists. By Melina Wallings and Isabella O'Malley. SENT: 1,080 words, photos. This story moved as the Monday spotlight.
CALIFORNIA-LEGISLATURE-NEW-SPEAKER — California Assembly Speaker Robert Rivas has assumed one of the most influential political offices this month. He succeeded Speaker Anthony Rendon after a monthslong bitter fight last year that fractured the caucus. Rendon is still not happy about the power struggle. As speaker, Rivas wields tremendous power, controlling the flow of legislation, selecting committee assignments and negotiating the budget. The new speaker has said little about his specific plans, but emphasized the importance of engaging with his caucus. By Tran Nguyen. SENT: 1,190 words, photos.
——————————
MORE NEWS
——————————
FLORIDA KEYS-UNDERWATER MUSIC — Underwater music show in the Florida Keys promotes awareness of coral reef protection. SENT: 220 words, photos.
CARGO-SHIP-FATAL-FIRE — Fire crews have continued to battle flames that have smoldered inside a cargo ship docked at the East Coast's biggest port, days after the blaze claimed the lives of two New Jersey firefighters and injured five others. SENT: 610 words, photos.
NEW-YORK-CITY-SCOOTER-SHOOTING — A scooter-riding gunman killed an 87-year-old man and wounded three others in a string of random shootings that stretched across two New York City boroughs, police say. SENT: 400 words, photos.
OBIT-PETER-NERO — Peter Nero, a Grammy-winning pianist who interpreted pop songs through classical and jazz forms and served as the Philly Pops' conductor for more than three decades, has died. Nero was 89. SENT: 640 words, photos.
BBA-BLUE-JAYS-TIGERS — Three Detroit Tigers pitchers combined to no-hit the Toronto Blue Jays in a 2-0 win. It was the first combined no-hitter in Tigers history. SENT: 780 words, photos.
———————————————————-
WASHINGTON/ POLITICS
———————————————————-
ELECTION 2024-IOWA CAUCUSES — Iowa Republicans have scheduled the party's presidential nominating caucuses for Jan. 15, 2024, putting the first votes of the next election a little more than six months away. The Iowa Republican Party's state central committee voted unanimously Saturday to hold the leadoff contests on the third Monday in January — on the Martin Luther King Jr. Day federal holiday. SENT: 525 words, photo.
——————————
NATIONAL
——————————
MASS-WEDDINGS-LINCOLN-CENTER — New York's Lincoln Center is accustomed to hosting grand events, but Saturday's was far from routine. There were bouquets everywhere. And there were 700 couples, all ready to exchange their vows in a mass wedding. Some were exchanging vows for the first time, while others came to renew their vows. It was just the second year for what could become an annual event. Last year, more than 500 couples took part. SENT: 710 words, photos.
—————————————
INTERNATIONAL
—————————————
SOUTH-KOREA-JAPAN-NUCLEAR — South Korean opposition lawmakers have sharply criticized the head of the United Nations' nuclear watchdog for its approval of Japanese plans to release treated wastewater from the damaged Fukushima nuclear power plant. SENT: 770 words, photos.
UZBEKISTAN-ELECTION — Uzbekistan is holding a snap presidential election Sunday, a vote that follows a constitutional referendum that extended the incumbent's term from five to seven years. SENT: 400 words, photo.
ISRAEL-POLITICS — Israel's anti-government protest movement gained new momentum as tens of thousands of people spilled into the streets of cities across the country to oppose Prime Minister Benjamin Netanyahu's contentious plan to overhaul the country's judicial system. SENT: 470 words, photos.
CHINA-EXTREME-WEATHER — Nine people are missing in central China after a landslide sparked by heavy rains amid flooding and searing temperatures across much of the country, authorities say. SENT: 380 words, photo.
MEXICO-JOURNALIST-KILLED — The Mexican national newspaper La Jornada has said that its staff reporter in the Pacific coast state of Nayarit has been found dead. SENT: 360 words.
BRAZIL-BUILDING-COLLAPSE — An apartment building condemned for more than a decade but used by homeless people collapsed in Brazil's northeastern state of Pernambuco, killing 14 people, including six children, firefighters report. SENT: 280 words.
——————————————
ENTERTAINMENT
——————————————
Y2K-FASHION-REVIVAL — First came the supposed death of skinny jeans. Then, the resurgence of cargo pants, halter tops and baby tees. If there's one thing retailers can agree on, it's that Gen Z is hot for the early 2000s fashion trends now booming in popularity. SENT: 950 words, photo.
————————
SPORTS
———————
BKC-WEST-VIRGINA-HUGGINS — Bob Huggins says he never resigned as West Virginia's basketball coach following a drunken-driving arrest and wants his job back, according to a letter from his attorney to the university. SENT: 520 words, photos.
——————————————-
HOW TO REACH US
——————————————-
At The Nerve Center, Vincent K. Willis can be reached at 800-845-8450 (ext. 1600). For photos, (ext. 1900). For graphics and interactives, ext. 7636. Expanded AP content can be obtained from AP Newsroom. For access to AP Newsroom and other technical issues, contact apcustomersupport@ap.org or call 844-777-2006.