NOT REAL NEWS: A look at what didn't happen this week
Social media users shared a range of false claims this week
NOT REAL NEWS: A look at what didn't happen this week
Show all 2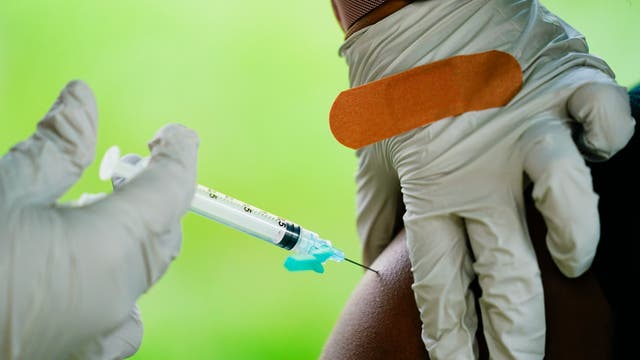 A roundup of some of the most popular but completely untrue stories and visuals of the week. None of these are legit, even though they were shared widely on social media. The Associated Press checked them out. Here are the facts:
___
The CDC didn't say vaccinated people are more at risk of a new COVID variant than the unvaccinated
CLAIM: The U.S. Centers for Disease Control and Prevention said that a new COVID-19 variant is more contagious among vaccinated people than those who are unvaccinated.
THE FACTS: In a risk assessment summary published Aug. 23, the CDC wrote that the BA.2.86 variant may be more likely to infect people with existing immunity to COVID-19, either from vaccinations or prior infections, than previous variants. It did not say that vaccinated people are at a higher risk than the unvaccinated. "BREAKING: CDC says new COVID variant is more contagious among vaccinated people than those unvaccinated," reads a post shared on Instagram and X, the platform formerly known as Twitter. But the agency has not said that those who have been vaccinated against COVID-19 are more likely than unvaccinated people by the new variant. Rather, it said those who've been vaccinated or previously infected may be more susceptible than they were to prior variants. "Based on what CDC knows now, the large number of mutations in this new variant raises concern that BA.2.86 may be more capable of causing infection in people who have previously had COVID-19 or who have received COVID-19 vaccines," the agency said in a statement, bolding the word "or." Those making the false claim are misrepresenting the CDC's Aug. 23 risk assessment for the variant, which said: "BA.2.86 may be more capable of causing infection in people who have previously had COVID-19 or who have received COVID-19 vaccines." It elaborated near the end of the assessment that "the large number of mutations in this variant raises concerns of greater escape from existing immunity from vaccines and previous infections compared with other recent variants." In its statement, the agency said that it is still closely monitoring the variant but that it is "too soon to know the real-world impacts on immunity" and encouraged people to stay up-to-date on their COVID-19 vaccines.
— Associated Press writer Melissa Goldin in New York contributed this report.
___
Biden didn't get segregationist Thurmond to vote for the Civil Rights Act. White House says he misspoke
CLAIM: President Joe Biden "literally" convinced segregationist U.S. Sen. Strom Thurmond to vote in favor of the Civil Rights Act.
THE FACTS: Biden had not yet been elected to the U.S. Senate when the landmark law was passed in 1964, and Thurmond was among the prominent southern Democrats to vote against the bill. A White House spokesperson confirmed the president misspoke in his remarks. Biden made the claim during a White House event Monday. In a clip widely shared on social media, Biden noted that a racist white gunman killed three Black people in Jacksonville, Florida, on Saturday, the same day the nation marked the 60th anniversary of the historic March on Washington. "I thought things had changed. I was able — literally, not figuratively — to talk Strom Thurmond into voting for the Civil Rights Act before he died. And I thought, 'Well, maybe there's real progress'," Biden said, according to the official White House transcript. "But hate never dies." Many social media users quickly noted that Biden's timeline didn't add up. When Congress approved the Civil Rights Act in 1964, Biden was still nine years away from being sworn in as one of the youngest senators in U.S. history in 1973 at the age of 30. His time in the Senate certainly overlapped with Thurmond, who served as U.S. senator from South Carolina for nearly half a century, from 1954 to 2003. But the Democrat-turned-Republican was a staunch supporter of racial segregation and voted against the original Civil Rights Act, which outlawed discrimination based on race, religion and gender. White House spokesman Andrew Bates said Biden had intended to tout his work in the 1980s to win passage of a bill reauthorizing the Voting Rights Act. The landmark 1965 law followed the Civil Rights Act and outlawed discriminatory voting practices such as literacy tests that were aimed at disenfranchising Black voters. "He was highlighting his role in gaining Sen. Thurmond's support for reauthorizing the Voting Rights Act, which Thurmond had previously opposed," Bates explained in an email. The White House spokesman cited news coverage from the era in which Thurmond, the then-Republican chairman of the Senate Judiciary Committee, threatened to eliminate parts of the 1965 law. Biden, as the ranking Democrat on the committee, promised at the time that he wouldn't back down. "If Strom Thurmond is serious about eliminating the Voting Rights Act, I'm going to fight it," he said, according to a Wilmington News Journal story from 1980. The legislation ultimately passed the Senate in 1982 by a wide margin. Thurmond, who died in 2003 at the age of 100, was among the Republicans who voted for it.
— Associated Press writer Philip Marcelo in New York contributed this report.
___
No, a meat allergy caused by ticks is not tied to a Gates Foundation-funded program. Here's why
CLAIM: Increased incidence of a meat allergy linked to tick spit in the U.S. is connected to a project funded by the Bill & Melinda Gates Foundation that involves genetically modifying cattle ticks.
THE FACTS: The program to create a modified cattle tick, with the goal of reducing their population and protecting livestock, has thus far been limited to lab work in the U.K. The ticks in question have been largely eradicated in the U.S. and do not bite humans, an expert said. But social media posts are baselessly tying that work to recently published government research estimating that hundreds of thousands of Americans may have an allergy to red meat because of a syndrome triggered by tick bites. The reaction, called alpha-gal syndrome, occurs when an infected person consumes beef, pork, venison or other mammal products. It's caused by a sugar in meat from mammals — and in tick spit — that, when transmitted through the skin via a tick bite, can lead to an allergic reaction. "Bill Gates Funded Research Into Genetically Engineered Cattle Ticks—Now 450,000 Americans Have Red Meat Allergies From 'Alpha-Gal Syndrome' Caused by Tick Bites," reads one widespread headline. However, a relationship between the two is "scientifically impossible," said Neil Morrison, chief strategy officer at Oxitec, the firm doing the research that has indeed received support from the Gates Foundation. "Oxitec's early R&D has been conducted in the UK," Morrison said in an email statement. He added that the research has been conducted in labs and that there has been "no research in the field with a self-limiting (modified) tick." Oxitec's focus is on the Asian blue tick, or Rhipicephalus microplus, and using a self-limiting gene to reduce their population to better protect livestock and curb economic losses associated with tick bites and disease. Such ticks, while posing issues in other parts of the world, have been largely eradicated in most of the U.S. Moreover, cattle ticks don't bite humans, said Sam Telford, a Tufts University professor of infectious disease and global health who has worked on ticks and tickborne infections for more than 35 years. Ticks are adapted to feeding on certain animals, Telford explained, and cattle ticks feed on cattle and related animals, such as deer. They do not identify humans as their hosts. Centers for Disease Control and Prevention spokesperson Kate Fowlie said in an email that the evidence "strongly suggests" that alpha-gal syndrome is primarily associated with the bite of the Lone Star tick, or Amblyomma americanum, in the U.S. — even if some other native species of ticks have not been ruled out. Researchers first published a paper tying alpha-gal syndrome to tick bites in 2011. That was a decade before the Gates Foundation funded Oxitec's program on self-limiting cattle ticks. The foundation first announced in 2021 that it was providing Oxitec nearly $1.5 million for an initial feasibility project. In April, the foundation announced it was granting the company another $4.8 million to further develop the program.
— Associated Press writer Angelo Fichera in New Jersey contributed this report.
___
Social media videos push baseless conspiracy theory that blue items were spared from Maui wildfires
CLAIM: Only blue items survived the Maui wildfires and lasers do not impact that color, suggesting the island was actually hit by a directed energy weapon "attack."
THE FACTS: The wildfires didn't spare only blue things, with photos and videos clearly showing that buildings and objects of many colors both survived and perished. More importantly, there is ample evidence that Maui was ravaged by fires, while the notion that a weapon or laser was involved has been repeatedly debunked. Still, recent posts are cherry-picking images to falsely suggest that only blue items "survived" the blaze — and that this is somehow proof that the Hawaiian island was hit by a laser that either sparked the fire or did all the damage itself. The posts typically include a video from a TikTok account that shares clips of everyday items being burned by a handheld industrial laser in a workshop. The clip shows the laser burning yellow, red and green fabric, while a blue swatch is unscathed, with text saying it can be programmed for "different wavelengths." They contrast this footage with imagery from Lahaina, the historic Maui town that was largely leveled by the wildfire, noting a blue car and some blue beach umbrellas were not destroyed in the inferno. One post on X, the platform formerly known as Twitter, also points to several blue t-shirts found under some rubble that were relatively unscathed. "Unbelievable. Everything that's BLUE survived the Maui DEW attack, including T-SHIRTS," reads the post. DEW stands for directed energy weapons — which use technology like high-energy lasers instead of projectiles like bullets. But these videos are not evidence that they have anything to do with the wildfires. To start, they show just a handful of blue items in the fire's aftermath, but other footage and photos show these were hardly the only things left standing. The blue car and umbrellas can both be seen in drone footage of the devastation — but the same video also shows red and green dumpsters and buildings painted various other colors that survived. Aerial footage taken by the AP shows similar scenes. Before-and-after satellite images also show that a number of buildings that were painted blue were still destroyed. It's not uncommon to see some items and structures still standing after wildfires because the fires often spread through flying embers that don't hit everything, experts previously told the AP. Images of the fire's aftermath do not show anything abnormal, they said. Regardless, the wildfires were witnessed by survivors and documented extensively in videos and images. The video of the workshop laser sparing some blue fabric is not evidence to the contrary, according to Iain Boyd, director of the Center for National Security Initiatives at the University of Colorado. While it is possible for high energy lasers to interact in different ways with objects made of different materials or even colors, a beam with enough power to start a large fire would just burn through material of any color, he explained in an email. "Even more relevant, though, is that these images show areas through which a large fire has raged and the damage that has been caused no longer has anything to do with whatever caused the fire in the first place," Boyd added, noting that blue objects are not simply resistant to fire. Maui County has filed a lawsuit against Hawaiian Electric Company over the fires, saying it failed to shut off power despite exceptionally high winds and dry conditions. The company on Sunday acknowledged that its power line started the first wildfire, but said its power lines in West Maui had been de-energized for hours before a more serious second blaze, which tore through downtown Lahaina, killing at least 115 and destroying 2,000 structures.
— Associated Press writer Karena Phan in Los Angeles contributed this report.
___
Find AP Fact Checks here: https://apnews.com/APFactCheck
___
Follow @APFactCheck on Twitter: https://twitter.com/APFactCheck