A feud between a patriarch and a militia leader adds to the woes of Iraqi Christians
A feud between two prominent Christian leaders has divided believers of the faith in Iraq
A feud between a patriarch and a militia leader adds to the woes of Iraqi Christians
Show all 11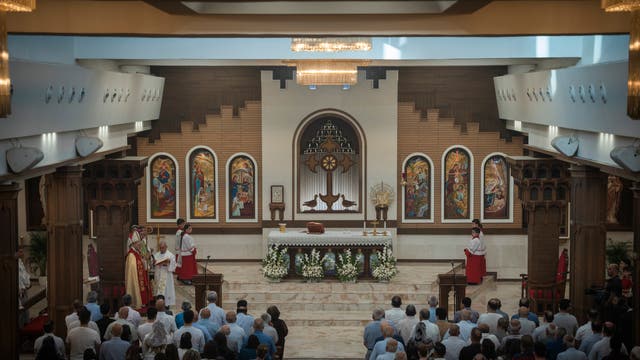 Iraqi Christians have struggled since the Nineveh plains, their historic homeland of rolling hills dotted with wheat and barley fields, were wrested back from Islamic State extremists six years ago.
Although the threat from IS has receded, some towns are still mostly rubble. There are few inhabited homes or basic services, including water. Many Christians have given up and left for Europe, Australia or the United States. Others are trying to follow.
Now the shrinking religious minority that was also violently targeted by al-Qaida before the rise of IS has been rocked by yet another crisis in the form of a political showdown between two influential Christian figures — a Vatican-appointed cardinal and a militia leader, with land and influence at the core of the drama.
The dispute adds to the woes of Iraqi Christians, who have often felt sidelined in the political order. A 2021 visit by Pope Francis provided a glimmer of hope that quickly faded.
Meanwhile, the Christian population has plummeted. The number of Christians in Iraq today is estimated at 150,000, compared to 1.5 million in 2003. Iraq's total population is more than 40 million.
The political tension rose last month when Cardinal Louis Sako withdrew from his headquarters in Baghdad to northern Iraq's semi-autonomous Kurdish region after Iraqi President Abdul Latif Rashid revoked a decree recognizing his position as patriarch of the Chaldeans, Iraq's largest Christian denomination and one of the Catholic Church's eastern rites.
Sako said he will not return to Baghdad until his recognition is reinstated. His departure added to the feeling of helplessness among many Christians.
"Of course, this affects us psychologically," said Sura Salem, a Christian social activist in Baghdad. "You feel like a family without a father."
Christians staged a small protest in Baghdad over Sako's departure, but Salem said "listening to the voice of the Christians is the last concern" of Iraqi leaders.
Sako blames a campaign against him by Rayan al-Kildani, a fellow Chaldean Christian who formed a militia called the Babylon Brigades that fought against IS and still patrols much of the Nineveh plains.
The group is affiliated with the Popular Mobilization Forces, a collection of primarily Shiite, Iran-backed militias. Its associated political party, the Babylon Movement, won four of five Christian-designated seats in Iraq's 2021 parliamentary elections.
Sako believes al-Kildani is angling to take over Christian endowments and properties. Al-Kildani has made similar allegations about Sako.
"I have stood up to this militia and others who wanted to take over what rightfully belongs to the Christians," Sako told The Associated Press, days after arriving in Irbil to a warm welcome from Kurdish officials. "Of course, no one defends Christians other than the church."
In Baghdad's upscale Mansour neighborhood, al-Kildani was busy building political alliances.
On a recent afternoon, several couches in the palatial lobby of his party headquarters were occupied by well-dressed women wearing hijabs, beneath a painting of the Last Supper and a portrait of al-Kildani.
One by one, the women entered the inner office, each one emerging with a gift bag. One of the visitors explained that they were political candidates interested in running on al-Kildani's list in Mosul in December's provincial elections.
After the visitors departed, a smiling and courtly al-Kildani made his entrance.
He insisted that he had no role in the withdrawal of the patriarch's decree and dismissed allegations that he was seeking to seize church lands.
"I am the son of this church, and it is my duty to respect it, but it is unfortunate when a clergyman accuses someone without proof," he said.
Al-Kildani has accused Sako of selling off church properties, allegations the patriarch denies, and he has filed a lawsuit against Sako alleging slander. But al-Kildani said he is ready to meet with Sako to reconcile.
Sako rejected the suggestion. Al-Kildani "has a militia, and his loyalty is not to the church," the patriarch said. "He is not a respectable person."
The Iraqi president has downplayed his revocation of Sako's recognition as bureaucratic housekeeping, claiming it did not diminish the patriarch's legal or religious status.
The Vatican has remained largely silent. Its embassy in Baghdad said in a statement that the Iraqi Constitution guarantees that the heads of churches can administer church properties.
A senior Vatican official, who spoke on condition of anonymity because he was not authorized to comment to the media, said the decree was unnecessary given the constitutional guarantees. He said the Holy See did not want to get involved in the dispute but had invited Sako to tamp down tensions with the Iraqi authorities for the sake of Iraqi Christians.
The United States sided with Sako. State Department spokesman Matthew Miller said last month that the U.S. is concerned that Sako's position "is under attack" by a militia leader who in 2019 was slapped with U.S. sanctions for his alleged involvement in human rights abuses, including cutting off a captive's ear.
Al-Kildani denied the allegations and accused the international community of being ungrateful after his group's role in the fight against IS.
He accused the Kurdish Democratic Party — the ruling party in the Kurdish region and a rival of the Iraqi president's Patriotic Union of Kurdistan Party — and the United States of engineering Sako's withdrawal from Baghdad for political reasons.
For some Christians, the drama is overshadowed by more pressing problems.
As Baghdad resident Anan al-Dawi left a sparsely attended Mass on Sunday, her main concern was a recent power outage in the scorching summer heat. She struck a diplomatic tone regarding the feud between Sako and al-Kildani.
Although physically absent, she said, Sako "lives in all of our hearts." As for al-Kildani's group, she said: "I serve the country in my way. You serve it in yours, and they are also serving their country."
Back in the Nineveh plains, in the town of Batnaya, patrolled by members of Kildani's militia, Lawrence Sabah owns a small factory where he makes mop handles out of wood imported from Russia. Sabah did not share his opinion on Sako or al-Kildani, but he had other complaints.
"There are no services, even the water sometimes doesn't come, and 70 or 80 percent of the houses were destroyed," he said. He is hoping to join his parents and siblings, who have resettled in California.
Some 8 kilometers (5 miles) to the north, in Kurdish-controlled territory, Raad Ekram owns an electrical supply store in the sparsely populated town of Telskof.
When his family was displaced from the village to the city of Dohuk, Ekram believes he got short shrift from both the Iraqi government and the church.
"We never saw the patriarch," he said. "Of course, I don't accept what happened to him ... and I don't accept for him to be harmed." But the patriarch "didn't do everything he should have done for us."
He is encouraging his children to seek their fortunes abroad.
"There's nothing left in Iraq," he said, "especially for the Christians."
___
Associated Press writers Nicole Winfield in Rome and Matthew Lee in Washington contributed to this report.
___
Associated Press religion coverage receives support through the AP's collaboration with The Conversation US, with funding from Lilly Endowment Inc. The AP is solely responsible for this content.